7 Reasons Opry Country Classics is a Must-See this Year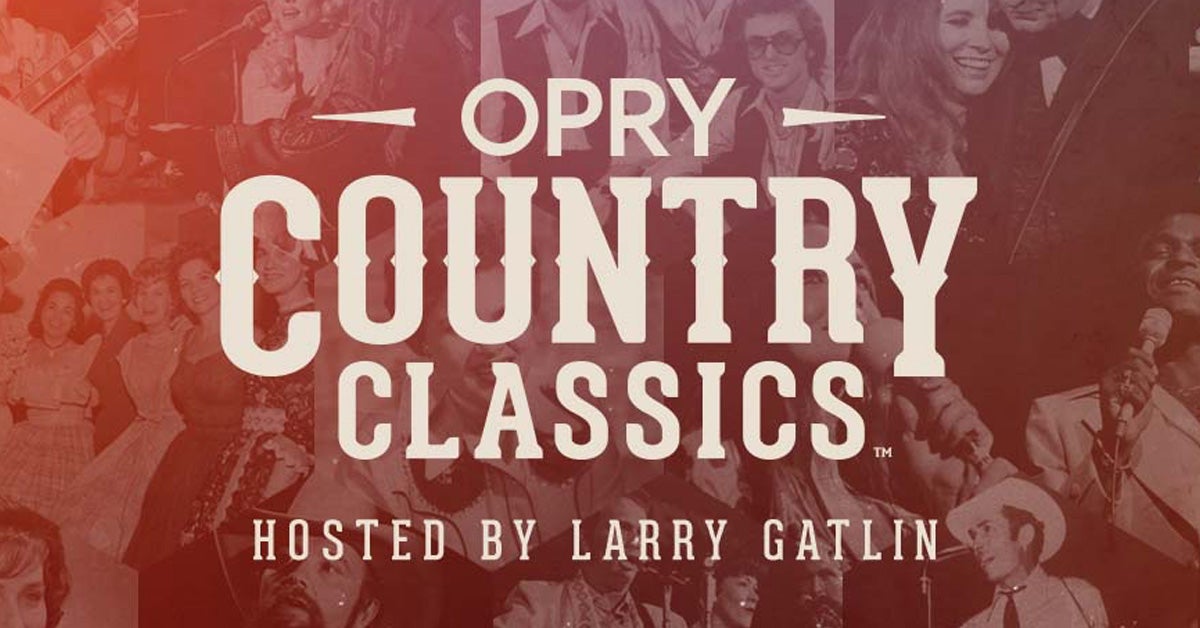 Every year, the Grand Ole Opry features our concert series,
Opry Country Classics
, which gives us (and you) another reason to celebrate the music that makes us who we are today. With a celebrity host and several beloved country artists performing our favorite country classics, we get a chance to experience the magic of country songs on a stage as iconic as the artists.
SPEND THE EVENING WITH LARRY GATLIN
Our celebrity host is legendary country and southern gospel singer, and member of The Gatlin Brothers, Larry Gatlin. He and his brothers are celebrating over 45 years as members of the Grand Ole Opry thanks to their incredible talent, commitment to country music, and undeniable charm. Larry knows how to bring the entertainment and keep Opry crowds going!
SEE THE ARTISTS THAT PUT THE 'MUSIC' IN MUSIC CITY
The artists who are selected to perform at Opry Country Classics are the best of the best. Expect to see performances from artists such as The Bellamy Brothers, Jake Hoot, The Gatlin Brothers, Sunny Sweeney, and Lorrie Morgan, who will show you exactly why we call Nashville 'Music City.'
HEAR THE SONGS THAT MADE YOU FALL IN LOVE WITH COUNTRY MUSIC
These are our kind of classics – the country songs we still put on when we do the dishes, or when we want to take a drive and roll the windows down. Our talented artists perform timeless favorites like "Crazy," "I Will Always Love You," "Hello Darlin'," and "He Stopped Loving Her Today." And this is the best way to hear them – live from the Opry stage and inside the wooden Circle.
ENJOY TRUE COUNTRY, IN ITS TRUE HOME
A milestone for artists and audiences, the Opry stage is the best place to experience country music. After 96 years of live performances by artists that have shaped and defined the genre, the Grand Ole Opry is proud to be the true home of country music.
SEE COUNTRY ICON LORRIE MORGAN
This year, the Tennessee native and national treasure behind "Except for Monday," "What Part of No," and "Good as I Was to You," is one of our Opry Country Classics spotlight artist. Lorrie Morgan has been performing at the Grand Ole Opry since she was 13 years old and, trust us, she's still got it. Stay tuned every week to see who else shares the stage as a spotlight artist.
HEAR STORIES FROM THE WORLD'S BEST STORYTELLERS
The best storytellers in the world often become country music stars for a reason. The genre is chock-full of stories of love and loss, sunshine and sorrow, misbehaving and honky-tonkin'. These musicians will walk you through their best and worst times. And our host will share stories that you'll want to remember forever.
BRING THE WHOLE FAMILY
All ages are welcome to see Opry Country Classics. Bring your friends, your kids, your friends' kids and your kids' friends. This is a chance to celebrate real country music, performed by some of the most talented artists in Nashville, with your whole family.
"The Opry gave me my start in country music," Morgan says. "It's a place we all need to go from time to time to remember why we're here and what gave us the opportunity to be here."
This is your opportunity to visit the Grand Ole Opry and remember why we're here. And you can't beat the classics. Learn more and buy tickets at opry.com. Enjoy even more country music and history by touring the Opry! Buy tickets here.
Stay In Touch
Subscribe for updates, events offers and more. To sign up to receive our emails, Fill in the following fields and hit submit. Thanks, and Welcome!