Press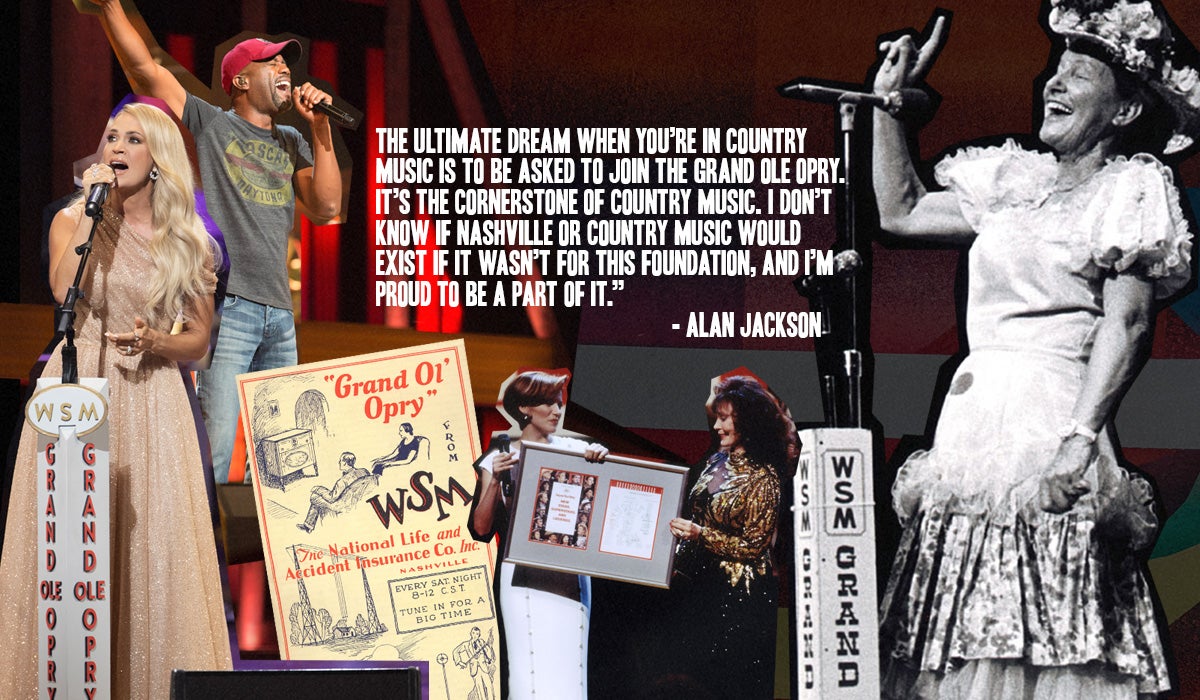 The Grand Ole Opry: The Show That Made Country Music Famous
From Philadelphia to Fiji, everyone knows the Grand Ole Opry is the show that made country music famous. How it earned that reputation is quite a tale.
It began on the night of Nov. 28, 1925, when an announcer on Nashville radio station WSM introduced fiddle player Uncle Jimmy Thompson as the first performer on a new show called "The WSM Barn Dance." Now, more than 90 years later, the show Hay started is still going strong. Along the way, it has launched countless country music careers and led the way for Nashville to become Music City.
Early Opry performers such as Roy Acuff, Minnie Pearl, Ernest Tubb, and Bill Monroe became musical foundations for the Opry during its years in residence at the historic Ryman Auditorium, later welcoming to the stage artists who would become entertainment icons in their own right including Loretta Lynn, Dolly Parton, and Bill Anderson.
The Opry said goodbye to the Ryman Auditorium on Friday night, March 15, 1974. The next night, President Richard Nixon joined Roy Acuff on stage at the Grand Ole Opry House. Still, they could keep in touch with the traditions of the Ryman because a 6-foot circle of hardwood was taken from the Ryman and placed center stage at the Opry House.
Today the magic continues. Trace Adkins, Dierks Bentley, Vince Gill, Martina McBride, Brad Paisley, Ricky Skaggs, Marty Stuart, Mel Tillis, and Carrie Underwood are among the stars who are part of the Opry family. Thousands of people make pilgrimages every year to see and hear them, while millions tune in to enjoy the Grand Ole Opry via 650 WSM, Sirius XM Satellite Radio, syndicated radio, mobile apps or the website at opry.com.
"That was the most exciting moment of my life. As I stepped into the circle, I told everyone that my greatest dream just came true."
—Dustin Lynch
"You think about people like Hank Williams, who stood on that spot of wood, and Mr. Acuff, and, of course, George Jones. And just about anybody you can think of who has made country music has been on that stage. That's what makes you so nervous – to think about the historical part of the Opry and how it's played such a part in country music."
"The ultimate dream when you're in country music is to be asked to join the Grand Ole Opry. It's the cornerstone of country music. I don't know if Nashville or country music would exist if it wasn't for this foundation, and I'm proud to be a part of it."
—Alan Jackson
"I've said it for the record a thousand times. I'll state it again a thousand times. This is the pinnacle of what I do. Nothing has ever touched being a member of the Grand Ole Opry."
—Garth Brooks
"As a little boy, I used to listen to the Grand Ole Opry on the radio and dream of belonging. All other achievements pale in comparison and for the first time I feel like I really belong to the country music family. I'm so overwhelmed with the emotion of that little boy's dream becoming reality."
—Joe Diffie
"Until I started playing the Opry, I didn't realize how powerful it is. The first time I played it I felt a real power – the power of heritage, of tradition, of the written word. It's a great forum."
—Hal Ketchum
"Becoming a member of the Grand Ole Opry is something I've wanted since I was a little girl."
—Martina McBride
"My dad always said, 'you know, no matter what awards you win, you haven't made it until you get to play the Opry and you're a part of the Opry.'"
—Eddie Montgomery
"Pilgrims travel to Jerusalem to see the Holy Land, and the foundations
of their faith. People go to Washington, D.C. to see the workings of government, and the foundation of our country. And fans flock to Nashville to see the foundation of country music, the Grand Ole Opry."
—Brad Paisley
"You know, I don't think if I played it a million times it would be any less special than the first time I played."
—Chris Young
"When I was asked if I wanted to perform on the Grand Ole Opry, I yelled, 'Are you kidding me?' I've been waiting for that my whole life. To be invited where so many of the greatest country artists have performed is an honor, and I still can't believe it has been bestowed on me. Just to stand in the circle where so many greats have stood—Hank Williams, Kitty Wells, I just couldn't believe it."
—Darius Rucker
"The Grand Ole Opry, to a country singer, is what Yankee Stadium is to a baseball player. Broadway to an actor. It's the top of the ladder, the top of the mountain. You don't just play the Opry; you
live it."
—Bill Anderson
"I feel this is a family here, so kinda regardless of whatever happens in your life, you always can come home to the Grand Ole Opry, thank God."
—Ronnie Milsap
"It's such an honor. I still get, I guess, starstruck, at the Opry. Because there's so much history here and there are so many legends that are still walking around backstage, so it's really an incredible, incredible experience for somebody like me that grew up listening to all of them. And to be able to share the stage with them is something that I treasure."
—Kellie Pickler
For 5,000+ (and counting) consecutive Saturday nights, the Grand Ole Opry has rung out on the airwaves. It's the world's longest-running radio show and now also runs every Friday plus seasonal Tuesdays and Wednesdays in addition to traditional Saturdays.
The Opry has had six homes throughout its 90-plus years. It moved to the Grand Ole Opry House in 1974 and has resided there longer than any previous home. The Grand Ole Opry House seats 4,400 fans. The Opry's famous former home, the Ryman Auditorium in downtown Nashville, seats 2,200. The Opry returns to the Ryman each year for a wintertime run.
Approximately 6,024 songs are performed during Opry shows each year.
The Opry has welcomed more than 200 members throughout its history. The Opry has called the names of country music's all-time greats, from Hank Williams and Patsy Cline to Brad Paisley and Carrie Underwood. Opry member Garth Brooks says, "The Grand Ole Opry is the pinnacle of what I do. Nothing will ever match being a member of the Grand Ole Opry."
Opry legend Loretta Lynn celebrated 50 years as an Opry member in 2012 on the same night country group Pistol Annies made its Opry debut. Meanwhile, on Minnie Pearl's 50th anniversary, she reacted to a videotape message from Dolly Parton by quipping "I wear a hat so folks can tell us apart."
Opry member Lorrie Morgan made her Opry debut when she was 13 years old. "I thought, 'this is what I'm going to do for the rest of my life,'" she says.
Among the famous faces who've played the Opry but aren't primarily known as country music artists are President Richard Nixon, Kevin Costner, Jack Black, Kevin Bacon, Kenny Loggins, and CBS' Bob Schieffer and Charles Osgood.
Loyal Opry fan Paul Eckhart bought a ticket for and attended an Opry performance for 2,184 straight weeks from 1972 until 2014. Yes, 2,184. Uninterrupted.
Five Opry members have been honored with their own U.S. postage stamps.
15.8 million feet of audio, video, and lighting cable on the Opry House complex help take country music to the world.
All photos copyright 2019 Grand Ole Opry® All photos by Chris Hollo. Logos, videos, and photos are not to be used without express written permission.Please contact persons listed in the "Contacts" section below for assistance.
Stay In Touch
Subscribe for updates, events, offers and more. Sign up to receive our communications, please fill in the following fields and hit submit. Thanks, and welcome!