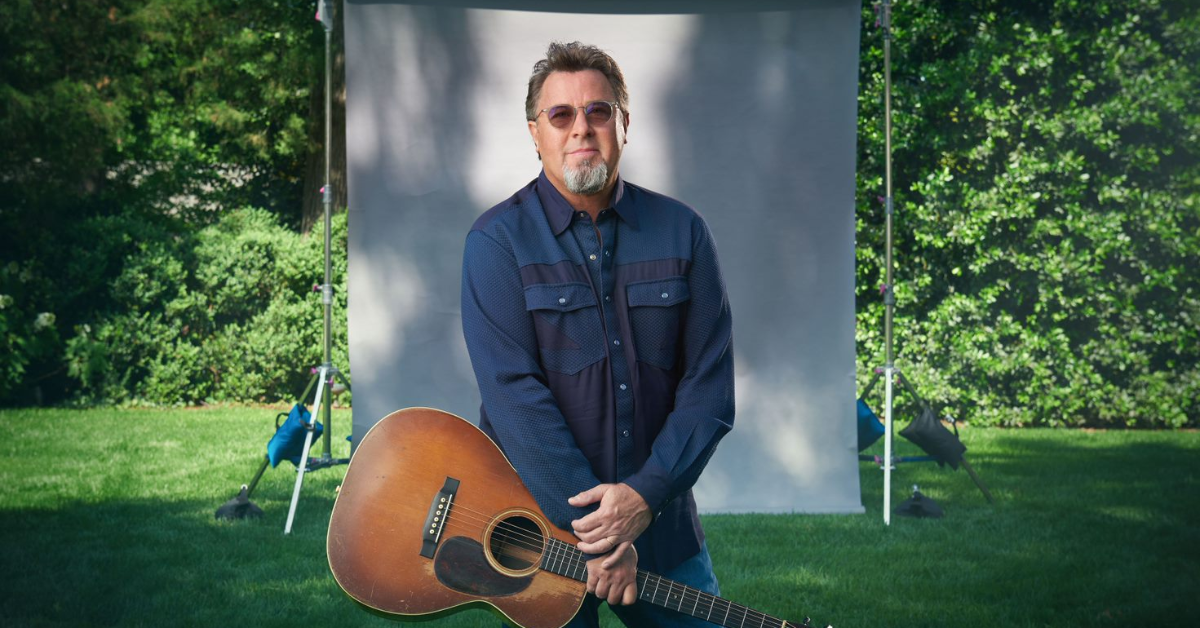 Opry Induction Date
August
10th
, 1991
Artist Information

Combining unequaled musicianship and creativity with a strong sense of tradition — and a personality that has won him a reputation as one of the nicest people in country music — Vince Gill is one of the most honored artists in the music's history, and one of the youngest to earn membership in the Country Music Hall of Fame.
A talented guitar and dobro picker by the time he was in his teens, Vince began his career playing with bluegrass bands — first in his native Oklahoma, then in Kentucky with the Bluegrass Alliance and, briefly, Ricky Skaggs' Boone Creek. Moving to Los Angeles, he signed on with fiddler Byron Berline's Sundance before joining the pop-country-rock Pure Prairie League. He followed that with a stint in the Cherry Bombs with Rodney Crowell and work backing Rosanne Cash. In 1984, he moved to Nashville and signed his first recording contract as a solo artist, occupying himself with work as a sideman in studios and onstage while his singles mostly hovered in the lower reaches of the charts.
Though several of his songs flirted with Top 10 status, Vince's real breakthrough came in 1990 when "When I Call Your Name" reached No. 2. For the next decade, he was a steady presence in the Top 10, racking up several dozen hits that ranged from soulful country ballads ("I Still Believe in You," "Tryin' to Get Over You") to feel-good country rockers ("Liza Jane" and "What the Cowgirls Do"). Rewarded by his peers with a long list of Country Music Association awards — he owns more than any other artist — and Grammy trophies (the most for a male country artist), Vince was a critical and commercial success, too. He's sold more than 22 million albums while being hailed as a soulful singer, innovative instrumentalist, and creative force who nevertheless showed a strong grasp of country traditions from bluegrass to honky tonk.
In more recent years, Vince has settled into a unique role as one of country music's youngest "elder statesmen." An eloquent spokesman for the Grand Ole Opry and for the Country Music Foundation, he has headed all-star casts at prestigious venues around the country, hosted the CMA Awards for multiple years, made guest appearances onstage and on recordings with artists ranging from the world-famous to the obscure, and toured extensively.
In 2007, Vince was inducted into the Country Music Hall of Fame and the following year, he released the Grammy-winning These Days, a stunning 4-CD set of original material that spanned a range of musical styles.
Vince's humanitarian efforts have been no less notable, earning him another set of awards. More recently, he was hailed for his role in organizing concerts to raise money for victims of Nashville's devastating 2010 flood — a disaster in which Vince himself lost dozens of vintage instruments. In 2014 he and steel guitar player Paul Franklin collaborated on the album Bakersfield.
Although he's spent much of his career in the spotlight, Vince insists his greatest joy is in being a sideman. "The only reason any of us learned to play was to collaborate and play with someone else. It's not much fun by yourself. This record has been a great experience for me—to go back and honor the things that I hold dearest."

Stay In Touch
Skip the FOMO, we'll make sure you don't miss a thing! Sign up for exclusive updates, events, and offers – just for fans like you.