Keb' Mo'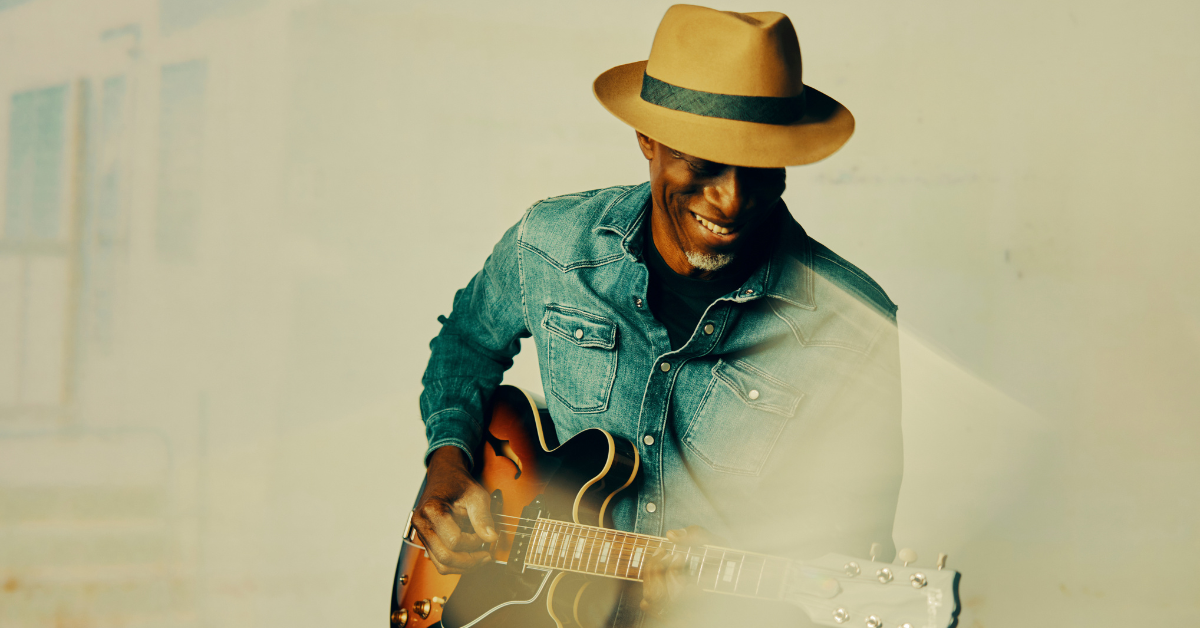 Artist Information
"I was convinced my career was over, and that if I was lucky I'd be able to play blues gigs for $40 or $50 a night… if I was lucky," Kevin Roosevelt Moore, or musically known as Keb' Mo, recounts. He was very lucky. Kevin got a gig in a blues combo with saxist Monk Higgins and guitarist Charles "Charlie Tuna" Dennis, who today plays rhythm six-string behind B.B. King.
"Until then I thought there was just two kinds of blues — fast and slow," says Keb. "Charlie taught me that there are all kinds of blues: Delta blues, Texas blues, Chicago blues, soul-blues… I started opening my mind and learning how deep the blues was." His discovery of historic blues artists Robert Johnson and "Big" Bill Broonzy also resonated profoundly, and over the next decade Kevin developed a sound that blended their acoustic framework with the pop, R&B, rock, jazz and soul that had previously stoked his compositions.
"I never set out to be a 'blues guy', " he explains, "but the blues is very powerful and fuels what I do. The blues puts the 'realness' in it for me."
By 1994 Moore was signed to a major label again. He celebrated his creative rebirth by adopting the new moniker Keb' Mo'. His first album under that name, Keb' Mo', earned gold-record status. The second Keb' Mo' album, Just Like You, won the Grammy Award for Contemporary Blues Album — a feat he's repeated twice since then, with 1999's Slow Down and 2005's Keep It Simple. He's has been nominated 4 additional times.
Over the past two decades Keb' has cultivated a reputation as a modern master of American roots music through the understated excellence of his live and studio performances. His songs have been recorded by B.B. King, Buddy Guy, the Dixie Chicks, Joe Cocker and Robert Palmer, and his playing inspired leading instrument maker Gibson Brands to issue the Keb' Mo' Signature Bluesmaster acoustic guitar. He's collaborated with a host of other artists including Bonnie Raitt, Jackson Brown, jazz diva Cassandra Wilson, Buddy Guy, Amy Grant, Solomon Burke and Little Milton. Keb 'also performs the theme song for the smash sit-com Mike & Molly and was music director for TV's Memphis Beat.
Keb' is no stranger to the stage and screen himself. His acting career began with an early '90s Los Angeles production of Leslie Lee's The Rabbit Foot. He portrayed Robert Johnson in the 1998 documentary Can't You Hear the Wind Howl and appeared three times on the TV series Touched By An Angel. He also played the ghostly bluesman Possum in John Sayles' 2007 movie Honeydripper.
Keb' debuted on the Grand Ole Opry in 2011, sharing the stage with Vince Gill. With all of his success outside of music, he says his focus will always be on making music and being a communicator, a songwriter.
Stay In Touch
Skip the FOMO, we'll make sure you don't miss a thing! Sign up for exclusive updates, events, and offers – just for fans like you.