Opry Member
Bill Anderson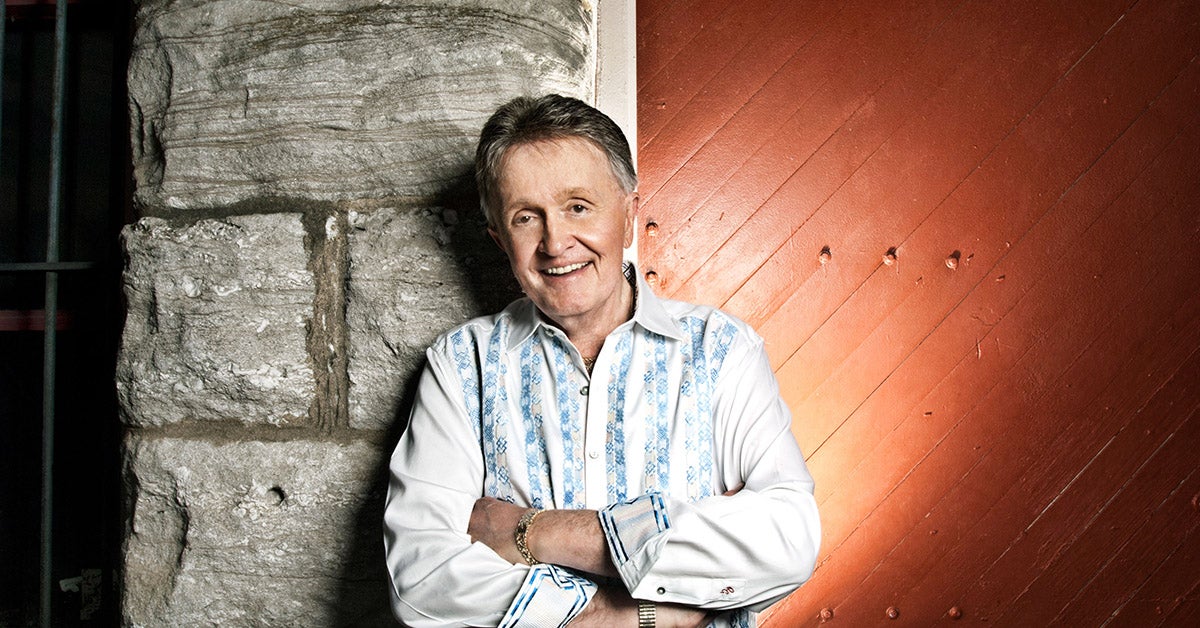 Opry Induction Date
July
15th
, 1961
Artist Information
When Bill Anderson reflects on the evolution of the Grand Ole Opry since he joined the cast more than 50 years ago, he says, "It has changed gradually, but, when you look at it in its entirety, there have been a lot of dramatic changes."
The same could be said about Bill's career.
Bill Anderson has been using that philosophy for over fifty years to capture the attention of millions of country music fans around the world, en route to becoming a member of the Country Music Hall of Fame and one of the most popular, most enduring entertainers of our time. He's known, in fact as "Whispering Bill," a nickname hung on him years ago as a result of his breathy voice and his warm, soft approach to singing a country song. His credentials, however, shout his prominence: One of the most awarded songwriters in the history of country music, a million-selling recording artist many times over, television game show host, network soap opera star, spokesman for a nationwide restaurant chain, and a consummate onstage performer. His back-up group, The Po' Folks Band, has long been considered one of the finest instrumental and vocal groups in the business.
Bill Anderson was born in Columbia, South Carolina, but spent most of his growing-up years around Atlanta, Georgia. He graduated from the University of Georgia with a degree in journalism, having worked his way through college as a disc jockey on nearby radio stations. It was while he was still in school that he began performing and writing songs. At the age of nineteen, he composed the country classic, "City Lights," and began rapidly carving his place in musical history.
He moved to Nashville, Tennessee, secured a recording contract with Decca Records, and began turning out hit after hit with songs like "Po' Folks," "Mama Sang A Song," "The Tips Of My Fingers," "8X10," and the unforgettable country and pop smash, "Still." His compositions were recorded by such diverse musical talents as Ray Price, Porter Wagoner, James Brown, Debbie Reynolds, Ivory Joe Hunter, Kitty Wells, Faron Young, Lawrence Welk, Dean Martin, Jerry Lee Lewis, Aretha Franklin, Walter Brennan and many others.
Bill has been voted Songwriter Of The Year six times, Male Vocalist Of The Year, half of the Duet Of The Year with both Jan Howard and Mary Lou Turner, has hosted and starred in the Country Music Television Series Of The Year, seen his band voted Band Of The Year, and in 1975 was voted membership in the Nashville Songwriters Hall of Fame. Ten years later, the State of Georgia honored him by choosing him as only the 7th living performer inducted into the Georgia Music Hall of Fame. In 1993, he was made a member of the Georgia Broadcasters' Hall of Fame. In 1994, South Carolina inducted him into their Music and Entertainment Hall of Fame. And in 2001, he received the ultimate honor, membership in Nashville's prestigious Country Music Hall of Fame.
An entertainer in every sense of the word, Bill Anderson was the first country artist to host a network game show, starring on ABC-TV's, The Better Sex. He also appeared for three years on ABC's Daytime soap opera, One Life To Live.
For six years he hosted a country music game show on The Nashville Network called, Fandango, later an interview show called Opry Backstage, and somehow found time to be co-producer of another TNN Show called, You Can Be A Star. In addition, Bill has appeared frequently as a guest star on television's top variety and game shows, including The Tonight Show, The Today Show, Match Game, Family Feud, Hee Haw, and others. For seven years he hosted the acclaimed Bill Anderson Visits With The Legends show on XM satellite radio.
Bill Anderson's first autobiography, Whisperin' Bill, was published in 1989 and made bestseller lists all across the south. Bill's second book, a humorous look at the music business titled, I Hope You're Living As High On The Hog As The Pig You Turned Out To Be, was published in 1993 and is currently in its tenth printing. His most recent literary effort, published in the fall of 2016, is an updated autobiography written with noted Nashville journalist, Peter Cooper, titled Whisperin' Bill Anderson – An Unprecedented Life In Country Music. It is available in both print and audio formats.
Since 1997, Bill has also hosted the highly-rated television series on RFD-TV, Country's Family Reunion, a show where legendary country stars sit alongside both their peers and newcomers to the industry, singing their songs and swapping their stories.
In the mid-nineties, after a ten-year self-imposed hiatus, Bill returned to his first love, songwriting, and for the second time in his life cut a wide path across the creative landscape. He co-wrote giant hits for Vince Gill ("Which Bridge To Cross – Which Bridge To Burn"), Steve Wariner ("Two Teardrops"), Mark Wills ("Wish You Were Here"), Joe Nichols ("I'll Wait For You"), and Kenny Chesney ("A Lot Of Things Different"). He won Song Of The Year honors in both 2005 and 2007 for helping to write "Whiskey Lullaby" for Brad Paisley and Allison Krauss and "Give It Away" for George Strait. He also won a Dove award for co-writing the Country/Gospel Recorded Song of the Year, "Jonah, Job, and Moses" for the Oak Ridge Boys, plus the CMA Vocal Event of the Year for "Too Country," recorded by Brad Paisley, George Jones, Buck Owens, and Bill himself. Both "Give It Away" and "Two Teardrops" afforded Anderson Grammy nominations.
In 2002, Broadcast Music, Inc. named Anderson its first country music songwriting Icon, placing him alongside R&B legends Little Richard, Chuck Berry, Bo Diddley, and James Brown as the only recipients of that prestigious award. In 2008, the Academy of Country Music honored him with their inaugural Poets Award.
Bill Anderson continues to paint a broad stroke across the Nashville music scene. He has been a member of the Grand Ole Opry since 1961 and performs there regularly. He continues to tour and to record, his latest releases being the self-descriptive, Songwriter and the critically acclaimed Life. In addition, Bear Family Records has released Bill's first box set, Bill Anderson – The First Ten Years, a 126-song collection of works initially released between 1956 and 1966. The 4-disc package is accompanied by a 64-page hard-cover book full of stories and timeless photographs.
On the personal side, Bill lives on Old Hickory Lake outside Nashville where he spends as much time as possible with his three children and eight grandchildren. He is a boater and sports enthusiast who has been known to adjust his work schedule to fit around a ball game he just "has to see." He is an avid reader, his bookshelves lined with mysteries, biographies, books on religion, sports, and humor.
Stay In Touch
Subscribe for updates, events, offers and more. Sign up to receive our communications, please fill in the following fields and hit submit. Thanks, and welcome!