Opry Member
Riders In The Sky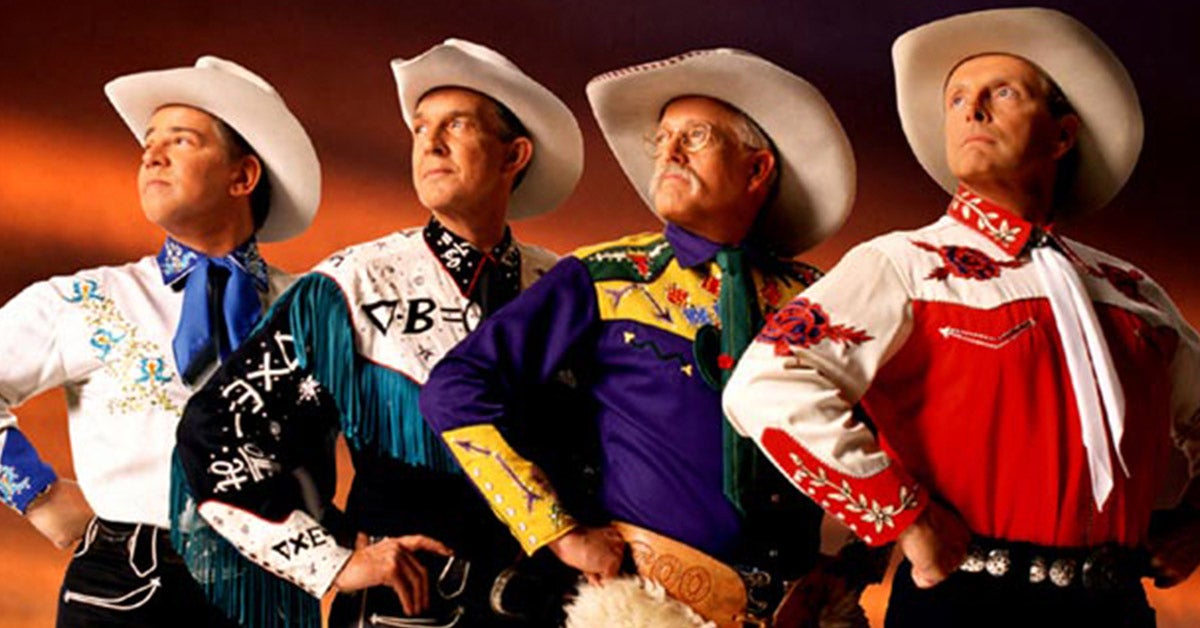 Opry Induction Date
June
19th
, 1982
Artist Information
Though they carry on a comedic tradition that harkens back to Grand Ole Opry humorists of the 1930s including the Duke of Paducah, Riders In The Sky's four members are also masterful musicians who became the first Opry cast members to fully represent the cowboy stylings that helped to put the "Western" in "Country & Western."
The group got their start in late 1977, when guitarist Doug "Ranger Doug" Green, a one-time member of Bill Monroe's Blue Grass Boys and country music journalist and historian, invited bassist Fred "Too Slim" Labour to join him for a gig at a Nashville nightclub. With Paul "Woody Paul" Chrisman on fiddle, the trio dubbed themselves Riders In The Sky. Their recorded debut, Three on the Trail (1979), showcased impeccable vocal and instrumental work in the mold of such Western music heroes — and Country Music Hall of Fame members — as Gene Autry, Roy Rogers and the Sons of the Pioneers, while their live shows added a strong dose of broad, quick-witted humor that had them poking gentle fun at one another and at aspects of the movie cowboy image. This combination led to their induction into the Opry's cast in 1982.
"Zeke Clements had a cowboy routine, the Willis Brothers sang some cowboy songs, and, of course, Marty Robbins sang some cowboy songs, too, but we're the group that deliberately set about to preserve the Western tradition on this show," notes Ranger Doug. "It's a piece of country music history that we think is just as exciting and interesting as modern country, classic country, or bluegrass, and we're the guys keeping it alive."
For the Riders, who became a quartet when they "promoted" longtime accordionist Joey "The Cowpolka King" Miskulin to full membership, the mission of keeping the cowboy style alive has led to exhaustive touring, a long-running radio show (Riders Radio Theatre), and a long string of popular recordings, including two soundtrack companion CDs (Woody's Roundup featuring Riders In The Sky, for Toy Story 2, and Monsters Inc.: Scream Factory Favorites) that earned the group Grammy awards in 2001 and 2003.
Along the way, Riders In The Sky have earned multiple awards, including six Western Music Association Entertainer of the Year trophies and membership in the organization's Hall of Fame, the Academy of Western Artists' Western Music Group of the Year award (five times), and a presence on both the Country Music Foundation's Walkway of Stars and the Walk of Western Stars in Newhall, California. On the scholarly front, Ranger Doug — who regularly sits in with the award-winning Time Jumpers Western swing band — earned renown of his own with the 2002 publication of Singing in the Saddle, the first full-length study of the Hollywood "singing cowboy" phenomenon.
Today, the Riders continue to delight audiences at the Opry House and elsewhere, more than justifying Billboard journalist Jim Bessman's characterization of them as one of "the most historically significant acts in the history of American music."
Stay In Touch
Subscribe for updates, events, offers and more. Sign up to receive our communications, please fill in the following fields and hit submit. Thanks, and welcome!