Opry Induction Date
January
21st
, 2021
Artist Information
Lady A had one special invitation and induction into membership of the Grand Ole Opry. During a filming of NBC's 2021 special,
Grand Ole Opry: 95 Years of Country Music,
on January 21, 2021, Darius Rucker surprised Hillary, Charles, and Dave on the Opry stage and announced their membership would be effective immediately.
Over the course of their decade-plus career, Lady A has become one of the 21st century's premier vocal groups, blending deeply felt emotions with classic Country sounds. While ushering more than 18 million album units, 34 million tracks sold and nearly five billion digital streams, the trio earned their 11th career No. One with the multi-week chart topper "Champagne Night." Additionally, the trio earned the biggest first week streams of their career with their critically acclaimed No. One album OCEAN. Known for their 9X Platinum hit "Need You Now" which is the highest certified song by a Country group, they have earned CMA "Vocal Group of the Year" trophies three years in a row and countless other honors including five GRAMMY awards, Billboard Music Awards, People's Choice Awards, Teen Choice Awards and a Tony Award nod.
All of that was achieved through a fragile balance of several key pieces, each of which helps define Lady A's sound: memorable melodies, the interplay between Charles' soulful male resonance and Hillary's scintillating female texture, the threesome's bittersweet harmonic blend, and production elements that invariably emphasize the stylistic inclusiveness of modern country.
That sound catapulted Lady A to an enviable level of popularity. The band picked up an audience beyond the typical country core listener. They hit the road playing arenas and stadiums, and the group performed on all the major television shows including Saturday Night Live, Oprah, The Grammys, The Voice and most every other daytime and late night program on network television.
That kind of attention often destroys bands. The pride that goes with success begins to undermine the act, and the members compete for recognition. Ultimately, that delicate balance devolves into a tug of war and the act simply falls apart.
That's an unlikely scenario for Lady A. Every member plays a key role, not only in the band's harmonic development but even in the day-to-day details of the group's mission. Each of them are keenly aware that the other members need the right amount of attention – and the right amount of space – to make the entire band work.
"We've seen enough Behind The Music [episodes] to know how these things turn out," Hillary suggests. "As much as we all are confident about what we bring to the table, the second you become a little too confident is when that balance shifts, and that's when you can implode. We know it's not worth that."
The magic remains because they have kept the focus on the music. They started as songwriters and they've continued to prove themselves in that field. In addition to writing most of their own hits, Dave and Charles co-authored buddy Luke Bryan's breakthrough hit, "Do I"; and Hillary  was a cowriter of Sara Evans' No. 1 single "A Little Bit Stronger," featured in the movie Country Strong.
The Grand Ole Opry has welcomed the band to its stages several times over the years. "Playing at the Opry is one of the best feelings in the world. There's no place on earth like it," says Dave. "As a country artist, you would feel honored that they would ask you to play here time and time again."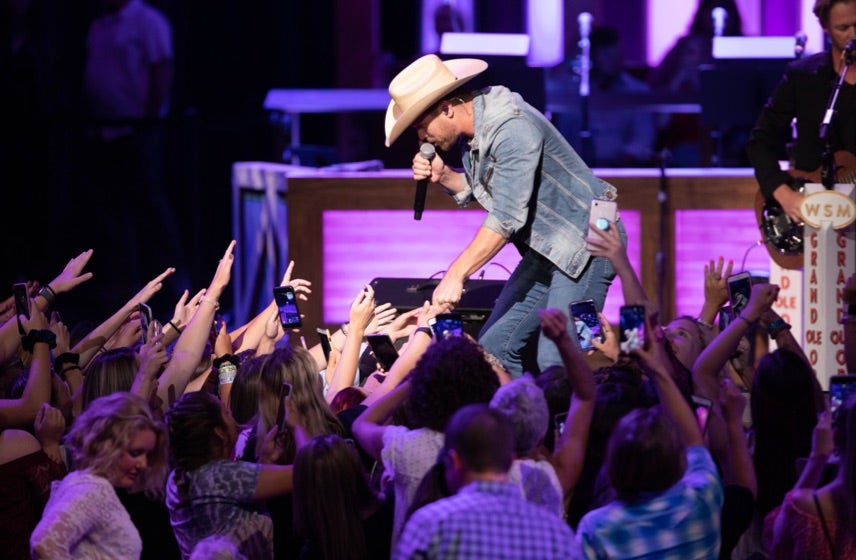 Opry House
Featuring Lady A, Mandy Barnett, The Gatlin Brothers, The Scott Family, Charlie McCoy and Riders In The Sky.
Stay In Touch
Skip the FOMO, we'll make sure you don't miss a thing! Sign up for exclusive updates, events, and offers – just for fans like you.