Jelly Roll "Cried Like a Baby" When he was Invited to Play the Opry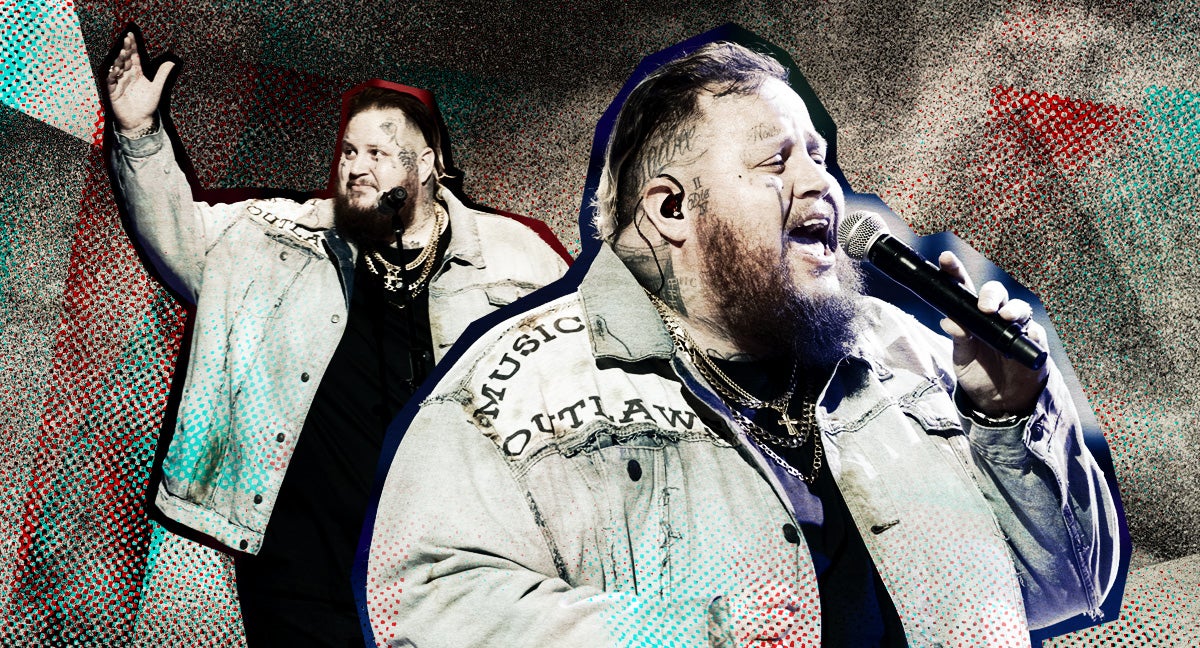 By Paige Cushman
Breakout country artist Jelly Roll's raw and deeply personal lyrics have been winning over fans for years, and he's recently added some hardware to his trophy case as a first-time winner of three 2023 CMT Music Awards: Best Male Video, Best Digital-First Performance, and Breakthrough Male Video. But it's not the accolades that make this Nashville native a standout in country music.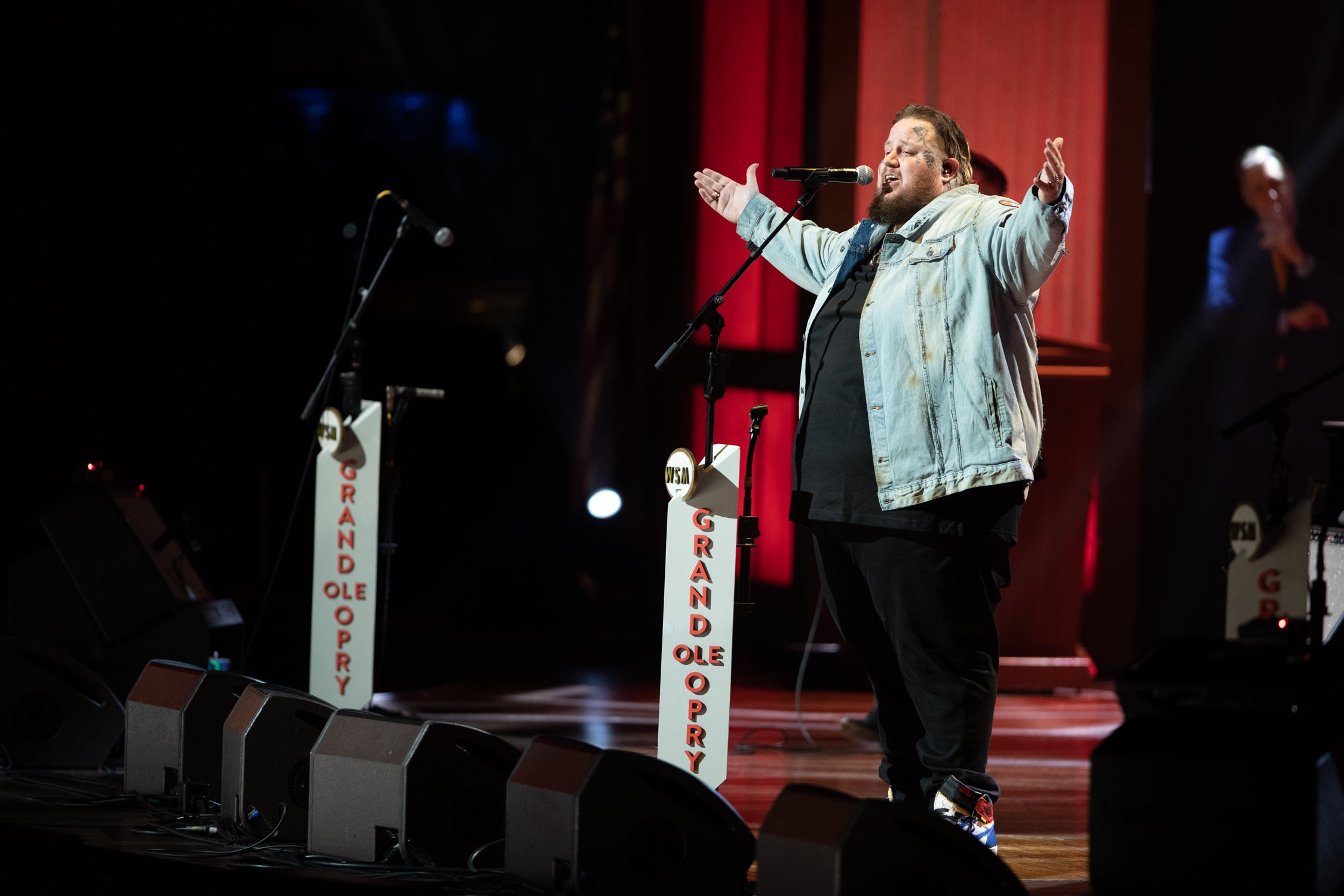 From driving past the Opry on his way to school, to taking the stage as a guest artist, Jelly Roll's journey with the Opry is a testament to the power of perseverance and the enduring allure of country music. We sat down with him during a recent appearance to talk all things Opry.
Growing up in Nashville, what was your experience or understanding of the Grand Ole Opry?
I loved it, man. My father was really big into the respect we had for these things. I understand that. At the time in Nashville, even if you weren't a country music fan, you respected that it was driving our economy. You gotta realize Nashville was tiny. So, there was a time where all we were known for was the Grand Ole Opry. We had two things going for us: meat 'n' three food, and the Grand Ole Opry. I've been literally driving by the Opry House since I was a kid. At some point, most kids have to become a country music fan and learn about the Opry – where I never knew a world where the Opry didn't exist. It was just a part of my life. It was a big thing for our town.
Did you ever dream of stepping into the circle?
I dreamed of playing here, but it seemed farfetched. I was only 15 minutes away, but it felt 50 million miles away. You know? Cause it was such a big stage and it's still intimidating. Even as I started to really dream it, as the more I got into music, I was like, 'I wanna play it,' it started to become a dream of mine. But initially, it was too big to dream of.
What was the moment like when you were invited to play the Grand Ole Opry?
I cried like a baby in front of 12 strangers. I had just signed my record deal, so I didn't even really know my record label. I met [Opry artist relations] in the hallway. I thought to myself 'Okay, I can't cuss as much. Opry people are here.' I had no clue what it was fixin' to turn into. I could have never dreamed that's what they were fixin' to ask. But it was part of the reason I signed my record deal – I had two prerequisites in my deal. I was like 'You gotta promise me you'll get me in the local newspaper, then you gotta promise me you'll get me to the Grand Ole Opry.' I had to at least prove that I am who I say I am, even if they never bring me back, that's fine. But just let me be the guy who gets to do it.
"I dreamed of playing here, but it seemed farfetched."
They were like, 'God, we thought you'd want $10 million.' I was like, 'I just turned $10 million down because they couldn't promise me the Grand Ole Opry and the local newspaper.'
Now, I know I chose the right team. Because this is my fourth time playing the Grand Ole Opry and I was on the cover of the local newspaper pretty quickly. We did the hometown paper thing by the end of our first meeting.
So, what do you have to accomplish now?
Oh no. I have to come up with a new list.
It's your fourth time playing here, what does it feel like?
Oddly comfortable. I feel welcome. I feel wanted, I feel warm. It still carries the prestige and you still feel the nerves, but you feel like you're somewhere that they want you to be – and that's from the crowd to the people working backstage.
I've heard you speak about how you can feel the history here. How do you feel about the dichotomy between your type of country music, your energy, and your lifestyle, and these historic country figures hanging on the walls?
It's the best in the world, man. It's time to bring this together. Right now, I think we're in the coolest era of country music ever. Some dudes from the nineties are gonna get mad. And I'm a big fan of the '70s outlaw movement, and the only reason I think this is cooler than that era was because there was only three or four dudes going against the grain in town. Now, the whole town's just going haywire. Everybody's going against the grain. People are throwing songs out on TikTok, getting number ones, and becoming celebrities overnight.
"Right now, I think we're in the coolest era of country music ever."
The outlaw movement is back in full force, but it's like six or seven of us. And then you got the subcultures of country music now – like where does Tyler Childers fall and where does Sturgill Simpson fall? And where does Brandy Carlisle fit in? Then you've got these Ashley McBryde's and these other real polarizing, clearly country people that are not necessarily doing the quote-unquote country thing. We're in the heyday – we're gonna look back and people are gonna be like, 'This is when it was the coolest.'
You've worked with Opry members like Craig Morgan and Gary Levox, who are the members who you feel close to or have been welcomed by?
The Craig Morgan night was historic. I didn't think anything could top my debut. And then the second time I played, I got a handwritten lyric sheet from Craig Morgan for the song that I got to sing with him that made me want to play the Grand Ole Opry.
It's gonna be hard to top some of those memories. Craig Morgan and me, every time I see him, we pick it up right where we left off at. I got to see Don Schlitz get invited – that was really cool. Craig and Don are two of the members I've spoken to the most. And I think they're just the kindest people I've ever met. But I haven't met no stick in the mud yet … There's a lot of really badass people here.
What can fans expect for you to dive into in the new album?
This is going to be my country debut album. It's always gonna be edgy, it's always gonna be different. From track one to track 13, it's gonna tell you a story, it's gonna take you on a journey. And it's a project I take great pride in.
You don't regularly listen to music, so when you're creating a new album, where do you draw inspiration from?
I try to go back to like the classics, the oldies. I have albums I've written where I listen to nothing but jazz. I just don't want to accidentally be so inspired by something I heard from one of my friends or peers that I'm in the studio subconsciously thinking of the same thing, making similar music.
Then, at that point, you're making what you like and what you are listening to, and not making what you feel. And to me, music's more about making what you feel and not necessarily what you like.
"I don't always like what I write. But if I feel it, it's worth putting out."
---
See up-and-coming country artists like Jelly Roll – and those who have inspired them – at the Opry multiple nights a week. Or take a tour to experience the country music history that brings a tear to the eye of cowboys like Jelly.
Stay In Touch
Subscribe for updates, events, offers and more. Sign up to receive our communications, please fill in the following fields and hit submit. Thanks, and welcome!