A '90s Country Q&A With Lauren Alaina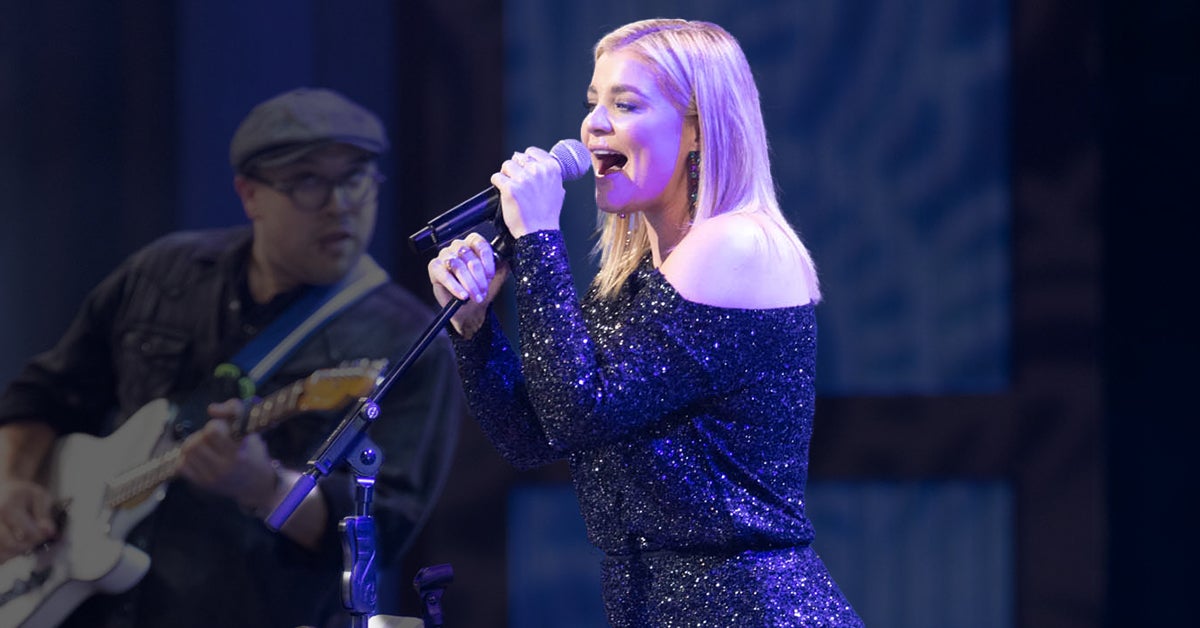 By Paige Cushman
Born in 1994, new Opry member and country superstar Lauren Alaina is proud to be a '90s baby. In 2018, she released her popular single "Ladies in the '90s," and several '90s country icons – Trisha Yearwood, Garth Brooks, Dolly Parton – were part of her Grand Ole Opry induction this year. So, it's safe to say '90s country has helped shape the country singer's upbringing and musical journey. Now, she's reflecting on that influence and how it brought her here, to the most illustrious family in country music.
Q: When you think of '90s country, what do you think of?
Women. When I think of '90s country, I think of women empowering women. Shania, The Chicks, Trisha Yearwood, Martina – all of the women who can be called by one name. That's what I think of, all of the women on a first-name basis.
Q: How did '90s music shape your music now and the songs that you write?
I draw inspiration from so many different genres, not just country. I listen to Whitney and Destiny's Child and all of that kind of music as well. I mean, I grew up in the '90s. I grew up listening to that stuff when I learned about what music was; that's what I was soaking up.
Q: Who are your favorite '90s Country idols?
My top three would be Dolly, I am a big Trisha Yearwood fan, and probably Martina McBride.
Q: Trisha Yearwood calls you "Junior," how did you develop such a close relationship with one of your favorite artists?
Food, honest to God. I was performing at an awards show in Nashville to do a tribute to Tanya Tucker with [Trisha]. A bunch of us girls were doing it and they put us all in the same dressing room.
Trisha and I just hit it off and I said, "I cannot wait until this deal is over so I can go eat a cheeseburger." It's pretty much a ritual, I eat basically lettuce for the three weeks before those award shows, and then I go straight to the closest fast-food restaurant every single time. She got tickled by that because she said she does the same thing.
So, we spent literally 35 minutes talking about all of our favorites, and what we ate there, and I thought "this is the best day of my life." At some point in the conversation, I thought, "this is Trisha Yearwood, and she has no idea that she's Trisha Yearwood." It was very funny.
A few months later, she asked me to come on her cooking show, Trisha's Southern Kitchen, and we actually worked a drive-through window – Hugh Babies over on Charlotte Avenue – together. We had so much fun doing it and that started our whole relationship. Then we did a song together, "Getting Good," and I've done a lot of stuff with her now. She wrote the forward in my book, she asked me to be on the Opry and she inducted me. She calls me "Junior" because we have so many weird things in common.
Q: What does that relationship mean to you?
She's just the best. It's kind of mind-blowing to me, I try to keep it cool, but I mean I think about if there's a little girl out there right now that listens to my music and is obsessed with me, like literally obsessed, standing in front of the mirror with her hairbrush singing my songs, that would be like 20 years from now, me being friends with her, which is just crazy.
I gotta find me a little Lauren out there, a little "Junior."
Q: Where do you guys get your fast food?
You know what we have in common that I feel like people really hate on? Arby's. We be loving the beef and cheddar.
I am so sick of the memes. When I see those memes that say: "Who is keeping Arby's in business?" It's me. Me and Trisha Yearwood. We like it so much that we recreated the beef and cheddar on her show.
Q: Why do you think '90s country is making a comeback right now?
It's making a comeback? When did '90s die down? I've been stuck back there as long as I can remember. I think those Gen Zs are learning what's up, that's what I think.
Sonically, I think the reason '90s country is doing so well right now is because, as a genre, we've circled back to that production sound. Like the "Fancy Like" production is literally a '90s song. And it's one of the biggest songs right now.
I think you could put a '90s country song in a current country playlist and not know it was from the '90s and it would flow straight through production-wise.
Q: You've said that since you were a little girl you've dreamt of being an Opry member, what does it mean to you that you're here now?
I've got to say I was pretty proud walking in here knowing I've got that little mailbox with my name on the wall. Like I've made it, I've arrived. But it means a lot, in all seriousness, it's unbelievable still.
Q: You were inducted into the Grand Ole Opry family pretty recently, what did that day feel like?
I feel really welcomed. I have felt an overwhelming amount of love since that happened and just from the people hanging on the walls, you know, reaching out and sending me flowers and welcoming me in. It's just the coolest thing that's ever happened to me.
All the coolest people from the '90s showed up for my induction night, and that's the truth, Dolly, Garth, and Trisha? Good luck to the next person, they'll have to raise someone from the dead.
This interview has been edited for length and clarity.
Stay In Touch
Skip the FOMO, we'll make sure you don't miss a thing! Sign up for exclusive updates, events, and offers – just for fans like you.