10 Opry Women Who've Blazed the Trail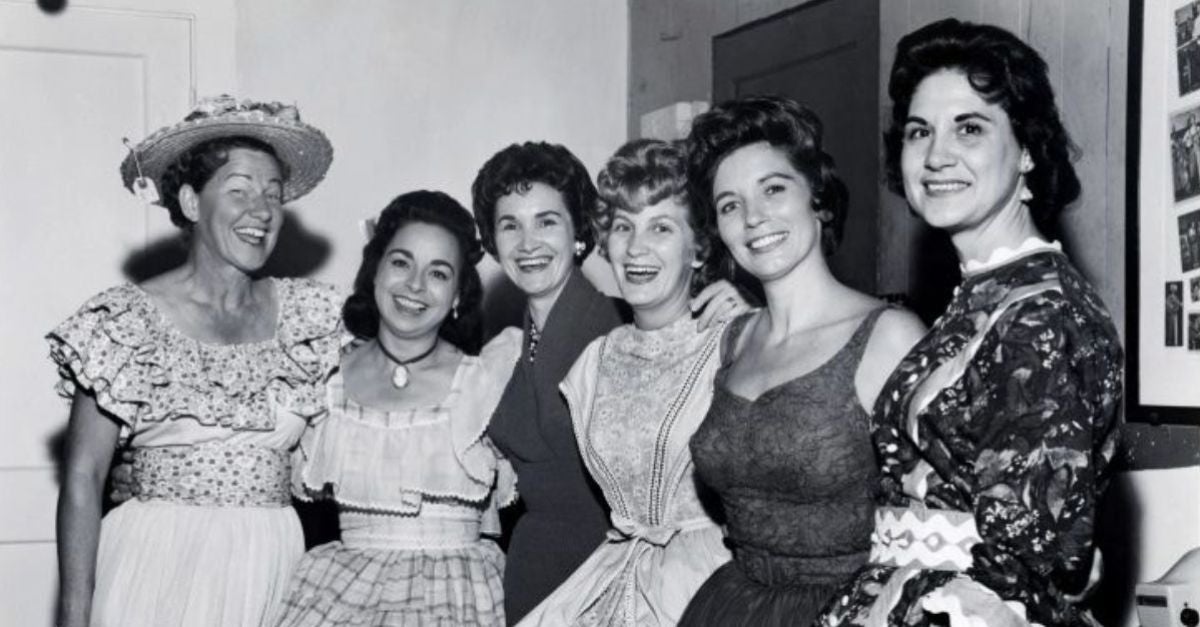 A lot of talent has come out of the women of the Opry these past 95 years, and there's no telling how many future Opry members in these next 95 years they will have inspired.

Dolly Parton
There once was a girl who used a tobacco stick and a tin can as a makeshift microphone to pretend that the porch of her family's one-room cabin was the Opry stage. She'd grow up to become a phenomenon known to the world by her first name alone. The rags-to-riches story sounds mythical, but then again, most things about Dolly Parton's life do
Exhibit A: When Dolly made her Opry debut at the age of 13, she received three encores.
Exhibit B: She wrote "I Will Always Love You" and "Jolene" on the same day. The same day. The. Same. Day.
While some things come naturally, Dolly has proven herself to be one of the hardest working (and smartest) people in the business, setting an example for aspiring female artists to know their worth and relentlessly pursue their dreams. From Martina McBride to Ashley McBryde, countless women have cited Dolly Parton as an influence.
"Whatever is on her mind, she just talks to you like you're in her living room. That really hit home with me," Ashley told Extra in 2019. "When people ask, 'Why don't you get nervous when you talk on stage?' I'm just doing what Dolly does. I'm talking you like you're in my living room. I owe her a lot, actually." She's certainly not the only one.

Carrie Underwood
When Carrie Underwood came onto the scene after winning American Idol in 2005, a curious thing was happening on country radio: While the ladies of country music dominated the nineties, fewer female artists were getting radio airplay and reaching the top of the charts in the new millennium.
But the "Before He Cheats" singer broke through, earning herself nine No. 1 songs before the close of the decade and the distinction of being the first solo female artist to win the Academy of Country Music's Entertainer of the Year award in nine years.
While Carrie has always stood out for her powerful vocals and emotion-injected ballads, she has also stood up for other female artists, even when she's been the lone woman at the top of the charts. "We have so much talent, we just need some more open doors," she said in 2019, speaking openly about the need for equal opportunity for women in the genre.
Carrie's talent and grace has earned her the admiration of many rising female artists, including that of fellow Opry member Kelsea Ballerini, whom Carrie inducted on stage in 2019. "I really wouldn't know what it looks like to be a woman in country music without Carrie Underwood — and every [woman who] is on the wall of the Women of Country dressing room — but especially this one," Kelsea said that historic night.

Minnie Pearl
"Just love them, honey, and they'll love you right back," Grand Ole Opry founder George D. Hay told Sarah Ophelia Colley Cannon, known to the world by her character's name Minnie Pearl, at the start of her comedic career. "Adore" may have been the more apt word to describe Opry audiences' feelings toward the girl from Grinder's Switch.
While Minnie had studied to become a dramatic actress, it quickly became apparent that she had a knack for meeting people where they are, even if that meant getting a little silly and wearing a straw hat with the $1.98 price tag still attached. Poking fun of the South that raised her, Minnie's unique brand of benevolent satire assured audiences that she was laughing right along with them, never at them.
She was the first woman to be inducted into the National Comedy Hall of Fame, but her comedic genius never needed to be qualified by the fact that she was a woman. She was just funny, plain and simple. While Minnie left some big shoes to fill — a distinctive, well-worn pair of black Mary Janes to be exact — after her passing in 1996, a new generation of female comedians have taken up the mantle in her honor at the Opry House, including regular Chonda Pierce, who impersonated Minnie while working at the old Opryland USA theme park.

Loretta Lynn
If Loretta Lynn wasn't speaking her mind, she was singing it. While the bright lights of Nashville feel far removed from Loretta's hometown of Butcher Hollow, Kentucky, her hard-scrabble upbringing seasoned her for a life in showbusiness. When she hit the road for Music City — in the same car she'd sleep in the night before her Opry debut — Loretta set out to do things her own way.
From "Don't Come Home A Drinkin' (With Lovin' on Your Mind)" to "Fist City," her persistence manifests itself most clearly in her overflowing catalog of no-holds-bard songs. On tracks like "One's on the Way," Loretta gave a voice to an entire generation of women who wondered about life's possibilities beyond housework and child-rearing, even if they didn't dare to express those thoughts out loud.
Nearly six decades after her 1962 Opry induction, Loretta's unapologetic artistry still resonates, especially among those who've never quite fit the mold — and don't plan to. Singer-songwriter Margo Price, whose debut album Midwest Farmer's Daughter nods to "Coal Miner's Daughter," has cited Loretta as one of her biggest inspirations, going so far as to seek the legend's blessing to use "Lynn" as a middle name for her daughter. She passed away at age 90, after 60 years as a pivotal part of the Opry family.

Emmylou Harris
A true songbird, Emmylou Harris' musical home as an artist is wherever she wants it to be. She glides effortlessly, contentedly between genres — bluegrass and country, folk and rock — earning the adoration of her contemporaries wherever she lands.
Regardless of where her sound might wander, Emmylou has remained a loyal guardian of country music, holding up its traditions on albums like Blue Kentucky Girl and Trio, a collaboration with Dolly Parton and Linda Ronstadt. But perhaps her greatest legacy is saving the very institution that helped define country music in the first place, the Grand Ole Opry's most famous former home, Ryman Auditorium. After sitting barren for nearly two decades without an audience to keep its pews warm, the Ryman was restored to its former glory with the help of Emmylou's live At the Ryman album.
Her impact transcends genres and generations, raising the same question in more than a few minds: "What would Emmylou do?" It's what fellow Opry member Trisha Yearwood asks herself often. "I always feel like Emmylou Harris set the bar," Trisha said in 2018. "And somewhere always in the back of my head I'm thinking, 'What will Emmylou think of this?' … She is the definition of a true artist.

The Grand Ladies of the Opry
After the likes of Kitty Wells and Sara and Maybelle Carter paved the way, the 1960s and '70s ushered a second wave of female country artists whose loyalty to the Opry and each other is revered to this day. Known as "The Grand Ladies of the Opry," Jeannie Seely, Jean Shepard, Jan Howard, and Jeanne Pruett may have had similar sounding names, but each had a musical sound and flair all her own. Jan and Jeannie each wrote. Jean yodeled. Jeanne played guitar. And then there was Skeeter Davis, a different sounding name, but one of the first country music female solo vocalists to achieve high-profile stardom.
Even still, the friend group was greater than the sum of it parts. The four women banded together from the moment they met, using the same cramped bathroom as a makeshift dressing room at Ryman Auditorium before women got their own facilities at the Grand Ole Opry House.
Each would go on to have illustrious careers as Opry members. Jeannie earned the distinction as the first woman to regularly host an Opry segment and is still one of the show's most frequent performers, occasionally joined by Jeanne [KQ1] on stage. While Jean and Jan have both passed away, their legacies are still very much alive. The trailblazers before them may have earned a woman's place on stage, but it was the Grand Ladies of the Opry who demonstrated that women were here to stay.
You can celebrate the women who make country music sparkle on the Opry's "Women of Country" tour. Get tickets here.
Stay In Touch
Subscribe for updates, events, offers and more. Sign up to receive our communications, please fill in the following fields and hit submit. Thanks, and welcome!