FAQs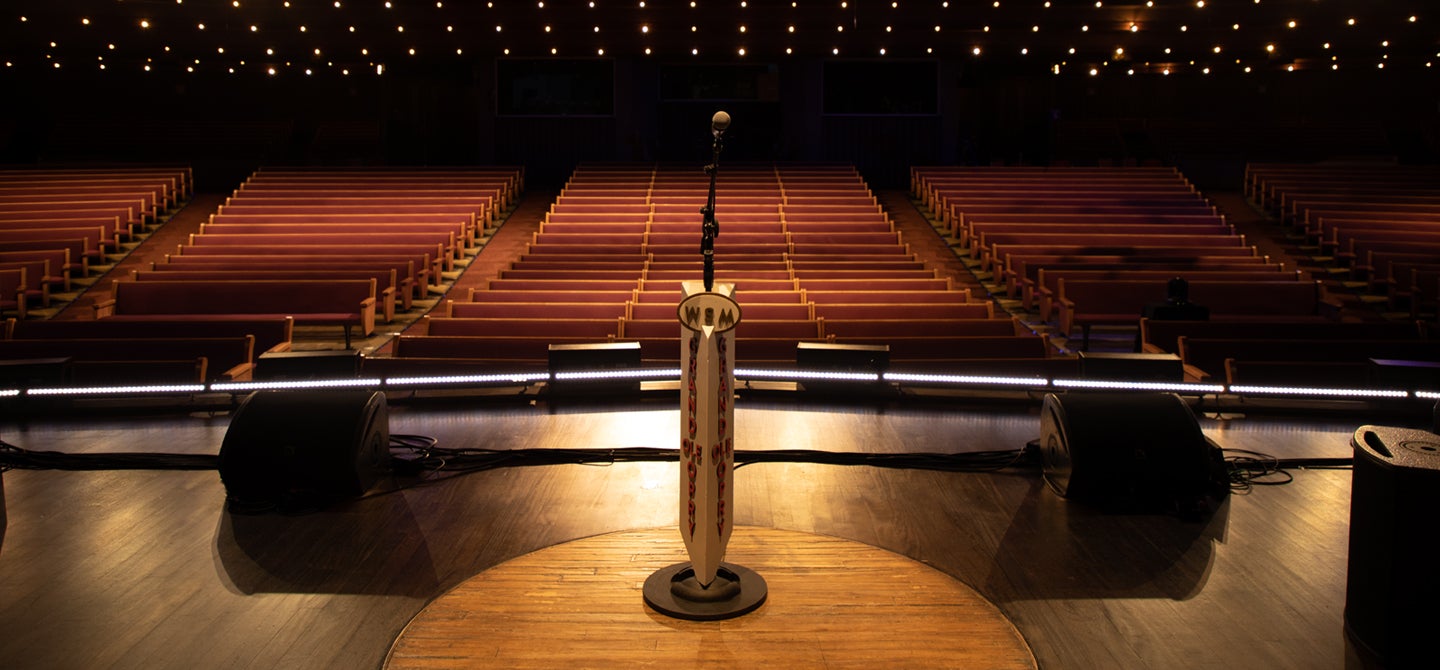 When do Opry tickets go on sale?
90 days in advance of the show date at 12 p.m. CT.
What if tickets for my planned travel dates aren't on sale yet?
We'll alert you via text or email, simply let us know when you're headed our way!
When are Opry shows announced?
On the last Thursday of each month, another month of show dates are announced. Ex. On Oct. 26, all February shows will be announced so you can start planning your trip.
Announce Dates
January: 9/28
February: 10/26
March: 11/30
April: 12/28
May: 1/25
June: 2/29
July: 3/28
August: 4/25
September: 5/30
October: 6/27
November: 7/25
December: 8/29
Wondering what to wear to the Grand Ole Opry? Just as the styles vary on the Opry stage, they do in the seats of the Opry House. While there is no formal dress code, you'll see everything from faded jeans to business suits, cowboy hats to your Sunday best. Just remember a rule we take very seriously here at the Grand Ole Opry — you have to wear something!
In regard to our covid-19 protocol, masks are welcome but not required.
Guests shall be respectful of others around them.
Guests shall avoid blocking the view of other guests.
During some concerts at the Opry House, the artists may request that guests be permitted to stand immediately in front of their seats during the entirety of the performance. On those occasions, standing guests shall continue to be respectful of others around them.
Guests shall not interfere with the show, event, or the performers.
Guests shall refrain from using foul/offensive language, fighting, obscene gestures, throwing objects and engaging in other behavior detrimental to the experience of other guests.
Guests shall not stand on seats or any other building structure.
Guests shall not block the aisles.
Guests shall not occupy a seat or remain in an area for which they do not possess a valid ticket and shall provide their ticket upon request.
As required by the City of Nashville, guests shall not smoke anywhere in our facilities.
Guests who consume alcoholic beverages shall do so in a responsible manner.
Guests are encouraged to report inappropriate or offensive behavior to an Usher, Security Officer or Guest Services Representative.
Guests shall comply with requests from the Opry House staff regarding auditorium operational and emergency procedures.
The Opry staff has been trained to intervene when deemed necessary and to use their best discretion to help ensure that guests who ignore the Code of Conduct do not interfere with other guests' ability to enjoy an event. Guests who violate the Code of Conduct may be subject to ejection without refund and, to the extent their conduct constitutes a violation of law, may be subject to arrest. We thank you for your cooperation.
"Will Call" refers to the Ticket Office located at the venue at which the event is being presented. If you are seeing an Opry show at the Grand Ole Opry House and picking up tickets at Will Call, go to the Opry Box Office. If you are seeing an Opry show at the Ryman Auditorium, please pick up your tickets at the Ticket Office at the Ryman Auditorium. In both cases, you will be asked to present a valid photo ID and your confirmation number.
To enter the Grand Ole Opry House for a show, please use the doors along the front of the building. When it is time to exit, guests will be directed by our staff to the door most convenient including the use of side doors, especially when other guests are waiting for the next show. If you are not seated with others in your party, please arrange a meeting place in the Opry Plaza prior to separating.
Men's and Women's restrooms may be found on all levels of the facilities. Restrooms are also available next to the Gift Shop.
The Opry House also provides baby change facilities in most female and male restrooms throughout the Grand Ole Opry House.
The Grand Ole Opry House does not provide an area to check coats or any other personal belongings. We are not responsible for any property that is lost, stolen or damaged.
The elevator within the Grand Ole Opry House is located in the lobby to your left as you enter.
The Grand Ole Opry House offers a variety of food and beverage items for purchase at our Sound Bites marketplace locations. Check out our elevated options, including specialty hot and cold sandwiches, flatbreads, grab-n-go snacks, desserts, water, soda, wine, beer, cocktails, and more. Sound Bites is open when doors open and will close 30 minutes prior to show ending. Sound Bites is located in the lobby of both floors of the Grand Ole Opry House and accepts cash, American Express, VISA, MasterCard, and Discover for purchases. Guests are welcome to enjoy their purchases in the auditorium during any Opry show.
The Grand Ole Opry is committed to providing a safe and enjoyable atmosphere. Any guest in need of assistance during an event should seek a Host or Hostess.
How long is the Grand Ole Opry show?
Every show is around 2 hours with a 15-minute intermission.
The backstage tour normally takes around 45 minutes to an hour.
What is the capacity of the Opry house?
The theater has 4,400 seats, and they're all good.
How old is the Grand Ole Opry?
The first broadcast was on Nov. 28, 1925 on WSM. The show moved into the iconic Opry House when it was built in 1974.
Is it cold in the Opry House?
The temperature inside the Opry House is changed based on audience size and the temperature outside but it generally stays around 70 degrees.
Do Children get into the Opry for free?
Discounted tour tickets are available for children ages 4-11. Children under 4 get free show & tour admission but must be sitting with their guardian during the show.
What is the difference between the Grand Ole Opry and the Gaylord Opryland Resort?
Grand Ole Opry
Sure, the Grand Ole Opry is the radio show that made country music famous way back in 1925, but it's also today's ultimate live show for any country music fan. The show has had many homes (including the iconic Ryman Auditorium) but since 1974, it has lived at the Opry House – located near the Opry Mills Mall and the Gaylord Opryland Resort, 10 miles from Downtown Nashville.
Gaylord Opryland Resort
Gaylord Opryland Resort was opened in 1977 to support the Grand Ole Opry and Opryland USA – an amusement park at the time, which closed in 1997 and was replaced by the Opry Mills Mall. Now, the family resort is known for its sprawling glass atrium with 9 acres of indoor gardens, winding rivers and waterfalls, hundreds of luxury suites, award-winning shops and restaurants, a waterpark, beloved seasonal events, and constant live entertainment.
The Grand Ole Opry receives a large number of charity requests, and unfortunately, cannot contribute to everyone. To be considered, one must submit their request on company letterhead along with proof of 501(c)(3) status to:
Grand Ole Opry
Attn: Donna Futch
2804 Opryland Drive
Nashville, TN 37214
Once your request is received, it will be reviewed to determine whether it fits within our contribution guidelines and budget. You will only be notified if we can grant your request.
The Grand Ole Opry is proud of its commitment to customer service and we are pleased when we hear of employees who perform in an exemplary manner. If you would like to give any of our employees special recognition please e-mail us at opryinfo@opry.com.
Enjoy the Grand Ole Opry experience with a stop at The Opry Shop, located within the Grand Ole Opry House (there is also an exterior entrance). It's the place for great Opry gifts and collectibles for all ages. Open seven days a week.
You can also shop 24 hours a day, 7 days a week at our online store.
Unfortunately, audio recordings of the weekly Grand Ole Opry show are not available for purchase, but there are a host of Opry recordings for sale online in The Opry Shop. Plus, you can also listen online on WSMonline.com, including archives of past Opry shows.
Restrictions and Prohibitions
Ticketholders and guests must abide by the instructions of Grand Ole Opry staff with regard to seeking autographs and approaching artists.
Animals or pets are not permitted on the premises at the Opry Entertainment Complex under normal circumstances, with the exception of service animals such as guide dogs. Service animals are defined as dogs that are individually trained to do work or perform tasks for people with disabilities.
Outside food and beverages, including water, are not permitted in the Grand Ole Opry House at any time.
Video cameras, monopods, tripods, iPads, and audio recording devices are not permitted inside the Grand Ole Opry House at any time. This policy will be strictly enforced. You may bring in a digital, disposable or 35mm camera. However, for some events, cameras of any type and/or flash photography may be prohibited. The Opry reserves the right to disallow photography as warranted.
Handouts, Leaflets, and Vending
The distribution of promotional items, flyers, handbills or printed materials on the Grand Ole Opry property including the Opry Plaza, is not permitted without written permission of the Grand Ole Opry. In addition, resale of any event tickets, unauthorized vending, peddling or product sampling is not allowed.
You may bring in a personal camera (no professional cameras allowed other than pre-approved press) for the Grand Ole Opry Show or tours of the Opry House. Video and audio recording / streaming is prohibited in the Opry House. Photography policies for other events held in the Opry House are determined by the individual show and often include no photography, video, or audio recording. The photography policy for those specific events will be posted outside the Opry House at the time of the event.
In compliance with Nashville regulations, there is no smoking permitted anywhere in ANY FACILITY. This policy is strictly enforced. Violation of this regulation is grounds for ejection. All exits are final. The Grand Ole Opry House does not allow for smoking passes.
If necessary, guests may bring strollers to events in the Grand Ole Opry House. Please understand, however, that these strollers must be collapsible and checked at the door. You may not leave strollers in the walkways, gates, or concourses and our staff will not guard these items for you. The Opry is not responsible for any lost, stolen, or damaged strollers.
Emergency and Security Information
Emergency Contact Information
The best way to be contacted during an emergency is to set your cell phone to vibrate. Please be sure to leave your seat location information with those who may need to contact you. The Grand Ole Opry is a live radio show and is not able to page ticket holders during a show.
Grand Ole Opry personnel are available to assist any guest in need. If you need assistance please contact any Host or Hostess who can assist with obtaining the proper care for your needs. The Grand Ole Opry House is equipped with Automatic External Defibrillators (AED) located in various locations throughout the building. Designated employees, including our Medical staff, have been properly trained and certified to use the AED. In the event of a medical emergency, contact a member of our staff for assistance.
If you have lost an item, please contact our customer service team toll free at (800) 733-6779
If you become separated from your child during an event, please seek the nearest Host or Hostess or Security Officer for assistance.
Stay In Touch
Skip the FOMO, we'll make sure you don't miss a thing! Sign up for exclusive updates, events, and offers – just for fans like you.