Jim Lauderdale
Artist Information
Jim Lauderdale has never been content to sit still in any one musical place for long, effortlessly cycling through a wide range of country, rock, and bluegrass shades of Americana. But "Hope," album number 34 in the two-time GRAMMY® award-winning singer-songwriter's distinguished career, nevertheless stands out stylistically as well as thematically. After a year of locked-down isolation, "Hope" finds Lauderdale breaking out with wide-open arrangements along the lines of Neil Young, The Grateful Dead and Little Feat.
As to messaging, "Hope" is a joyous musical tribute to the spirit of overcoming hard times in a spirit of inspirational healing. And the very first song sets the tone, "The Opportunity To Help Somebody Through It." With a message of helping your fellow man get through trying times, it brings a message of hard-won optimism.
"I wanted to get a musical message out there during this time of what we've all been going through, about the hope for better days ahead without seeming sanctimonious or preachy," Lauderdale says. "What I wanted to achieve was music to somehow help us all get through trying times and give comfort. The past year has been so difficult for everybody. If we can find any glimmers of hope, that really helps get you through another day."
Courage, hope and perseverance are recurrent themes throughout the album, from the tribute to frontline healthcare workers "Brave One" to "Don't You Dream Anymore?," a song urging listeners to be brave enough to want more. But it's not all heaviness. "Here's To Hoping" evokes the light at the end of the tunnel, and "Joyful Noise" closes the album with exactly that.
"Sounds we make and hear are joyful," Lauderdale says. "Music and laughter, talking and singing, sounds of nature. There's a joyfulness to it that helps make life seem right."
"Hope" was co-produced by Lauderdale with his long-time collaborator Jay Weaver, who played a similar role on 2019's "From Another World" and 2018's "Time Flies." Along with the usual A-list support cast, including guitarists Chris Scruggs and Kenny Vaughan, the album features Russ Pahl, Craig Smith, Will Van Horn, Micah Hulscher, Dave Racine, Pat Hubert, Wes L'Annglois, and sibling harmonies from Lillie Mae and Frank Rische. Recorded at Nashville's fabled Blackbird Studios, the bulk of the album's tracks were engineered by Blackbird Academy students.
"That was a learning experience for me, too," Lauderdale says. "Really inspiring to be in there working with people learning the process."
The material on "Hope" started to coalesce during Lauderdale's recording sessions with more straight-ahead country songs. But that process was upended when the shutdown kicked in during the spring of 2020.
"That was such a hard, weird time for everyone," Lauderdale says. "It was so difficult to watch all this tragedy unfolding with so many lives affected, and the people we were losing. As that spring went on, I was searching for something meaningful and realized I had this bunch of songs that didn't quite fit those country albums I'd been working on. They seemed to kind of speak to these times we were going through."
Once Lauderdale was attuned to that wavelength, inspiration began to strike, and he wrote and recorded more songs in a similar vein. An email exchange with writer Holly Gleason yielded up the kernel of "It's Almost More Than All The Joy," based on her description of the overwhelming sense of loss sweeping the planet in 2020. And the ode to simple pleasures "Mushrooms Are Growing After the Rain" came to Lauderdale while he was out walking, written so quickly that he had the melody recorded on his phone by the time he got home.
Also notable is "Memory," one of the last songs Lauderdale co-wrote with one of his heroes, the late Grateful Dead lyricist Robert Hunter. Having written over a hundred songs together over a two decade long co-writing relationship, Lauderdale was able to complete "Memory" in time for Hunter to hear it before he passed in September 2019. "Hope" also features an album-cover painting by Maureen Hunter, Robert's wife.
Musically, "Hope" has a few changeups like the late-night salon feel of "When Searching For Answers." Thoughtful and meditative, the prayerful invocation "Breathe Real Slow" is steeped in Lauderdale's training in qigong (a form of tai chi). And the cascading guitar riff of "We Fade In We Fade Out" might be the closest Lauderdale has ever come to arena-rock.
"That was one where I got together with my co-writer and friend Odie Blackmon," he says. "We never know what will come out, a country thing or a soul thing or what. That's different from anything we've written together before. All part of the theme. I wanted this album to have the feeling of community and connection, of people playing together and creating a feeling of joy. Having this music to work on helped get me through the despair and isolation of the last year, a thread of hope and optimism to hold on to. And now I want to share it with you all out there."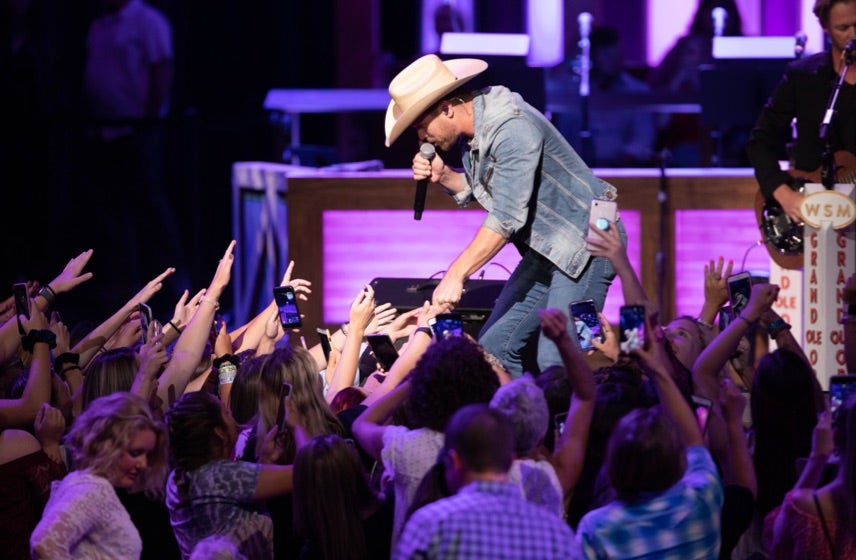 Opry House
Featuring Bill Anderson, Brian Bates, Steven Curtis Chapman, Jim Lauderdale, more to be announced...
Stay In Touch
Subscribe for updates, events, offers and more. Sign up to receive our communications, please fill in the following fields and hit submit. Thanks, and welcome!