Crowder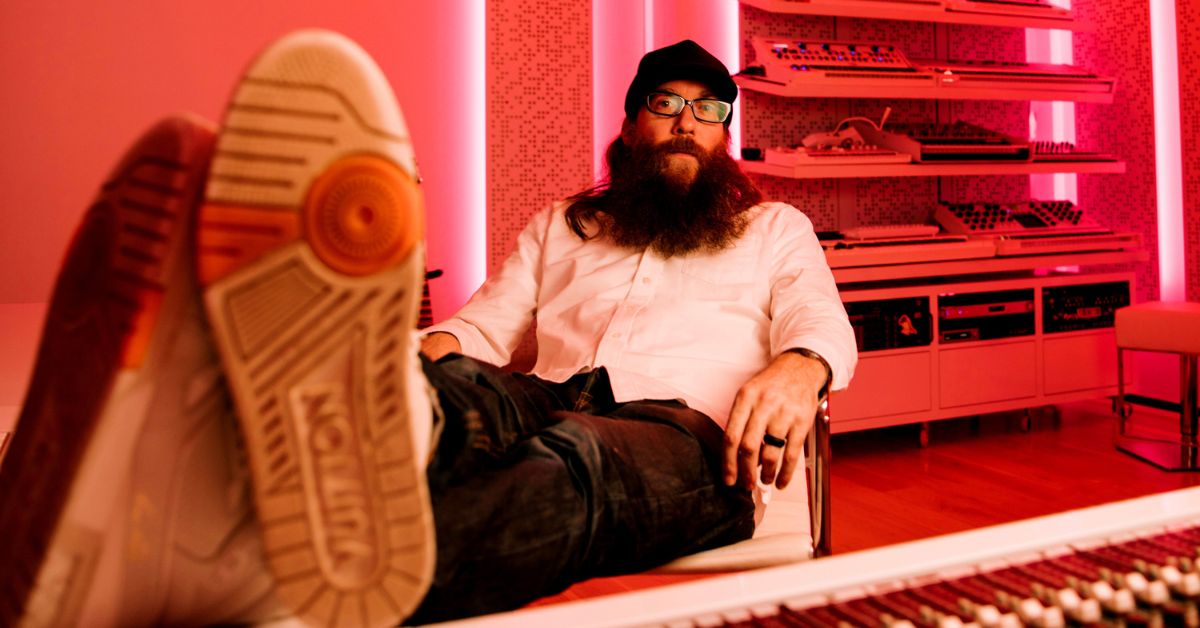 Opry Debut Date
December
2nd
, 2022
Artist Information
I come from a town divided. Texarkana, Texas, USA. I barely made it into our fine Republic. The town is positioned, geographically, in the northeastern corner of the state, with half of the city proper hanging over into Texas and the other half juttin' over into Arkansas. "Texarkana is Twice as Nice!" is what the water tower says. Stateline Avenue splits the municipality right down the middle and if you follow it all the way downtown you'll run smack into the city post office that sits right atop the bi-state dissection. There's a sign there to prove it. It's a scarecrow post type situation with two metal objects hanging out to either side of it, one in the shape of Texas and one in the shape of Arkansas. At the foot of the sign there is a white line painted on the concrete. It's presumed to be a photographic opportunity. You can stand there with one foot on one side of the line and one foot on the other and be in two states at the same time. I've stood right there, with my feet on either side of the divide, and you know what? I couldn't feel a thing.
    I moved from Texas to Georgia a few years ago. Atlanta, GA, to be exact. When I first got there, I landed in a pretty rough part of town called, Atlanta. That's a joke you can make if you live in Atlanta. We get to make that joke. You cannot. Until you have a permanent address with a water bill to prove it. The specific part of Atlanta I landed in is called, Cabbagetown. It's a quaint mill town with shotgun houses all gridded in near proximity to the Fulton Bag and Cotton Mill. The company that built the mill originally officed out of the former Atlanta Slave Market House, which it soon outgrew. In the early 1880's it began construction on a complex of buildings east of downtown on the south side of the Georgia Railroad line. The owners of the newly constructed mill would drive trucks up into the Appalachian mountains and load them down with folks looking for work; and these folks, mostly poor Scots-Irish, settled in those gridded shotgun houses that had been erected just for them. Over the past decade, the mill has been converted into a planned socioeconomically diversified residential space that just so happened to be the first thing to come up on the internet machine when my wife, Toni, typed in, "Atlanta loft apartments". And that's how our Georgia adventure began and how we wound up living in Cabbagetown in the Fulton Bag and Cotton Mill.
    A year or so after arriving in Cabbagetown, I began work on my first album as a solo-artist entitled, Neon Steeple. I am a fragile human and was nervous that this, the working on my first album as a solo-artist, might be a terrible idea. Because, well, this time, it would be all my fault. The act of blame displacement is humanity at its most adept. (i.e. Adam, the first man [addressing God], "Um. But. She gave me the fruit!") In a band, there is the company of compatriots to spread the blame fairly amongst. I chose to combat the negative automatic thoughts associated with this type of individual endeavor with positive cognitive rebuttals.
Such as, "This feeling is uncomfortable, but I can do this." And, "I'm a capable person who can do many things without the help of others."  And, "You can do it!" I tried not to let myself worry about anything more than just getting my insides, outside.
    At that time, I was thinking a lot about roots, and home, and place, and belonging. Which makes sense, seeing as I had never lived anywhere outside of the Lone Star State of Texas. The lyrics read like pop colloquial Southern Gospel and the music sounded like bluegrass electronic dance music. Growing up in East Texas, country and western, and bluegrass, and southern gospel were just things in the air, as unavoidable as sweet tea. And too, coming of age in the 80's, spending superabundant amounts of time in front of the television playing Atari and Nintendo with all those 8-bit beeps-and-blips, well, it's no wonder that if I were gonna try to get the soul of who I was as a person out into the open, the banjo and fiddle would be sittin' right up next to the 808 kick drum. "Folktronica," was the proper name for it if we were to have to name a thing as slippery as music. It was front porch hand and foot music with ones and zeros. And there I was, in a new locale called Cabbagetown, trying to find my roots. And you know what? Turns out, that street I landed on, the one with the mill, yeah, it's where country music was born. For real. True story! As I said, I didn't know it at the time, but remember all those mill workers that were fetched down from the Appalachians? Well, they brought their music with them, banjos and fiddles in tow. Cabbagetown was country before country was country.
Look it up on the internet machine. Nashville could've been Atlanta.
    Funny thing about roots, they take in whatever the soil provides. I don't know if I would have seen it any other way, but when I looked up, after a couple of years in the ATL, I realized that my first solo album was incredibly, what do you call it? "White." Which is understandable. Seeing as I am, like, "white." I mean, I'm extremely, "white." Like, literally, my skin is that pastie, British-English-White (BEW) that bursts into flames when exposed to direct sunlight. Add to that the whole Texarkana, Texas thing and the overall vibe, I guess you'd call it, that I'm sending out, is like, hillbilly-homeless with an East Texas accent, that on the global spectrum of accents, falls into the infraredneck frequency range. What is beautiful about Atlanta, and far different from everywhere else I've lived, is that most of the time I'm outnumbered.
So, there I am, a pastie, white, bearded, infraredneck, hillbilly-talking dude trying to say something about roots and home and belonging while sinking roots and finding a new home and true belonging in this hyper-globalized and diversified city of Atlanta, GA. It didn't take me long to consider the following: the banjo is an African instrument; the fiddle is an African instrument. 
    On the other side of the tracks, the ones I mentioned earlier that the Fulton Bag and Cotton Mill sits on, is the Old Fourth Ward. That's where freedom was born. If you have not established permanent residency in Atlanta, as in, you still cannot produce a water bill to prove it, you may not know that the Old Fourth Ward is the birthplace of reverend Martin Luther King, Jr. and is home of the Ebenezer Baptist Church where Dr. King was baptized and where he and his father and his grandfather were pastors. Yeah, that's right across the tracks from Cabbagetown.
    Mrs. Panell told me the parable of the Prodigal Son in Sunday school. I was still of the age where they brought us cookies and Kool-aid and we still played games like Mother May I and we still made neat freaking stuff out of popsicle sticks and glue. But as I grew up, the Prodigal story never really evolved or developed much more nuance than how I first heard it in Sunday school. Seemed like a prodigal was someone who left home and acted out in rebellious ways until thoroughly depleting any and all means of acting out in rebellious ways, at which point the prodigal returns home to a welcoming, ever loving father who is running toward him with open arms, party in tow. Which is pretty darn beautiful.
But I think the real story, the one worthy of an italicized title designating the start of a new allegorical tale as told by the Son of God in the middle of a gospel, The Parable of the Prodigal Son, is way more indicting than just calling out a rebel.
Turns out the word "prodigal" is an adjective meaning "lavish". At the very beginning of the story, which may be the most puissant, the father bestows his inheritance on both of his sons. Both are lavished upon by the father. As an American, currently living in Atlanta, GA, USA, I know what it means to be lavished upon. To find our place on this planet, here in such a land of blessing, what shall we do with what has been placed upon us?
    The current social and political atmosphere, even on a prefatory level, can give rise to a ruinous reduction in your sense of well being. Watching the news, or reading editorials, or op-editorials, or listening to the people at the table next to yours at Denny's, brings on a sadness no amount of bacon can service. I've tried. But I think that we are all a lot more the same than we are different. We're all just dirt and water and the breath of God. It's just a painted line. Or, some railroad tracks. Either way, it's a thing someone put there without asking. Maybe, what I'm supposed to be doing, having been lavished upon, is pointing out that a person can stand right there in the divide, brave and free, and not feel a thing. I know what it means to have the divide spanned on my behalf.
Grace works on us all just the same. Love works on us all just the same. Freedom works on us all just the same. There's only one definitive line and that's the one between death and life. These songs are about that divide spanned on our behalf and I pray they are subversive and healing in their insistence of that reality.
Stay In Touch
Skip the FOMO, we'll make sure you don't miss a thing! Sign up for exclusive updates, events, and offers – just for fans like you.