Bobby Bones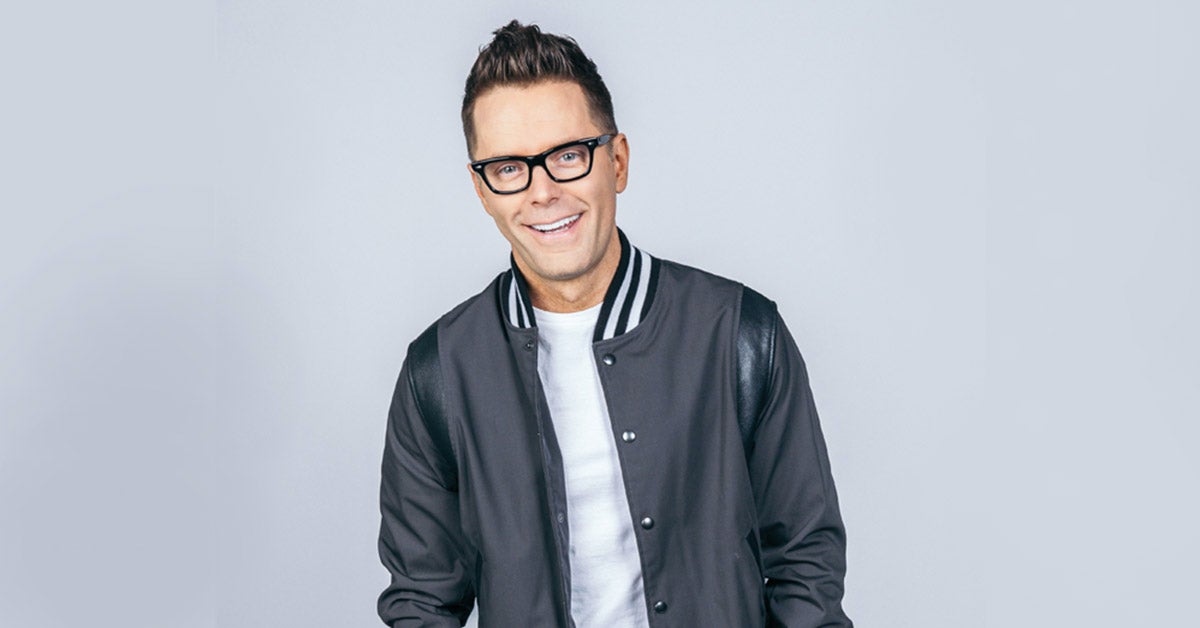 Hometown
Mountain Pine, AR
Artist Information
Long before launching The Bobby Bones Show— the largest morning show in country radio— Bones grew up in Mountain Pine, Arkansas. It was a pint-sized town, supported by a saw mill that employed most of the area's residents. Bones had a different career in mind, though, landing his first radio job as a college student and, during the years that followed, bouncing between a handful of pop, hip-hop, and sports stations.
When "The Bobby Bones Show" — which launched in Austin, quickly establishing itself as the city's top-rated morning show — moved to Nashville and became a nationally-syndicated radio program in 2012, Bones' career hit hyperdrive. Country music was in his blood. He'd grown up with the stuff. Country music had expanded its boundaries since Bones' days in Mountain Pine, too, taking some inspiration from pop music and hip-hop along the way. No other DJ was better prepared to tackle that growing genre — a genre now reaching a new generation of fans who'd grown up with MTV, Napster, and the internet — than Bobby Bones. His impact hasn't gone unnoticed. He's since garnered prestigious accolades including a CMA Award for National Broadcast Personality of the Year and is a two-time recipient of the National Personality Award from the ACMs. He's also become the youngest ever inductee into the National Radio Hall Of Fame, joining radio legends such as Dick Clark, Howard Stern and more.
Overseeing a daily radio show requires teamwork, and Bobby has built his own team from the ground up, reaching out to friends and former interns — including longtime co-hosts Lunchbox and Amy — to join him in the studio. A strong family dynamic anchors "The Bobby Bones Show," where visiting artists are encouraged to let their guard down and become, as Bobby says, "the most human version of themselves." There's no pageantry, no showbiz, no smoke and mirrors. Instead, Bones treats everyone like a member of the family, pulling real emotion out of the genre's biggest stars.
Of course, all of that teamwork and collaboration hasn't stopped him from regularly hitting the stage alone as a stand-up comedian. It's a job he's enjoyed since his teenage years. It continues to be a welcome challenge, too, putting Bones face-to-face with his audience and eliminating his cast of on-air sidekicks.
"I'm up there alone, telling stories from my life and sharing observations from my warped mind," he says. "It's all about honesty and awkwardness. I can't react to something my partner has just said, because there's no one else up there with me. I love the challenge. I love running the risk of failing at something, because if you fail, at least it means you're trying."
Bones shares a similar mix of personal stories and off-the-wall anecdotes in his first book, Bare Bones: I'm Not Lonely If You're Reading This Book. Published in 2016, the book topped several best-sellers lists upon its release, including The New York Times, USA Today, and The Wall Street Journal. Kicking off with memories of his childhood days in a Mountain Pine trailer park, Bare Bones takes an unflinchingly candid look at Bones' life, even shining a light on the struggles he faced while growing up in a broken home. Bones isn't looking for sympathy; instead, he's reaching out to others who may find themselves in similar situations, having an addicted parent or challenged by the limited horizons of a small, rural town. Bones' story is the American Dream, and his goal is to encourage others to live their own version of that same dream. Bones will continue to inspire with his eagerly awaited second book, hitting shelves in Summer 2018.
With a consistent aim to give back, Bones' charitable efforts have helped raise millions for needy children, shelter animals, hospital patients, and victims of natural disasters. From his annual "Pimpin Joy" movement on "The Bobby Bones Show" to his work with organizations like Musicians On Call, St. Jude Children's Research Hospital, and the National Humane Society, Bones has encouraged a high level of charitable involvement amongst his listeners, while also walking the walk himself.
"I'm not doing it so people can pat me on the back," he says. "I'm doing it because others did it for me. If I hadn't received a ton of help growing up, like church groups bringing us food, I wouldn't be here."
Bobby Bones and The Raging Idiots, the comedy-country band founded by Bones and his "Bobby Bones Show" sidekick, Eddie, started off as an excuse to play a handful of lighthearted songs at local charity events quickly snowballed into a genuine musical project, with multiple sold-out shows and studio collaborations with singers like Carrie Underwood, Garth Brooks, and Brad Paisley. Bones, who co-writes the band's material and handles lead vocals, insists that the Raging Idiots aren't meant to be taken too seriously. "Just look at our name!" he says, laughing. "We're idiots! Don't take us seriously, please." That didn't stop the band's first release, The Critics Give It 5 Stars, from becoming a crossover smash, topping the Billboard Comedy Chart and debuting at No. 4 on the Country Chart. Another release — The Raging Kidiots EP, a children's project aimed at younger listeners — spent two weeks at Number 1 on the iTunes Kids Chart. The Raging Idiots also released a full-length album titled Kiddy Up that debuted at #1. Serious or not, the Raging Idiots have become seriously popular.
Bones, too, has become increasingly popular since taking that first radio job in Arkansas with an audience of more than 5 million. He still kicks off every weekday morning as a radio host, but he's become much more than that, maintaining a multimedia presence that reaches beyond the FM airwaves. He's on your TV, on the air, on your bookshelf, in your CD player and onstage. He's Bobby Bones, and he isn't going anywhere.
Stay In Touch
Skip the FOMO, we'll make sure you don't miss a thing! Sign up for exclusive updates, events, and offers – just for fans like you.