The Grand Ole Opry's 12 Best '90s Moments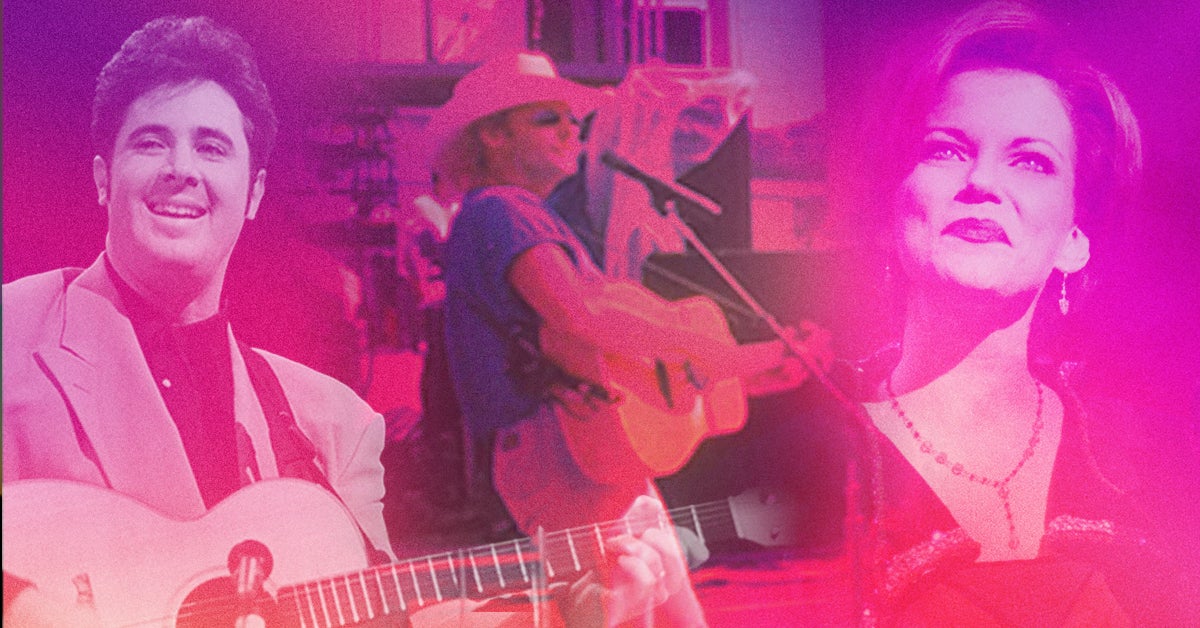 By Jillian Wyatt
The 1990s brought a whole new generation of country singers to the Grand Ole Opry, many of whom became flat-out music megastars. Look through the fog of hairspray, and you'll spy modern legends like Garth Brooks, Alan Jackson, and Trisha Yearwood among the 1990s class. Join us as we celebrate the decade with a look back at 12 of the Opry's best moments from the '90s.
Garth Brooks Achieves One of His Proudest Career Moments
Garth Brooks was inducted into the Grand Ole Opry family on Oct. 6, 1990, just one year after his Opry debut. That night, he performed three legendary hits: "Friends in Low Places," "If Tomorrow Never Comes," and "The Dance." At his Opry debut, Brooks wept tears of joy, and he called his induction one of the proudest moments of his career.
Minnie Pearl Celebrates 50 Years
On Nov. 3, 1990, Minnie Pearl celebrated her 50th Opry anniversary. She was saluted by icons from all around the country, including Dwight Yoakam, who sent her 50 dozen (that's 600!) roses, former President George H.W. Bush and former First Lady Barbara Bush, who sent a congratulatory telegram, and Dolly Parton, who shared her well-wishes via video. Always the comedian, Minnie joked after Dolly's message, "I wear a hat so folks can tell us apart."
Alan Jackson Gets His Own Mailbox
Alan Jackson joined the Opry cast on June 7, 1991. At the time, he had just released his second album, Don't Rock the Jukebox. He would go on to sell nearly 60 million albums and achieve 35 No. 1 hits. But this wasn't Jackson's first go-round at the Opry. He actually delivered mail to the Grand Ole Opry complex before earning his own Opry member mailbox in the Opry House post office.
Vince Gill Earns a New Title
Vince Gill has long been regarded as one of the nicest folks in country music, and on Aug. 10, 1991, he earned another title as a Grand Ole Opry cast member. He made more than 40 Opry appearances throughout 1997-1998, testing out new material in preparation for the release of his album, The Key. Since then, he's returned to the Opry stage numerous times. Gill has received countless Country Music Association awards and is the most Grammy-awarded male country artist.
Roy Acuff Leaves a Legacy
Roy Acuff performed at the Grand Ole Opry for the last time on Oct. 23, 1992. He was taken to the hospital immediately following the show, in declining health, and died exactly one month later at the age of 89. Dubbed "The King of Country Music," Acuff was an American country music singer and fiddler. He was inducted into the Opry in 1938 and remained a key figure, even living on the Opry grounds. In 1963, Acuff became the first living artist inducted into the Country Music Hall of Fame.
Charley Pride Hits a Home Run
Charley Pride joined the Opry cast on May 1, 1993, 26 years after he first performed on its stage. Before making it big in country music, Pride played baseball with the Memphis Red Sox in the Negro American League. With 36 No. 1 hits and more than 25 million albums sold, Pride is one of the most celebrated country musicians of all time.
Alison Krauss Reinvigorates Bluegrass
Alison Krauss was inducted into the Opry by Garth Brooks on June 3, 1993, becoming the first bluegrass artist in nearly 30 years to join the cast. She was 21 years old. Krauss, who made her Opry debut at the ripe ol' age of 17, has become one of the most well-respected collaborators in music, recording albums with Brad Paisley, Robert Plant, and even Def Leppard.
Martina McBride is Inducted by Loretta Lynn
During the Opry's 70th anniversary celebration on Nov. 30, 1995, Martina McBride was inducted by one of her idols, country music superstar Loretta Lynn. McBride called the honor "a highlight of my life." Early in her career, McBride sold t-shirts for Garth Brooks before eventually becoming his opening act and then a headliner all her own.
Diamond Rio Attracts a Whole New Generation
Diamond Rio joined the Opry cast on April 18, 1998, the first group in over a dozen years to receive Opry membership. They made their Opry debut seven years earlier in 1991 following the release of their first single, "Meet in the Middle," which made the group the first in country music history to have a debut single reach No. 1. Diamond Rio is credited with accelerating the "young country" movement.
Jimmy Dickens Hits 50 Years
Jimmy Dickens celebrated his 50th Opry anniversary on Nov. 7, 1998, joining what was at the time, a small group of Opry members to hit the 50-year mark. That group also included Herman Crook, Roy Acuff, Minnie Pearl, Bill Monroe, and Grandpa Jones. To many, Dickens was synonymous with the Grand Ole Opry. He performed on the Opry stage from the 1940s through late 2014, last appearing just days before his death in January 2015. In 2017, a statue of Jimmy Dickens was unveiled on the Ryman Auditorium plaza.
The Opry Returns to Ryman Auditorium
On Jan. 15-16, 1999, for the first time in 25 years, the Grand Ole Opry broadcasted all three of its weekend shows from its former home, Ryman Auditorium. The Ryman reopened in 1994 after years of extensive renovations. During this weekend, Trisha Yearwood was surprised with an invitation to join the Opry cast.
Trisha Yearwood Joins the Cast
Trisha Yearwood was inducted into the Opry on Mar. 13, 1999. She had made her Opry debut in 1992, singing her smash hit, "She's in Love With The Boy." Reflecting upon the honor, Yearwood said, "My mother came [to the Opry] on her senior class trip from South Georgia. She wrote in her diary about seeing Hank Snow, Hawkshaw Hawkins, and all those people … So it's not only about me, it's also about my whole family." "She's in Love With The Boy" is the most-listened-to country song of all time by a female artist.
Celebrate the '90s all year long at the "Opry Loves the '90s" exhibit, now open at the Roy Acuff House. See memorabilia from your favorite '90s music artists, then join in on the fun by snagging tickets to see a show with special '90s moments and highlights.
Stay In Touch
Subscribe for updates, events, offers and more. Sign up to receive our communications, please fill in the following fields and hit submit. Thanks, and welcome!