Meet the Remarkable Opry Band
September
7
, 2022
|
Artists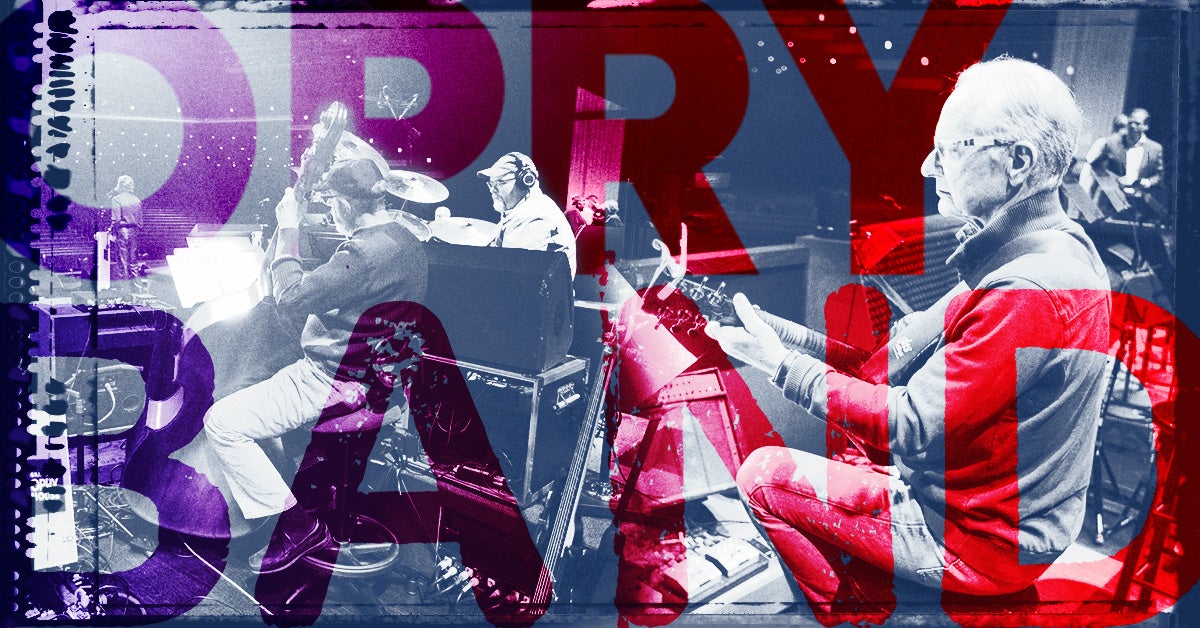 By Jillian Wyatt
Of course, you love the Grand Ole Opry and many of the famous performers who've taken its stage throughout its nearly 100-year history. But did you know the Opry has its very own world-class band?
Comprised of eight musicians in the Opry Band and four background vocalists in the Opry Singers, the group plays with various performers at every Opry show. And while they may not be household names, trust us when we say these band members and singers are some of the most talented folks in Nashville.
They're Grammy Award winners, composers of movie soundtracks, artists who have toured with some of music's biggest names – even a member of the Country Music Hall of Fame. Perhaps their most impressive accomplishment is that they master such a volume of songs on short notice night after night. Just before show time, the Opry Band gathers backstage to rehearse each song alongside the artist — often just once. In fact, the Opry Band learns up to a dozen songs, often just a day or two before performing them.
While the work is often taxing, being an essential part of the show that made country music famous is worth it.
Meet the Opry Band:
Guitarist Kerry Marx joined the Opry Band in 2000 and became Music Director in 2018. Marx has played with heavy hitters like Taylor Swift, James Taylor, John Legend, Luke Bryan, and Jason Aldean.
Drummer Eddie Bayers has been awarded the Academy of Country Music Drummer of the Year award for a record 11 straight years (14 times total), was recently the first drummer to be inducted into the Country Music Hall of Fame, and was named among DRUM Magazine's "Top Ten Session Drummers of All Time."
Mark Beckett has been an Opry bandmate since 2009. He has played with icons like Dolly Parton, Kenny Chesney, Olivia Newton-John, Vince Gill, Merle Haggard, and more.
Background singer Rod Fletcher joined the band in 1996. Before the Opry, Fletcher performed for 14 years with Disney.
Keyboardist Randy Hart was a former band member of Roger Miller's before coming to the Opry in 2008. He played on The Allman Brothers' Brothers of The Road and on Steve Wariner's 2010 Grammy-winning "Producer's Medley." His film credits include Eraserhead, Spiderman: Homecoming, and Sgt. Pepper's Lonely Hearts Club Band.
Eamon McLoughlin plays fiddle, mandolin, and percussion in the Opry Band. He's been nominated for two Grammy awards in the Country Instrumental category and has performed and recorded with Josh Turner, Emmylou Harris, Toby Keith, and more.
Mike Noble is an Emmy Award winner for composing the score of the PBS documentary Untamed Legacy. Since moving to Nashville in 1973, he's won three ASCAP Performance Awards and played on 16 gold- and platinum-certified records. Noble has played guitar, bass, banjo, and harmonica in the Opry band since 2010.
Guitarist Danny Parks joined the Opry Band in 2022. He moved to Nashville in 1982 and played his first Opry spot with the legendary Jean Shepard later that same year. He has played four different instruments on various top-10 singles and scored movie soundtracks for Toy Story 2 and The Beverly Hillbillies.
An Opry bassist and guitarist since 2004, Larry Paxton has won the CMA award for Musician of the Year, along with having multiple ACM Bass Player of the Year nominations, and a Golden Globe nomination for Best Film Score for his work in All the Pretty Horses.
Tommy White joined the Opry Band in 1998. A player of the pedal steel guitar, Dobro, lap steel, and slide guitar, White was inducted into the Steel Guitar Hall of Fame in 2013. He's performed with Glen Campbell, Alison Krauss, Dolly Parton, Jamey Johnson, and more. He also played on John Michael Montgomery's single, "The Little Girl," which spent several weeks at No. 1.
Singer Tony King has been an Opry Singers member since 2014. He's toured with Vince Gill, Ricky Skaggs, and Brooks & Dunn, and was a member of Columbia Records' trio Matthews, Wright & King. He also co-wrote Ricky Van Shelton's No. 1 single, "I've Cried My Last Tear For You."
Kim Keyes became part of the Opry Singers in 2022. She headlined various shows at Opryland Theme Park and was discovered there by legendary producer David Foster. Since then, she's toured with Amy Grant, Billy Joel, Reba McEntire, Rascal Flatts, Jewel, and more.
Marty Slayton moved to Nashville to perform at Opryland USA. Since then, she's been a background and studio singer for Alan Jackson, Reba McEntire, and more, and has toured and recorded with George Strait and his Ace in the Hole Band for 18 years. Slayton has been an Opry Singer since 2014.
Singer Mica Roberts has been a member since 2022. She's a touring member of Toby Keith's Easy Money Band and has radio singles of her own, including, "Things a Mama Don't Know," "Days You Live For," and "Faithfully," sung with Journey's Jonathan Cain.
Tania Hancheroff first began subbing in as a singer with the Opry band in 2014 and began as a regular member in 2019. Since moving to Nashville in 2003, she has sung background vocals on number-one singles by Luke Bryan, Brad Paisley, Carrie Underwood, Jake Owen, Josh Turner, and on several other records.
See the Opry Band perform live with your favorite artists every night on the Opry. Get tickets here.
Stay In Touch
Subscribe for updates, events, offers and more. Sign up to receive our communications, please fill in the following fields and hit submit. Thanks, and welcome!