Meet the Artists Performing on NextStage Live in Concert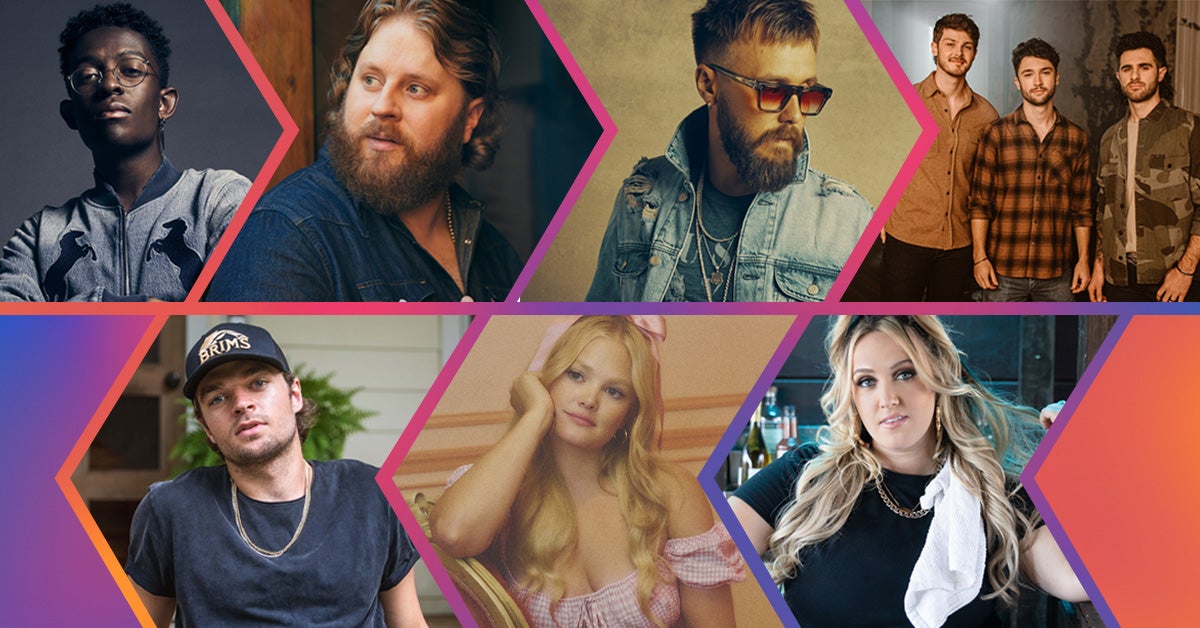 By Paige Cushman
Looking for your new country music obsession? These are the artists behind some of the biggest songs on country radio today. And they're all taking the Opry stage on Nov. 20 for a star-studded showcase of Nashville's rising stars. This is who they are:
BRELAND
BRELAND's genre-fluid sound, rich vocals, and contagious positivity has brought him Cross Country, literally and figuratively. From singing gospel music growing up in New Jersey, to recording hip-hop and R&B in D.C., and songwriting in Atlanta, to singing his country hit "My Truck" on the Grand Ole Opry stage, BRELAND is bringing us along on his boundary-breaking musical evolution. And praise the Lord for that.
NATE SMITH
From losing everything he owned in California's most deadly wildfire to grappling with heartbreak in Nashville, Nate Smith has seen some things. And he has a way of writing about them that will break your heart, make you fall in love, and leave you wanting more. It's the soul. It's the story. It's the growl. He's not here for the fame or the fortune, he's here for the song.
ELVIE SHANE
According to Billboard, Elvie Shane is "making the case for a new mainstay in country music." The small-town Kentucky native's picture-based lyrics, electric personality, and groovy southern-rock sound has landed him the opening slot for top country artists like Jason Aldean, Brooks & Dunn and Lady A. And he's just getting started.
RESTLESS ROAD
With their relatable and poignant songs, gripping harmonies, and genuine friendship, Restless Road is redefining everything we know about country bands. It's easy to see why country superstar Kane Brown chose Restless Road as his opener in 2021. It may be their dashing good looks, but it's more likely their incredible talent and the indescribable way they connect with their fans.
CONNER SMITH
Conner Smith has been writing songs since he was 6 years old. By the time he was 9, he was a professional songwriter. Twelve years later, he's writing his own country radio hits like "Learn From It" and "Take It Slow." He's taken his Nashville roots, relatable songwriting, and undeniable charisma on the road with Ryan Hurd and Thomas Rhett, and on stage alongside artists like Kane Brown and Sam Hunt.
HAILEY WHITTERS
Former Opry NextStage artist and rising star Hailey Whitters stepped into the spotlight in 2020 with the release of her sophmore album, The Dream, which was praised as "the year's deepest country album" by The Washington Post. It went on to land on 15 year-end best-of lists including #1 on both Stereogum's "10 Best Country Albums of 2020" and Garden & Gun's "Best Southern Albums of 2020" list. Now, she is on tour with her 2022 album Raised and making a stop at the Grand Ole Opry for NextStage Live in Concert.
HOST: PRISCILLA BLOCK
Former Opry NextStage artist Priscilla Block is one of the genre's most authentic and exciting rising artists. Pegged as an Artist to Watch in 2021 by Amazon Music, PANDORA, Spotify, CMT, The Boot, MusicRow, Country Now, Music Mayhem, and more, Priscilla has a massive (and growing) fanbase. And she is hosting the showcase as one of the Opry's esteemed alumna.
See the future of country music take shape on the world-famous Opry stage at NextStage Live in Concert. Get tickets here.

Stay In Touch
Subscribe for updates, events offers and more. To sign up to receive our emails, Fill in the following fields and hit submit. Thanks, and Welcome!