Inside Dierks Bentley's Inspiring Journey to 90 Grand Ole Opry Performances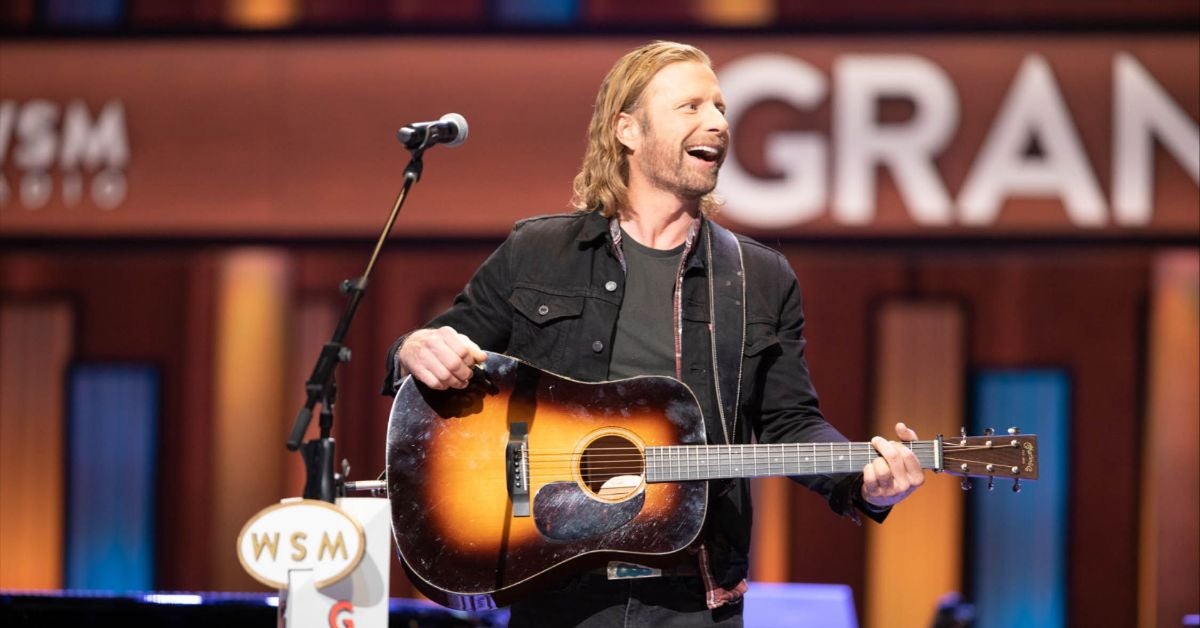 By Jillian Wyatt
To sing on country music's biggest stage is impressive. To be invited back again is an honor. To perform at the Grand Ole Opry 90 times? Legendary. We sat down with Dierks Bentley just before his 90th Opry performance to talk about his longevity in the industry, his lifelong love affair with the Opry, and what it feels like to stand in the Circle so many times.
"I'm just happy to still be here," Bentley says as he reflects on his 20 years in country music. "If I thought [in 2003] I'd be doing an interview about this in 2023, I'd be like, 'there's no way.' That's a long time."
Yet here he is two decades later, having just released his tenth studio album, Gravel & Gold, gearing up for his North American tour, and about to take the Opry stage for the 90th time.
Bentley is one of those rare artists who blazed onto the country scene and stayed white hot. His debut single, "What Was I Thinkin'" reached number one on the U.S. Billboard Hot Country Songs chart and won him a CMT Music Award for Breakthrough Video of the Year in 2004. Throughout his career, he's received numerous country music awards and been nominated for 14 Grammys. And through it all, the Grand Ole Opry has played a constant role in his journey.
Bentley made his Opry debut on April 18, 2003, where he performed his breakout hit. But as country legend would have it, it wasn't really his first time at the Opry. Before he made it big, Bentley, who worked on the Grand Ole Opry grounds at TV station The Nashville Network, regularly used his access to sneak backstage and hang out with Opry performers. Bentley eventually got caught and was banned from the venue – but that ban was lifted when his name was on the marquee.
"I was just super passionate about the Opry, super passionate about country music," he explains. "I guess it's not even like a passion, it's almost like a disease, or just a consumption. I wanted to be backstage at the Opry, I wanted to be around the source of the country music, you know. To me, the Opry was the source I've been searching for ever since I fell in love with country music. [I wanted to be] as close to it as possible."
He did, ultimately, get close. He was inducted as a member of the Grand Ole Opry family on October 1, 2005, two-and-a-half years after his Opry debut. Bentley was the third youngest member after Carrie Underwood and Josh Turner.
Dierks' sound has always been unique: a blend of honky-tonk, bluegrass, classic country, and modern rock. He reveres the greats, like Marty Stewart and Eddie Stubbs, but loves to learn from the younger talent he invites on his tours.
"I'm happy to share what I've learned over the 20 years of doing this," he says, but "just 'cause you've been doing it a long time doesn't mean you're doing it the right way. There's a lot to learn."
The young artists he's currently being inspired by include Hailey Whitters, Hardy, Morgan Wallen, Ernest, and William Beckmann. New Opry member Ashley McBryde makes an appearance on "Cowboy Boots," track seven on Bentley's new album, and his second single, "High Note," features bluegrass picker Billy Strings.
Bluegrass has always been important to Bentley. The first band he ever saw at the Opry was the legendary bluegrass duo The Osborne Brothers. And in 2010, Bentley released a bluegrass album, Up On The Ridge, after a period of feeling lost. He found his way back by returning to the music that brought him to the Opry in the first place.
"I just love musicians more than any other people in this town," he says. "More than artists, more than songwriters. And the best musicians play bluegrass."
Dierks can still be found playing with his bluegrass band at Nashville's legendary Station Inn each month.
"I got a gig there on Tuesday," he said, laughing. "I could have said that same phrase 20 years ago: I got a gig at the Station Inn with my bluegrass band."
The more things change, the more they stay the same. It's a notion Bentley explores on "Same Ol' Me," the opening track of Gravel & Gold.
"If the neon's off, if the neon's on / Same ol' me playin' all night long / Yeah, whatcha get is gonna be what you see / Cause, baby, I'm the same ol' me."
In many ways, Bentley feels like the same guy who first took the Opry stage in 2003. His 90th Opry show took place on a Friday night in early March. Stepping into the Circle, Bentley launched into "Gold," his first single from Gravel & Gold. "This is livin' right here, y'all," he said, opening the show. "Being here at the Grand Ole Opry for an hour with you guys. This is what livin' feels like."
Hosted by TV and radio broadcaster, Storme Warren, "Dierks Bentley & Friends" unfolded over an hour, treating fans to favorites like "Livin'," "Burning Man," and "Drunk On a Plane" and featuring duets with special guests Jordan Davis – who is touring with Bentley – and Ashley McBryde. Even Bentley's three children were present, seated at the back of the stage. More than once, he marveled at the fact that it's his 90th performance here.
To Bentley, the secret to his staying power in the industry is simple.
"I just love country music," he says. "That's kind of always been the basis of everything for me."
It was love that drove him to country and bluegrass, to Nashville, and to the Opry – through the front and the back doors.
"Whatever it takes, be around those people that can inspire you and help you, even if it means getting kicked out of some places every now and then. Like the Opry for me."
Dierks Bentley's tenth studio album, Gravel & Gold, is available now. The Gravel & Gold North American tour kicks off June 1 in Toronto. His 90th Opry performance, "Dierks Bentley & Friends" is available to stream on Circle Network.
Stay In Touch
Subscribe for updates, events, offers and more. Sign up to receive our communications, please fill in the following fields and hit submit. Thanks, and welcome!