7 Iconic Country Music Performances at the Opry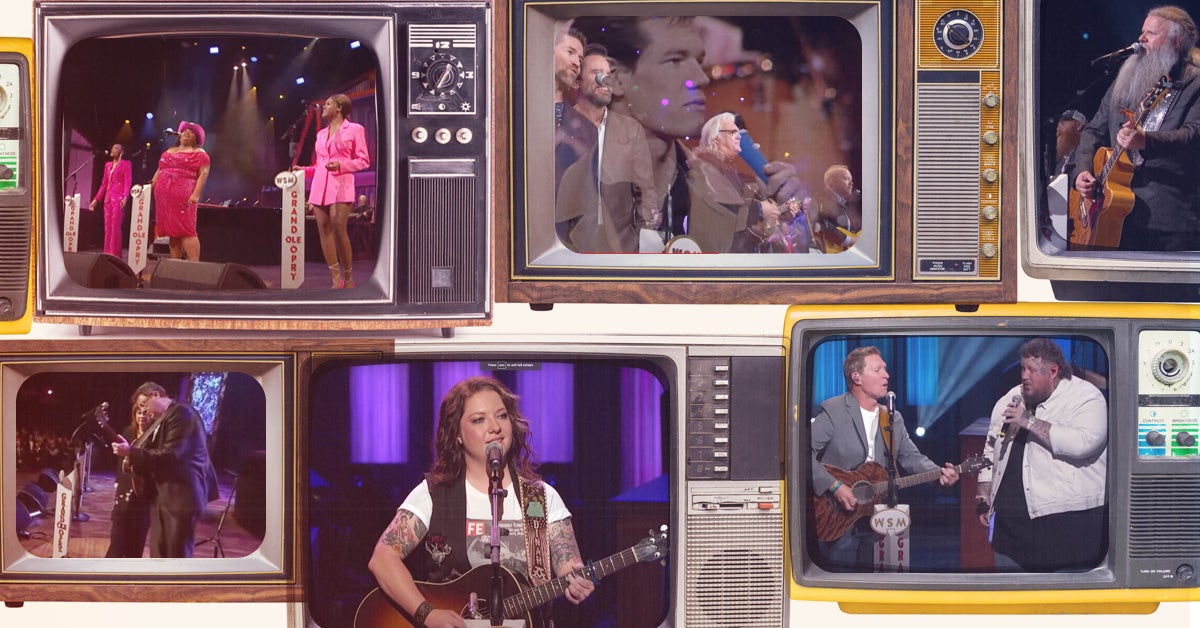 By Paige Cushman
There's something special about witnessing a live country music performance at the Grand Ole Opry. These iconic shows have shaped the country music industry and left an indelible mark on fans. From heartfelt ballads to electrifying performances, we've compiled a list of seven unforgettable live country music moments that have graced the Opry stage. Get ready to be captivated by some of the best in country music history.
Randy Travis performs "Forever and Ever, Amen" - 2019
Six years after a stroke that nearly killed country legend Randy Travis, the Opry family came together in 2019 to celebrate his timeless talent and his 60th birthday with some of the best country music performances of all time. With the help of songwriter Don Schlitz, Josh Turner, Charles Esten, Ricky Skaggs, and more of his friends and family, Travis, who had to relearn to walk and talk after his stroke, was able to perform a part of his beloved hit song "Forever and Ever, Amen."
Craig Morgan and Jelly Roll perform "Almost Home" - 2022
Jelly Roll, a Nashville native, has spoken on stage about how one of Craig Morgan's performances at the Grand Ole Opry had changed his life. So, in 2022, after Jelly Roll broke into the country music scene, and became a friend of the Opry, Morgan invited him on stage to perform "Almost Home." The powerful collaboration ended up being one of the most memorable Opry performances ever.
Ashley McBryde performs "Girl Goin Nowhere" - 2017
As an up-and-coming country superstar, Ashley McBryde wrote her hit "Girl Goin Nowhere" about a high school teacher who said her dreams of moving to Nashville to perform her songs was "stupid." Needless to say, when she performed it on the Opry stage during her debut, there wasn't a dry eye in the room.
Jamey Johnson performs "In Color" - 2022
Beloved country artist and songwriter Jamey Johnson's hit "In Color" is always a tear-jerker, but when he performed it during his first show as an Opry member, it made for one of the Opry's greatest country music moments. He received a roaring round of applause and a well-deserved standing ovation after the touching performance.
Chapel Hart performs "Don't Come Home A-Drinkin' (With Lovin' On Your Mind)" - 2022
Chapel Hart's fiery tribute to trailblazer Loretta Lynn – a cover of her classic hit "Don't Come Home A-Drinkin' (With Lovin' On Your Mind)" – made for the perfect memorial performance. The Opry honored Lynn, one of the Opry's most recognizable members and country's biggest names, a few days after she passed in 2022 with a meaningful and star-studded country music performance.
Vince Gill & Patty Loveless perform "Go Rest High on That Mountain" at George Jones' Funeral - 2013
Country icons Vince Gill and Patty Loveless delivered a breathtaking duet with their performance of Gill's "Go Rest High on That Mountain" at a tribute for George Jones held at the Opry House in 2013. The emotional performance is one for the books, and one of the genre's most touching moments on the Opry stage.
The Opry Cast performs "Will The Circle Be Unbroken" - 2023
In February of 2023, the cast of the Saturday night Opry opened the show unveiling an all-new Grand Ole Opry stage while performing "Will The Circle Be Unbroken." Country music performers The Oak Ridge Boys, The War and Treaty, Ricky Skaggs, Kat & Alex, Mandy Barnett, Rudy Gatlin, Mark Wills, Don Schlitz, and Jon Pardi came together for a show opening that'll be hard to beat.
These iconic live country music performances at the Opry showcase the very best of the genre. Don't miss your chance to experience the magic for yourself. Get tickets and be part of the rich history and unforgettable music moments that only happen on the Grand Ole Opry.
Stay In Touch
Subscribe for updates, events, offers and more. Sign up to receive our communications, please fill in the following fields and hit submit. Thanks, and welcome!