50 Reasons Why We Will Always Love Dolly Parton
November
18
, 2020
|
Artists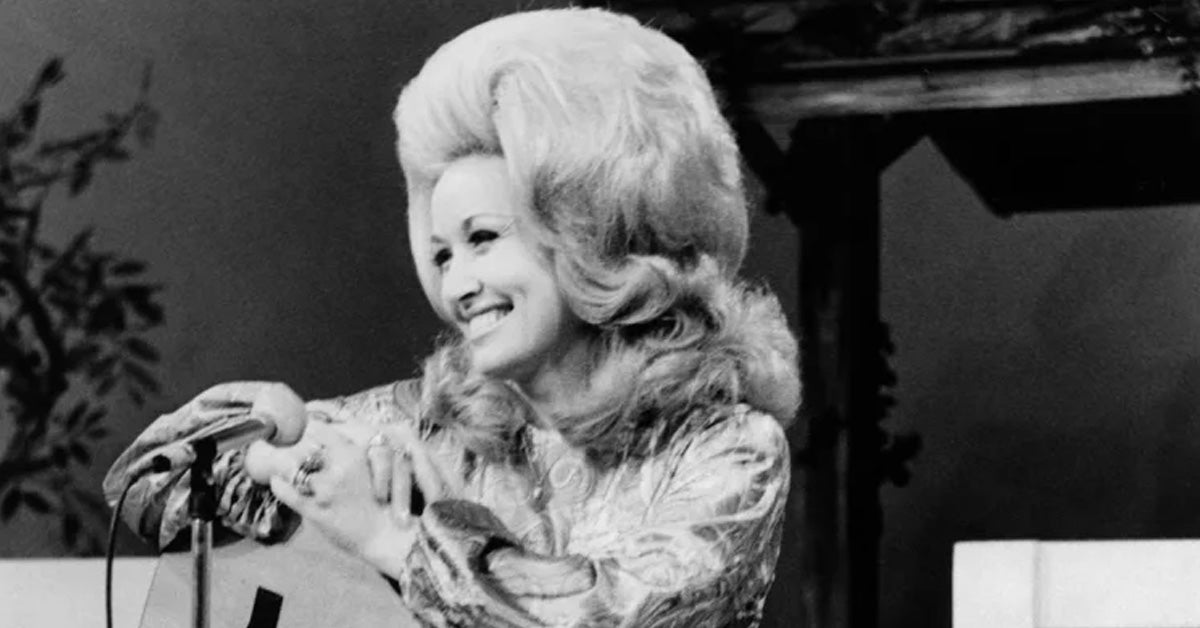 By Katie Quine
Let us count the ways that Dolly — the person and the artist — has left her mark on the world as she celebrates more than five decades as an Opry member.
Originally Published on November 18, 2020
1. She believes in the power of dreams — and the hard work it takes to make them happen.
2. She represents every artist's Music City dream, too. Confident in her talent, she packed her bags for Nashville the day after she graduated high school.
3. She holds two Guinness World Records. Dolly is the only country artist who can say that she has had a Top 20 hit on Billboard's Hot Country Songs chart for six consecutive decades. She also outpaces all other female country artists with 107 hits to make the chart.
4. It's not every day that you write a hit, but in a single day, Dolly Parton managed to pen two of the most beloved songs the world has ever known: "I Will Always Love You" and "Jolene."
5. Even with her success, Dolly has never forgotten where she came from. You hear it in songs like "Coat of Many Colors," and you see it in all the ways she's given back to the Great Smoky Mountains that raised her. When forest fires devastated Tennessee's Sevier County, she pledged to donate $1,000 a month to families who lost their homes.
6. We don't know too many people who have their own theme park.
7. A love for music runs in her family. Her mom taught her gospel songs, and her uncle Bill was also a musician, gifting Dolly her first real guitar.
8. As she puts it, "When I was a little girl, I used a tobacco stick and a tin can and pretended it was a microphone, and I sang on my front porch, imagining I was on the Grand Ole Opry."
9. She started writing songs at the age of five.
10. When she started performing at age 10 on a Knoxville television station, her family didn't yet own a TV set, so she bought one with the money she saved.
11. When Dolly made her Grand Ole Opry debut, she received three encores — and she was just 13 when she did it.
12. The girl's got gumption. She sang George Jones' "You Gotta Be My Baby" on her Opry debut. Nothing risked, nothing gained.
13. She's got serious business smarts — even when given an offer most people would have a hard time refusing. Elvis Presley wished to record "I Will Always Love You," but Dolly turned him down after his manager requested half of the publishing rights. Though it was a difficult decision, she certainly earned her keep as the song topped the charts multiple times.
14. She is the living embodiment of country music, clearly influenced by the confluence of gospel, bluegrass, and folk growing up in East Tennessee.
15. Though Dolly is country to her core, the universal emotion she conveys through her artistry transcends genres. "I Will Always Love You" is just as moving with Whitney Houston's pop treatment as it is in its original country form. It's easy to see why Dolly's music inspires so many covers — from Norah Jones' take on "The Grass Is Blue" to Carrie Underwood and Jennifer Nettles' performance of "9 to 5" on the Opry stage.
16. Dolly's never been fond of boxes. She regularly experiments with new sounds. Not humming along to "Islands in the Stream," which was written by the Bee Gees, is criminal.
17. Seriously, have you heard her dance club hit "Peace Train" that she recorded with Ladysmith Black Mambazo?
18. But she never strays far from the bluegrass she grew up on. The Grass is Blue is one of our all-time favorite albums.
19. Dolly knows how to make an entrance. On her very first day recording at the historic RCA Studio B, she was late for her session and rammed her new car into the side of the recording studio's brick wall. She'd go on to have many more hits — fortunately, they were of the musical variety.
20. In the 1960s, when women were often relegated to the position of "girl singer," Dolly dreamed of bigger things for herself as she sought autonomy apart from Porter Wagoner, her longtime performing partner. Soon enough, she became a household name.
21. The woman's got yodeling chops. There's a reason why her interpretation of Jimmie Rogers' "Muleskinner Blues" became her first Top 10 single. Her command of the song was so convincing that you'd think the tune had been about a female mule skinner all along.
22. She is grace personified. When she wanted to break away from The Porter Wagoner Show and go solo, she set her feelings to a melody with "I Will Always Love You." When she performed the song for Porter, he was so moved that he said, "OK, you can go, but only if I can produce that record."
23. Everyone's face was wet with tears at Porter Wagoner's 50th Opry Anniversary when Dolly serenaded Porter with "I Will Always Love You" as Marty Stuart played the mandolin. Porter passed away later that year, but it remains as one of the most beloved moments in Opry history.
24. She knows women are a force to be reckoned with when they band together. In 1987, she released the album Trio with Linda Ronstadt and Emmylou Harris. Alongside Tammy Wynette and Loretta Lynn, Dolly honored some of the genre's earliest female heroes, Kitty Wells and Patsy Cline, with their Honky Tonk Angels album in 1992. In July, she appeared alongside the newly-formed supergroup The Highwomen — which includes Brandi Carlile, Maren Morris, Natalie Hemby, and Amanda Shires — at the Newport Folk Festival.
25. Her song "9 to 5" and appearance in the revenge comedy of the same name came at an important time when both were released in 1980. As more women than ever fought hard to achieve parity in the workplace, they could look to the indomitable spirit of Dolly's character, Doralee, for inspiration.
26. Who else can claim that they're the inspiration for a Sesame Street parody puppet named Polly Darton that helps kids learn how to count?
27. She's a big reason why we were blessed with Buffy the Vampire Slayer. The company she owned alongside former manager Sandy Gallin produced the series.
28. Her on-stage talent translates effortlessly to the screen in Steel Magnolias. Truvy Jones can do our hair any day of the week.
29. Whether she's telling us to "Find out who you are and do it on purpose" or comforting us with the adage that "Storms make trees take deeper roots," Dolly always knows the right things to say.
30. Dolly puts on no airs about who she is. What you see is absolutely what you get, and we wouldn't have it any other way.
31. She's a storyteller through and through, even when she's not setting her words to music. We can watch her past interviews on loop all day.
32. She'll tell it to you straight — and smile as she does it.
33. Her wit is incomparable. "I'm not offended by all the dumb blonde jokes because I know that I'm not dumb. I also know I'm not blonde," stands as the greatest quip of all time, hands down.
34. She's got star power among the stars. When Reba McEntire made her Opry debut, management asked if Dolly could take one of her song slots. Instead of being upset, Reba was "thrilled to death." For Dolly, we'd do anything.
35. She's always got something up those sparkly sleeves. When Reba celebrated the 40th anniversary of her Opry debut in 2017, Dolly dropped in to congratulate her, shocking both the audience and the woman of honor herself.
36. Dolly and megastar Adele's admiration for one another is something we never knew we needed. Adele refers to Dolly as "a hero of my life" and dressed up as her idol in a viral Instagram photo in 2018. In 2016, Dolly name-dropped Adele in her single "Head Over High Heels." Humanity needs a duet from these two.
37. The love story Dolly shares with husband Carl Dean is the sweetest. The pair has been married 53 years after meeting at a laundromat in Nashville in 1964.
38. It doesn't matter who you are — she loves everyone all the same.
39. "It's hard being a diamond in a rhinestone world," but Dolly does it well. Her bold fashion looks over the years are iconic.
40. The fact that Dolly has her own line of dolls is just too perfect.
41. That. Hair. It has a personality all its own, and as a certain wise woman once said, "The higher the hair, the closer to God."
42. In shorter circles, she's better known as "The Book Lady." Among the preschool set, Dolly Parton is revered as the woman who mails free books to children each month until they're 5 years old through her Imagination Library program.
43. She has written over 3,000 songs. That's double the number of black bears that inhabit Great Smoky Mountains National Park.
44. She received the Grammy Lifetime Achievement Award, a crowning honor in the music business, but she lost a Dolly Parton look-alike contest. You can't win 'em all.
45. She can play 10 instruments, but hey, we can play "Hot Cross Buns" on the recorder.
46. She's left her mark in the world of science as the namesake for the world's first cloned sheep.
47. Ever gracious, Dolly gladly shares the spotlight with fellow Opry members. She asked Vince Gill to help her re-record "I Will Always Love You" as a duet in 1995. Vince's tenor to Dolly's soprano left us with permanent goosebumps — especially when they performed it live on the Opry stage.
48. We'll never forget when she co-hosted the Opry's 75th anniversary special on CBS with Vince. She paid tribute to Roy Acuff with a medley of his hit songs and led everyone in a singalong of "Will the Circle Be Unbroken."
49. Her music has gotten a lot of people through the darkest of times, even Nelson Mandela. When the anti-apartheid activist was imprisoned, he requested Dolly's music from his jail cell, as we learned in the breathtaking podcast Dolly Parton's America.
50. Really, what's not to love?
BONUS
51. Dolly is a true hero who never stops giving. Her generous donation of $1 million to COVID-19 research has in part funded one promising vaccine in 2020. Thank you Dolly.
Stay In Touch
Subscribe for updates, events, offers and more. Sign up to receive our communications, please fill in the following fields and hit submit. Thanks, and welcome!