11 Questions with Darius Rucker
By Rebecca Henson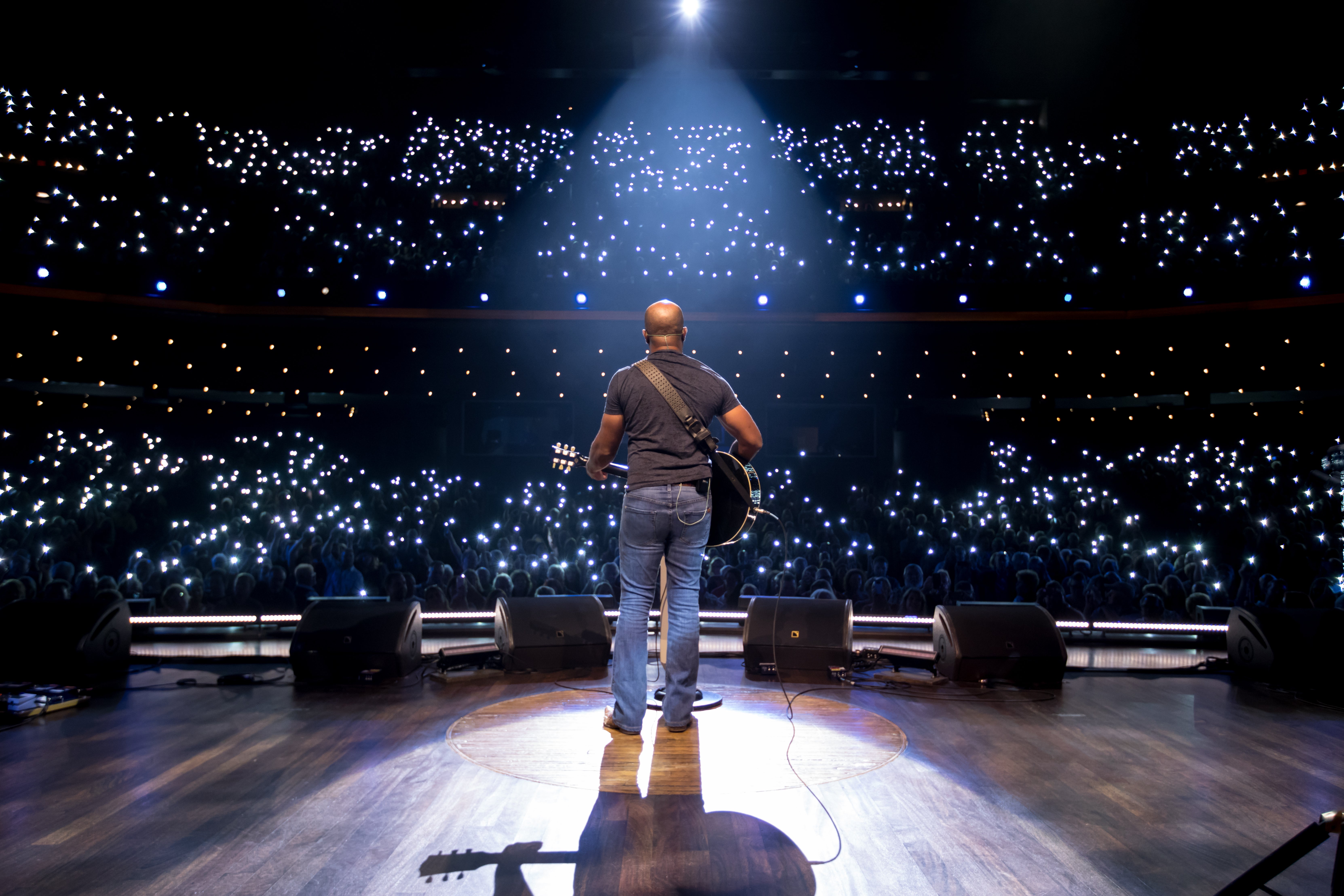 Originally published June, 2020.
The Opry member and Grammy award-winner took some time out to answer our rapid-fire questions before he steps onto the Opry stage for a special live show on Circle TV with Clint Black and host Bobby Bones.
I think everyone would love to know how you're doing amid COVID-19. How are you?
It has been crazy and tough, and I miss playing music a lot. I've been spending a lot of time and getting closer with the kids. I haven't been home this long since I was in college.
How have you stayed busy the last few months?
Mostly doing a lot of songwriting, actually tons of writing —  being around the house, doing stuff around the house that I never get time for, you know. And playing golf when the course is open.
You've been working hard on new music. Any hints of exciting things to come for fans?
I have a new single coming out this summer with Lady A. I'm really excited and can't wait for people to hear it. It's a lot of fun.
You're celebrating 8 years as an Opry member in 2020 —  what does the Opry mean for you and the music you make?
When I was asked to be a member of the Opry, it was a huge honor and a validation for me. It was saying that I was definitely part of the family — and now  it's a home away from home for me.
You'll be playing to a very small audience on the Opry this weekend for the livestream, something you haven't done in 30 years.  How does it feel going on the stage without a large audience of fans?
When it's like this, it's all about the music when you play. We have some stuff that will be cool for the show —  with all of the hits that Clint Black has, we'll have a lot.
How are you kicking off your summer in 2020?
I kicked my summer off by moving to Nashville —  it's been a lot of fun.
What is your Southern comfort food that you enjoy all summer long?
I love a good banana pudding. It's so good and cool. It's a perfect summer food.
What music are you listening to right now?
A lot of old stuff, but also Post Malone, and I'm big into Ed Sheeran right now. Oh and the new one that's out, I hope she cheats, every time I hear that on the radio I think it's so good. "I Hope," by Gabby Barrett.
One country star (past or present) that you would want to perform on the Opry stage with?
Patsy Cline —  singing a duet with her would be the ultimate.
What about the instrument you're reaching for the most while working on new music?
Still the guitar.  It's always what I'm reaching for when it's time to write.
What is your motto for 2020?
My motto for 2020 is: "WOW, that was crazy."
Through all of this stuff,  we're still here and we're still persevering —  that's what we do as Americans.
Stay In Touch
Subscribe for updates, events, offers and more. Sign up to receive our communications, please fill in the following fields and hit submit. Thanks, and welcome!