11 Questions with Carly Pearce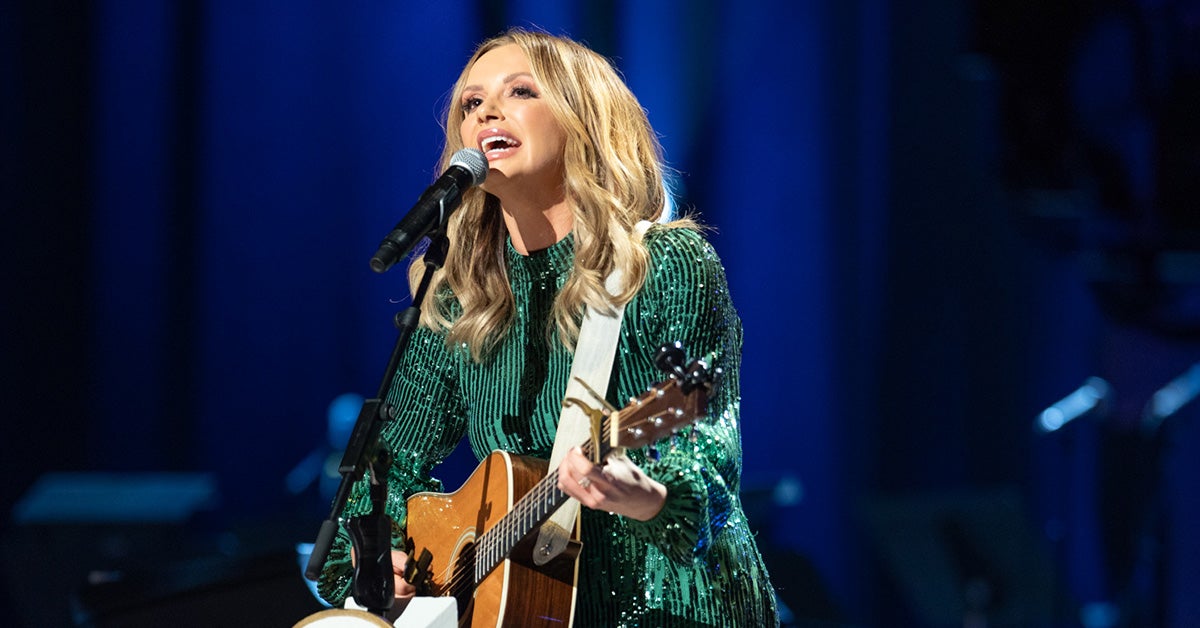 By Rebecca Henson
Carly's motto for 2021: "Get back to my roots and what is meant to be will always find a way."
She shares her path from Dollywood to the Opry, being a woman in country music, and her very personal new album: 29.
First of all —  How have you been?! You dropped a new album before the pandemic shut everything down, and now you're about to release a new one! Have you had favorite moments in the past year?
I think the biggest overall thing for me is that I have still felt so connected to fans. And,  "I Hope You're Happy Now"  gave me a second no. 1 song on the charts. I couldn't ask for much more.
We've been thrilled to have you on the Opry stage over the last year too. What did your road to the Opry stage look like from Kentucky to Dollywood to Nashville?
I always dreamt of singing on the Opry. When I was 16, I wanted to sing at Dollywood, so I convinced my parents to let me audition and quit school to sing there.
I moved to Nashville in 2009 and had a typical overnight success. I worked  odd jobs and never gave up. And then in 2019, the Opry let me debut before I had anything really going on. It's great that I've had the experience and support from the Opry from the beginning.
Your next performance on Feb. 27th will be your 80th appearance on the Opry.  What was the first time in the Circle like for you versus going into the 80th?
I love it! The biggest difference is that I wanted to throw up the first time. And now it feels like family —  it's comfortable, but I still get butterflies.
How do you prep for a performance at the Opry? What do you do from planning your songs to your look?
I definitely dress up more for a performance at the Opry. I take it really seriously and want to honor the history of the Opry. But I have fun with the looks, sometimes more purple, sometimes retro, sometimes fringe. Eddie Stubbs once told me that he appreciated that I dressed up for the Opry stage.
Let's talk about your new album, 29, that releases on February 19th. It's more personal than your previous work. What does the title mean and what can your fans expect to hear from you?
Well, 29 is a really pivotal year for everyone. You think certain things will turn out differently than they do, but you're still hopeful about life.  I think things happened that I didn't think would happen and the music is a representation of those things.
Can you talk about your creative process and how you approach songwriting? How do you find your inspiration?
My producer, Busbee, passed away so I think that was an opportunity to get back to my roots.
My inspirations? I think back to the late 90s women to Patty Loveless, Dixie Chicks, Lee Ann Womack, and so many more.
Also, winning a CMA award really gave me the confidence that people want to hear what I have to say. And this is me!
Let's talk about the Listening Room Cafe in Nashville. You've been playing there, and it's a place you would play when you were starting out. What's taken you back there to play and debut some of your most vulnerable songs?
It's what I used to do back in the day to see what songs people liked. It's all about where it all started and going back to my roots.
We're coming up on celebrating Women's History Month and International Women's Day in March. Who are your women heroes?
My grandmother who is no longer here, she was a special lady. And my mom is my best friend, who I admire very much.
In music, there is only one Dolly! And the country women of the 90s, Jeannie Seely, Loretta Lynn, and just all of the ladies who have made a mark on country music.
What is your experience as a woman in country music and what do you hope to see in the future?
I think we're really on a great trajectory of what's to come and I'm just really proud to be one of the ladies in country music. I have seen such a change and a shift in the last few years and I'm happy to be a part of it.
What's your advice for young women aspiring to be in country music?
Figure out who you are and never waiver from that. You  have to out work the boys. And make sure that you know what you have to say and that it means something.
Bonus: If you could perform on stage with anyone, who would it be?
Dolly Parton!  I think she's been such a huge influence and working with her at Dollywood... she's the ultimate leading lady of country music.
,
Stay In Touch
Subscribe for updates, events offers and more. To sign up to receive our emails, Fill in the following fields and hit submit. Thanks, and Welcome!