Parton Like A Rockstar Sweepstakes
Ends Dec 17, 2023 at 11:59 PM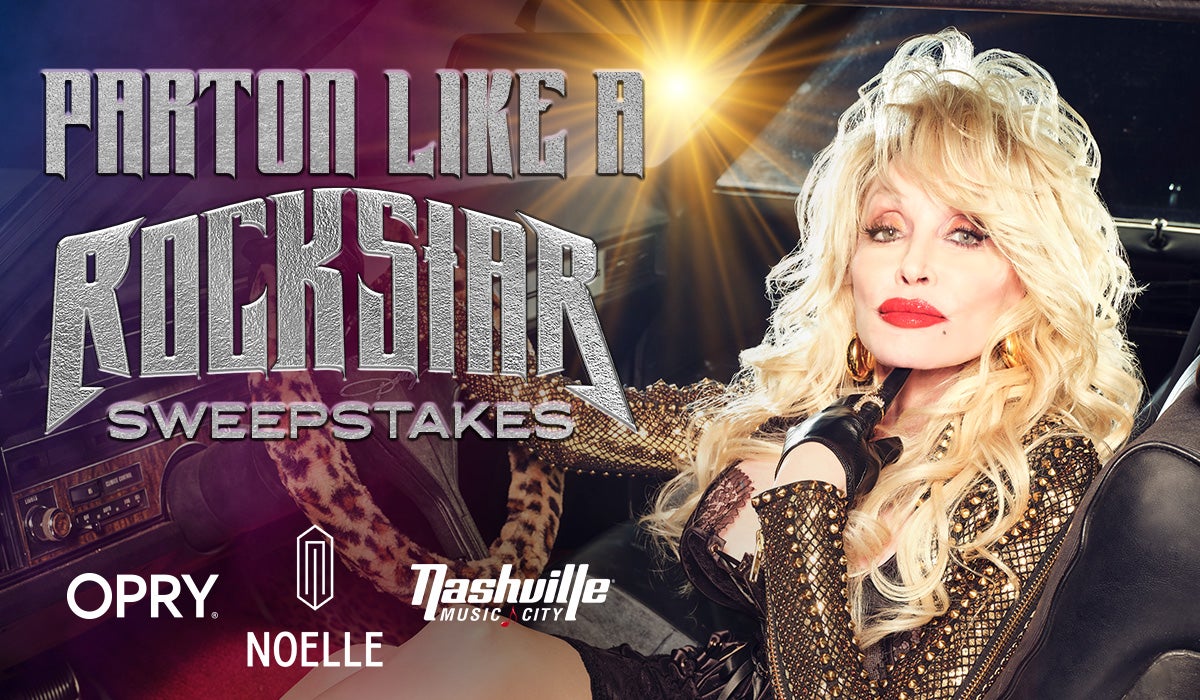 Win a Trip to Nashville for Opry Goes Dolly
Dolly Parton fans (everyone), this is your chance to celebrate our favorite rockstar with a free trip to Nashville! While Parton won't be able to make it, we'll be at the Ryman on Jan. 19 for a one-of-a-kind Opry show ft. covers of your favorite Dolly hits, special guests, Dolly-themed events, and more for this living legend's birthday.
Enter the Parton Like a Rockstar Sweepstakes and win:
Travel expenses to/from Nashville for (2) two

A (2) two-night hotel stay for two at Noelle Nashville

(2) tickets to Opry Goes Dolly on Jan. 19 at the Ryman

(2) Ford Lounge Passes for before the show

(2) Ryman self-guided tours

An exclusive Rockstar album merch pack

(1) One Music City Attraction Pass for (2) two to experience over 25+ Nashville attractions.

The opportunity to take the Ryman stage to lead the audience in singing "Happy Birthday" in honor of Dolly.
NO PURCHASE IS NECESSARY TO ENTER OR WIN. A PURCHASE DOES NOT INCREASE THE CHANCES OF WINNING. VOID WHERE PROHIBITED OR RESTRICTED BY LAW. THESE RULES GOVERN ALL ASPECTS OF PARTICIPATION AND PRIZE AWARD.
Promotion: Welcome to the "Parton Like A Rockstar" (the "Sweepstakes"). No purchase necessary to enter or win, and no deposit, entry fee, payment, or proof of purchase is necessary to participate in this Sweepstakes.
Sponsors. This Sweepstakes is sponsored by Opry Entertainment Group Holdings, LLC ("Opry Entertainment") the "Sponsor"). Opry Entertainment may be contacted by email at oprymarketing@opry.com and https://www.opry.com, or by mail at ATTN: Parton Like A Rockstar Sweepstakes, OEG Marketing, One Gaylord Drive, Nashville, TN 37214.
Sweepstakes Period. The Sweepstakes shall commence at 10am Central Standard Time on November 17, 2023 (the "Start Date") and end on December 17, at 11:59PM Central Standard Time (the "End Date"). The period from the Start Date to the End Date shall be known as the "Sweepstakes Period." Sponsors reserve, in their sole discretion, the right to extend the Sweepstakes Period for whatever reason without notification.
Acceptance of Rules and Terms. By participating, each Sweepstakes participant (each a "Participant") agrees that Participant meets the eligibility requirements set forth below and that Participant affirmatively reviewed and accepted, and agree to be fully unconditionally bound by, these Parton Like A Rockstar Sweepstakes Rules (the "Rules"), Opry Entertainment's Terms and Conditions and Privacy Policy, and Circle's Terms of Use and Privacy Policy. Each Participant agrees to abide by these Rules and the decisions of Sponsors, which are final and binding in all respects.
SECTION 7 OF OPRY ENTERTAINMENT'S TERMS AND CONDITIONS AND SECTION 3 OF CIRCLE'S TERMS OF USE CONTAIN BINDING ARBITRATION AND WAIVER OF CLASS ACTION CLAUSES. PLEASE REVIEW THESE CLAUSES CAREFULLY AS IT AFFECTS YOUR LEGAL RIGHTS.
Eligibility: The Sweepstakes is open only to those who sign up at https://www.opry.com/contests/detail/parton-like-a-rockstar-sweepstakes and who are at least 18 as of the date of entry. The Sweepstakes is only open to legal residents of the United States (excluding Florida and New York) and Canada (excluding Quebec).
The officers, directors and employees of the Sponsors, their subsidiaries and affiliated companies, advertising, promotional and judging agencies, persons engaged in the development, production or distribution of materials for the Sweepstakes, and the immediate family members (grandparent, parent, child, sibling, and spouse of each) of and/or persons living in the same household as such individuals (whether related or not) are not eligible to participate in the Sweepstakes.
The Sweepstakes is subject to all applicable federal, state, and local laws and regulations, and is void where prohibited by law.
How to Enter: No purchase or payment is necessary to participate in the Sweepstakes.
Participants may enter the Sweepstakes during the Sweepstakes Period by submitting an entry using the online form provided at https://www.opry.com/contests/detail/parton-like-a-rockstar-sweepstakes. Entries must fulfill all Sweepstakes requirements, as specified, to be eligible to win a prize. As a condition of entering this Sweepstakes using this method, Participant consents to receive communications from Sponsors for the purpose of administering this Sweepstakes and for the purpose of providing other offers and communications which may be of interest to the Participant. Participant may unsubscribe at any time by following the "unsubscribe" link and instructions contained in any email communication Participant may receive, and doing so will not affect Participant's entry into the Sweepstakes.
Alternatively, Participants may enter, free of charge by hand-printing their name, address, city, state/province/territory, ZIP or postal code, email address, and daytime and evening telephone numbers (including area code) on a 3" x 5" card, and mail, in a #10 envelope with sufficient postage affixed, to: Opry Entertainment, 1 Gaylord Drive, Nashville, TN 37214, ATTN: Opry Goes Dolly Sweepstakes. Each mail-in entry will count as one (1) entry into the drawing. Mail-in entries must be postmarked by December 14, 2023 and received by December 17, 2023 in order to be eligible. A Participant who enters using this method consents to receive communications from Sponsors for the purpose of administering this Sweepstakes, but will not receive communications from Sponsors for the purpose of providing other offers and communications which may be of interest to the Participant.
Personal information collected in connection with this Sweepstakes is governed by Opry Entertainment's Privacy Policy and Circle's Privacy Policy.
Entries that are incomplete or do not adhere to the rules or specifications may be disqualified at Sponsors' sole discretion.
Sponsors shall not be liable for any problems that occur during the entry process, including without limitation, late, incomplete, delayed, undelivered, or misdirected entries, and shall not have any obligation to advise a Participant of an incomplete, invalid, or undeliverable submission. No illegible, incomplete, forged, or altered entries will be accepted.
Limit one (1) entry per Participant during the Sweepstakes Period.
Winner Selection and Notification: The winner(s) of the Sweepstakes (the "Winner(s)") will be selected by random drawing. Winner will be notified by email within twenty-four (24) hours following selection of Winner. If the Winner is an eligible resident of Canada, the Winner must answer a time-limited, mathematical skill-testing question (or other skill-testing question) before being declared the Winner. Failure to correctly answer the skill-testing question on two attempts will result in ineligibility. If the Winner cannot be contacted, is ineligible, fails to claim the prize twenty-four (24) hours from the time award notification was sent, or fails to timely return a completed and executed declaration and release (if required), the prize may be forfeited and an alternate Winner selected. Sponsors will be the sole judges of the Winner's qualification.
Prizes:
Prize

No. Winners of

Each Prize

Prize Description

Approximate Retail Value

Grand Prize

1

Travel for two occupants to and from Nashville, TN (fuel or flight – depending on location)
Two-night hotel stay for two occupants (one room) at TBD Hotel
(2) Ryman self-guided tours
(2) Ford Lounge Tickets (preshow at Ryman)
(2) Opry Goes Dolly show tickets for Jan 19 show at Ryman
Rockstar merch pack
Opportunity to appear on the Ryman stage during the Jan 19 Opry Goes Dolly show and lead the audience in singing Happy Birthday to Dolly.

$5,500.00

Total Approximate Retail Value of All Prizes

$5,500.00
Winner will receive at least one of the prizes described above (with the option to award one or more additional prizes in Sponsors' sole discretion), with an approximate retail value of $5,500. Actual/appraised value may differ at time of prize award. The specifics of the prize shall be solely determined by Sponsors. No cash or other prize substitution shall be permitted except at Sponsors' discretion. The prize is nontransferable. No substitution of prize or transfer/assignment of prize to others or request for the cash equivalent by Winner is permitted.
ALL PRIZES ARE AWARDED AS IS AND WITHOUT WARRANTIES OF ANY KIND, EITHER EXPRESS OR IMPLIED, INCLUDING, BUT NOT LIMITED TO, IMPLIED WARRANTIES OF MERCHANTABILITY OR FITNESS FOR A PARTICULAR PURPOSE. SOME JURISDICTIONS MAY NOT ALLOW (OR MAY LIMIT) DISCLAIMERS OF CERTAIN WARRANTIES, IN WHICH CASE THE FOREGOING DISCLAIMERS WILL BE ENFORCED TO THE MAXIMUM EXTENT PERMITTED BY LAW.
Taxes and fees, if any, are the sole responsibility of the prize winner(s). The Sponsors will withhold and/or report taxes as required by the applicable law of the Sponsors' jurisdiction(s), and winners must provide accurate address and social security details to Sponsors to allow Sponsors to comply with tax regulations and share with appropriate tax authorities. Sponsors do not provide tax advice, nor should any statements in these Rules be construed as tax advice.
Odds: The odds of winning depend on the number of eligible entries received during the Sweepstakes Period.
Applicable Rules and Winners List: To obtain a copy of the any legally required Winner's list or a copy of these Rules, mail your request along with a stamped, self-addressed envelope (unless otherwise prohibited by local law) to: Opry Entertainment Marketing, Opry Goes Dolly Sweepstakes Rules, One Gaylord Drive, Nashville, TN 37214. All such requests must be received within three (3) months after the end of the Sweepstakes Period.
No Third-Party Sponsor. This Sweepstakes is in no way sponsored, endorsed, or administered by, or in association with any person or other entity, including any third party, other than Sponsors.
[SOCIAL MEDIA SITES] (collectively "Social Media Sites") are not sponsors, endorsers, or affiliated in any way with the Sweepstakes. All questions regarding the Sweepstakes must be directed to Sponsors, not any Social Media Site. You agree as a condition of participating in the Sweepstakes that you shall release Social Media Sites from any and all liability arising out of or relating to your entry, creation of an entry, submission of an entry, participation in the Sweepstakes, acceptance, use, or misuse of any prize, or the broadcast, exploitation, or use of an entry.
Neither Apple, Inc. nor Google, Inc. are sponsors of this Sweepstakes and neither is affiliated with this Sweepstakes in any way.
Publicity. Acceptance of prize constitutes permission for Sponsors to use Winner's name, likeness, and entry for purposes of advertising and trade without further compensation, unless prohibited by law. By participating in the Sweepstakes, Winner agrees to refrain from any behavior or communication that would harm the image or reputation of Sponsors. WINNER FURTHER ACKNOWLEDGES AND AGREES THAT WINNER'S PERSONAL IDENTIFYING INFORMATION MAY BE DISCLOSED TO THIRD PARTIES INCLUDING, WITHOUT LIMITATION, PLACING WINNER'S NAME ON A WINNER'S LIST.
Additional Terms & Conditions: Sponsors reserve the right, in their sole discretion, to cancel, terminate, modify or suspend the Sweepstakes for any reason. In such case, Sponsors may (but are not required to) select the Winner from all eligible entries received prior to and/or after such termination or suspension. Sponsors have the right, in their sole discretion, to maintain the integrity of the Sweepstakes, to void votes for any reason, including, but not limited to: multiple entries from the same user from different IP addresses; multiple entries from the same computer in excess of that allowed by these Rules; or the use of bots, macros, scripts, or other technical means for entering.
Choice of Law and Disputes. Disputes shall be subject to the provisions in Opry Entertainment's Terms and Conditions Circle's Terms of Use, which are hereby incorporated by reference.
Conditions of Participation and Limitation of Liability: By participating, Participants hereby release, hold harmless, covenant not to sue, and forever discharge Sponsors, their respective parent companies, affiliates, subsidiaries, retailers, divisions, dealers, advertising and promotion agencies, and all others associated with the development and execution of the Sweepstakes, and each of its and their directors, employees, officers, and agents from and against any and all third-party claims, actions, damages, losses, liabilities, costs, expenses, injuries, or causes of action of any kind that in any way now or hereinafter may arise from or relate to the Sweepstakes, including without limitation (i) the administration of the Sweepstakes, such as typographical, printing, seeding, human or other errors relating to or in connection with the Sweepstakes, the processing of entries, the announcement of the prize or any related materials, inaccurate, fraudulent, incomplete, illegible, late, lost, stolen, misdirected, undelivered, incomplete, or damaged entries, any delays in delivery or lack of availability of the prize or prize materials; (ii) Participants' participation in the Sweepstakes offered by Sponsors or their acceptance or use of a prize, or participation in any prize related activities, including, without limitation, any travel related thereto, and death and bodily injury (including emotional distress), due in whole or in part, directly or indirectly, to participation in the Sweepstakes or any Sweepstakes-related activity and for any claims or causes of action based on publicity rights, defamation, or invasion of privacy; and/or (iii) liability, loss or damages arising from or in connection with the awarding, receipt, and/or use or misuse of any prize or participation in any prize-related activities.
Sponsors reserve the right at their sole discretion to disqualify any individual who is found to be (i) acting in violation of these Rules or (ii) acting in an unsportsmanlike or disruptive manner, with the intent to disrupt or undermine the legitimate operation of the Sweepstakes, or with the intent to annoy, abuse, threaten or harass any other person. Without limiting the foregoing, in the event Sponsors are prevented from continuing with the Sweepstakes as contemplated by any event beyond their control, including, without limitation, a force majeure, fire, flood, epidemic or other national health emergency, earthquake, explosion, labor dispute or strike, act of God or public enemy, satellite or equipment failure, riot or civil disturbance, terrorist threat or activity, war (declared or undeclared,) or any federal, state or local government law, order, or regulation, order of any court or jurisdiction, public health crisis, or other cause not reasonably within its control, then Sponsors shall also have the right to modify, suspend, extend or terminate the Sweepstakes. In the event that the Sweepstakes is terminated, cancelled, or postponed for any reason whatsoever, the actual/appraised value of the prize(s) will be awarded to the extent required by law.
CAUTION: ANY ATTEMPT TO DELIBERATELY DAMAGE SPONSORS' SERVICES OR UNDERMINE THE LEGITIMATE OPERATION OF THE SWEEPSTAKES OFFERED BY SPONSORS IS A VIOLATION OF CRIMINAL AND CIVIL LAWS. SHOULD SUCH AN ATTEMPT BE MADE, SPONSORS RESERVE THE RIGHT TO SEEK DAMAGES FROM ANY SUCH INDIVIDUAL TO THE FULLEST EXTENT PERMITTED BY LAW.