We The Kingdom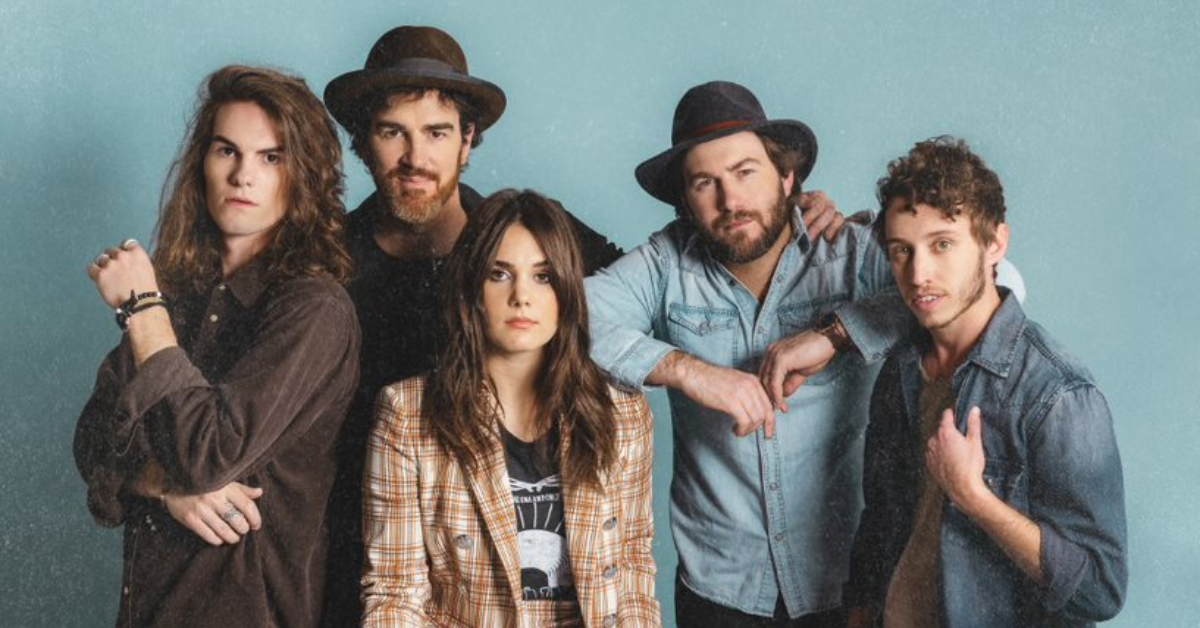 Artist Information
Every artist's career begins with a dream. Sometimes dreams are promised and quickly fulfilled. Other times, dreams are planted—rooted deep in the soil of our hearts, needing to be watered and cultivated, so that at the proper time, they can bear fruit. We The Kingdom is the fruit of a planted dream. A dream that not even the group's five members could have seen coming.
The multi-generational family band—consisting of brothers Ed Cash and Scott Cash, Ed's daughter Franni, his son Martin and dear friend Andrew Bergthold—grew roots when the Cash brothers were just kids. Their dad played guitar, and their mom played piano, resulting in a home filled with music. Despite there being an eleven-year age gap between them, as both Ed and Scott entered their teens and early 20s, they embarked on similar individual journeys as touring artists and had the opportunity to be deeply involved in the ministry of Young Life. However, when they each became fathers, the dream of being an artist was relegated to put on the back burner. Instead, behind the scenes, Ed went on to become an award-winning songwriter and producer, steering records for artists like Chris Tomlin, Crowder and Bethel Music and co-writing timeless songs like "How Great Is Our God", "Amen (Because He Lives)" and "All My Hope," among other hits. After stepping off of the road to spend more time with his growing family, Scott began working with Ed writing and producing, and the brothers have written many songs together including "Whom Shall I Fear (God of Angel Armies)". Though no longer pursuing careers as artists, both brothers continued to lead worship and remained involved in playing music at Young Life camps.
They never could have imagined how, years later, God would bring their artist dreams full circle in the form of a family band. "I think many producers are, in some way, closet artists," Ed attests. Andrew, Franni and Martin were also aspiring musicians, passionate about sharing their gifts through songs and stories.
"I think it was a dream that was deep in all of our hearts, but it was almost too raw to actually bring it up because it was so, so precious and so dear to us," adds Andrew, who pursued his own artistry in his hometown of Kansas City before joining We The Kingdom. "I think it's really beautiful how God weaves stories together, and not only that, but gives dreams and desires for the appropriate season."
The group organically formed at a Young Life camp in Georgia. Scott had asked the other four to help him lead worship at the camp, and they gathered late one evening to write a song, which they presumed was for the campers. "We were writing a song for those kids to tell them about the beauty of the Father's love and how much He lavishes that over them," Ed remembers, "but now I see that He was telling us that truth. In that moment, we really needed to hear that."
Each of the five members of We The Kingdom came to camp weary, grieving and heartbroken due to a number of difficult circumstances. The songwriting session, where four different generations offered their perspective, was like a healing balm. "Sometimes songs feel like they fall out of the sky and you didn't have anything to do with it at all, and that song definitely felt like that," Franni says of what became "Dancing On The Waves." "It felt like the light came back into our life in a lot of ways through that song. It felt like it was our story to tell."
Over the course of the next two weeks, We The Kingdom wrote half a dozen songs—raw, personal ones that told their individual stories. When they returned home from camp, they sat around Ed's fire pit and agreed that whatever was being birthed, they were all in.
As they began to commit time and energy to this new collective and these new songs, Scott was hired as a worship leader at a local church in Nashville, and he once again asked his We The Kingdom bandmates to join him. Gradually, over the course of the following year, We The Kingdom forged their artistic identity—an amalgamation of four different decades of music encompassing worship, rock, soul, Country, folk and pop, providing a textured sonic background for vulnerable, often gritty, lyrics.
"We want to write songs about the rawness of life," Scott offers. "It's OK to sing about our filth, and it's OK to be honest in songs. I think that brokenness in a corporate setting leads to a greater catharsis as we praise God and as we lift His name on high."
The fact that they're family also allows for rich connection and adds a rare depth to their rugged songwriting. "We have seen the best and the worst of each other, and that actually is a very beautiful thing, because there's freedom to be 100 percent ourselves," Franni shares. "Being able to have complete vulnerability to talk about whatever we're going through, knowing that it's a safe place, opens doors to much deeper songs and much deeper conversations."
In turn, the storms they've weathered together have also forged an unbreakable bond that lends itself to one-of-a-kind collaboration. "I think when you go through war together, when you go through tragedy together, it breeds a real compassion and a real loyalty," Scott asserts, "and it also sets the stage for a great creative explosion."
Just like their origin was unexpected, We The Kingdom's musical introduction has been nothing short of unorthodox. Instead of heading into the studio to record their original material, the band decided to celebrate the source of the songs themselves.
"I met Jesus at Young Life camp. Ed played music at Young Life camps early on in his career," Scott says, "so Young Life has really been a foundation for us in our faith and in our band."
Appropriately, for their debut EP, Live At The Wheelhouse, We The Kingdom headed back to Georgia to capture high school kids at a Young Life camp singing these new songs at the top of their lungs. The recording is just as unfiltered and authentic as their lyrics, and the collective voices in the room bring the songs to life in a real way, taking the band back to the very place where the songs were conceived. "As we have continued on this journey, I've noticed that it can be easy to forget where we came from - and that's with anything in life. Recording our first project together at this camp has been such a timely reminder to us all to remember where we've been planted and not to step outside of ourselves."
Creating a live EP was also a chance to reveal the heart of the band—a heart rooted in worship. "We love to praise God. We love to sing to God," Ed shares. "I love the sound of God's people singing together. The more I have had the privilege of being involved with a lot of other worship records, the more the sound of people singing together is just the sweetest thing."
Although We The Kingdom's music was originally intended for students to sing, their songs confront universal issues that extend well beyond youth. For example, the first song they wrote collectively, "Dancing On The Waves," speaks to insecurity and identity. "If we think a 60-year-old man doesn't get up and look in the mirror and have the same feelings of shame that a 15-year-old kids does, we're lying," Scott says. "Singing that song every night makes me realize I'm a 15-year-old high school kid. I'm a dad of five young daughters, and I'm still trying to figure out who I am."
Then there's the rock-tinged lead single, "Holy Water," whose sonic sensibilities remind the Cash brothers of their dad, who's now suffering from dementia. "I think a lot of us live far too long in our chains, so I love that this song is a celebration of forgiveness," Franni offers of the track's lyrical content. "Shame and heaviness is what can lead you to the cross. You come to the cross, and you repent, and you take that burden and give it to Jesus."
Desperate and pleading track "SOS"—the oldest song on the EP—was written by Ed following a season in his teens when he lost his way, allowing drugs and alcohol to control his life. "I was knocking on the doors of the world actually looking for what the joy of Jesus offers," Ed admits. "When God came in and changed my heart and I became alive in Christ, that's when I really started living. It was like I was seeing in color for the first time."
And that's exactly what We The Kingdom's music feels like—visceral emotion wrapped in the technicolor of joy. Their music isn't confined to the pretty parts of life but covers the full spectrum, including the messy parts; each song contending that it's OK to not be OK. And that's a message they want to take beyond the four walls of the church.
Already, they've been given multiple opportunities to share their music with a broader audience. They experienced a bucket list moment when they opened for Chris Tomlin at Colorado's iconic Red Rocks Amphitheater. In 2020, they'll serve as direct support on tour for Zach Williams. As they've begun to perform these songs live, they're realizing what a special bond they share as songwriters, as family, as dreamers and as worship leaders.
"Worship is so much more than music, and if worship is confined to a sanctuary, that is a great tragedy to me," Ed says. "Our hope is not only that worship pours out of the sanctuary and becomes a daily part of life, but also that the mess of daily life is welcome in the sanctuary."
Scott adds, "We want to bring people who don't know the freedom found in Jesus to the cross and to lead those who already know Him to the throne room."
For We The Kingdom, their faithful worship has led them full circle to this moment—and they are incredibly grateful to see some of their deepest dreams coming to fruition.
Stay In Touch
Skip the FOMO, we'll make sure you don't miss a thing! Sign up for exclusive updates, events, and offers – just for fans like you.