The Gibson Brothers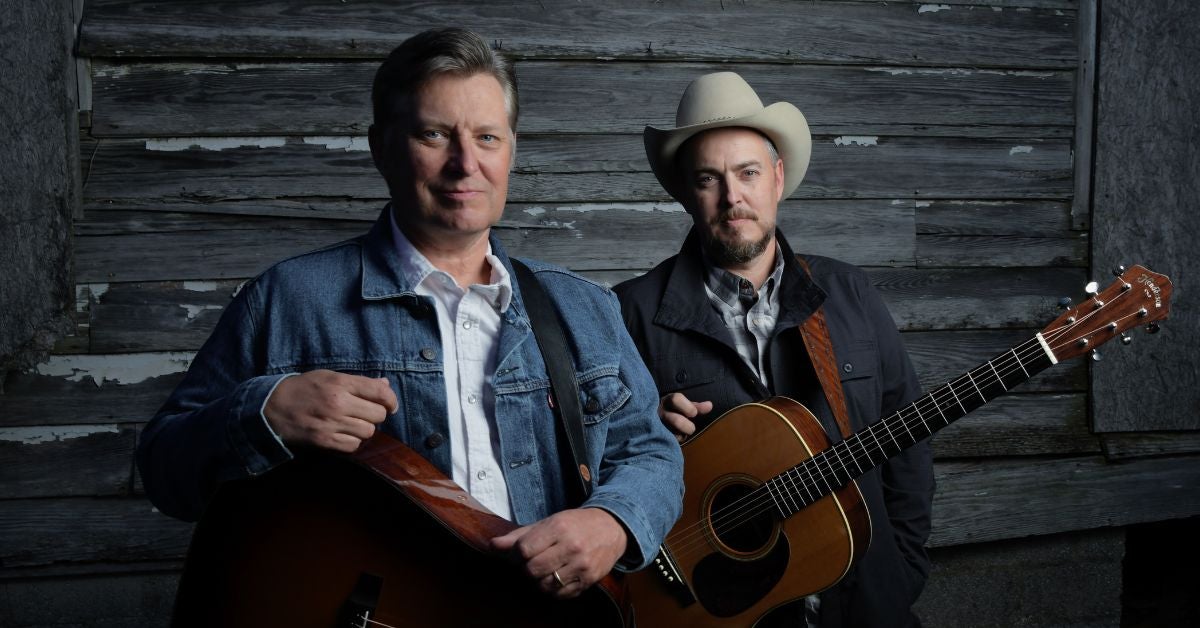 Artist Information
There's a reason why Ricky Skaggs pulled Eric and Leigh Gibson off the stage at the Ryman two decades ago and offered to produce their debut record. The same thing that led David Ferguson and Grammy Award winning producer and Black Keys frontman Dan Auerbach to co-write and produce their 14th album "Mockingbird" (2018) and release it on his own label Easy Eye Sound alongside cultural icons such as Hank Williams Jr. and Dr. John: the Gibson Brothers are the real deal. They can pick. They can sing. And they can write a damn good country song. They've won about every bluegrass award you can name and released albums on almost every premier Americana label you can think of including Sugar Hill and Rounder, and, if that's not enough, their songs have been recorded by bluegrass legends no less than Del McCoury. It's a resume almost anybody in country music would be proud to have. But despite all of this, the Gibson Brothers are not yet household names. Their latest album, "Darkest Hour," produced by dobro master Jerry Douglas might just change that.
As soon as you hear Leigh singing with Alison Krauss ["I Feel The Same Way As You"] on the new project you realize that his voice is as good as anyone in music today. Add the brother harmony to that and they have something truly unique. While "Mockingbird" featured gorgeous production, recreating the sound on stage was difficult. "We put together a little band to go out and try to recreate it," Eric told me, but we couldn't. We would have to have such a huge band to try to recreate that record, but we did the best we could."
Douglas—who has won 14 Grammy awards and backed up everyone from Ray Charles to Paul Simon and George Jones—wanted to make a record they could actually play on the road. So he picked the best songs (out of dozens) and squirreled them away in Sound Emporium's Studio B. But then the pandemic hit. "We did our last shows in March of 2020," Eric told me. "We were in Nashville the week everything was shutting down. It was surreal, but Jerry was like, 'Guys, the world's going crazy. Let's let this be our little cocoon.' And we did. We cut all of the acoustic stuff and then went home and didn't play any more gigs until things started opening. Then we went back and finished the record with Jerry in February of 2021."
The result is arguably the strongest record The Gibson Brothers have ever made. The songs recorded in the first recording period featured Mike Barber (bass), Justin Moses (mandolin), Eamon McGloughlin (fiddle), and of course, Jerry Douglas, adding in John Gardner (drums), Guthrie Trapp (electric guitar), and Todd Parks (bass) for the final tracks, "Darkest Hour" showcases just how easily Eric and Leigh move from what Dan Auerbach dubbed "country soul" ("I Go Driving") to high octane bluegrass ("What a Difference A Day Makes" and "Dust") with
Douglas always keeping the spotlight on the songs themselves. "That's what I love about those guys," Douglas told me, "they are just great songwriters."
Growing up on a dairy farm in northern New York and then traveling around the world in a bluegrass band has given them a unique vantage point on life, and the songs on "Darkest Hour" are a testament to that. "Jerry wanted to hear everything we'd written," Eric told me, "so we just sent him songs: brand new songs, old songs, there's stuff on that record 20 years old that we never recorded. We wanted to see what he would do with us as singer-songwriters. We respect him that much. Some of my favorite records are Jerry Douglas produced records. He didn't disappoint."
If the Gibson Brothers had stayed in Nashville in 1999 they might possibly be Grand Ole Opry members by now. At the very least they would be hit songwriters on Music Row. But, just like their buddy Del McCoury, they chose family over success (McCoury was in his 50s when he moved to Nashville and didn't really see major success until he was approaching 60). All they need is someone to shine a light on them. Their talent level is well-established, the only producers they have ever worked with are Ricky Skaggs, Dan Auerbach, David Ferguson and Jerry Douglas. I dare say not many musicians can stack up a list of producers that strong. For the Gibson Brothers though, they just want to keep writing, singing, and standing on a stage.
Stay In Touch
Skip the FOMO, we'll make sure you don't miss a thing! Sign up for exclusive updates, events, and offers – just for fans like you.