My Sister, My Brother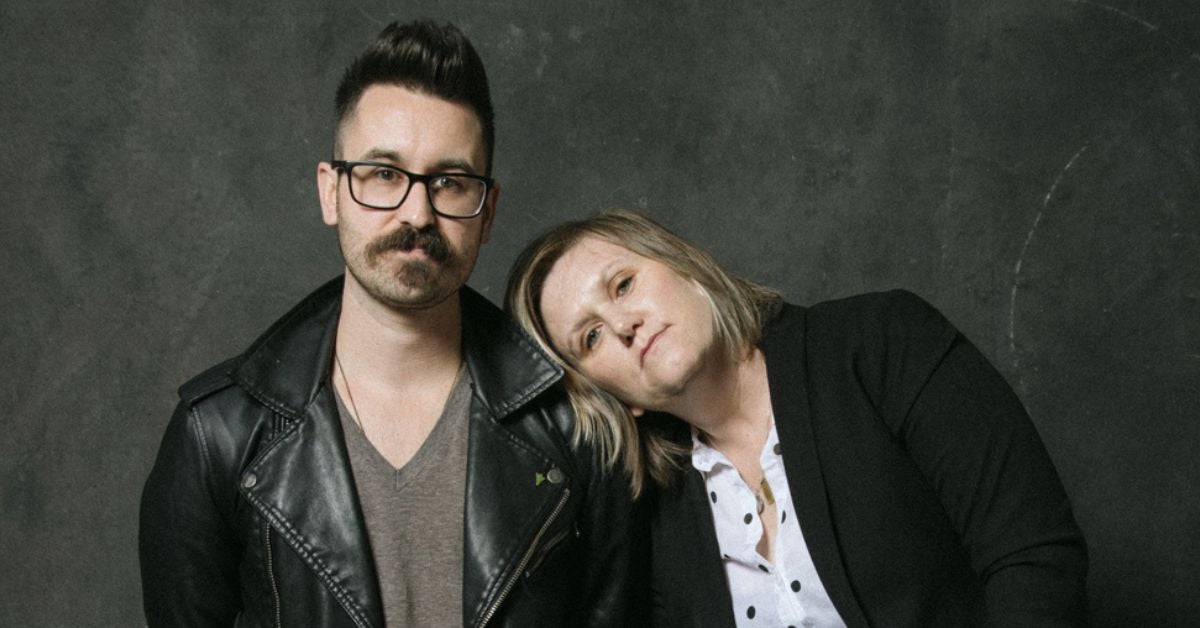 Opry Debut Date
May
12th
, 2023
Artist Information
If trust had a sound, it'd be My Sister, My Brother. 
"Sometimes you just immediately trust somebody––you're at ease from the beginning," says Garrison Starr. "You know they've got your back. It feels easy. I immediately felt that way with Sean." 
Garrison is talking about Sean McConnell, her musical partner in My Sister, My Brother, a new group with the kind of natural magic that only happens when kismet masquerades as coincidence. Individually, they are independent solo artists known for smart songwriting and breathtaking vocals. Together, their voices reach that rarefied air typically reserved for families: harmonies that twin and snake around each other to hypnotize and soothe. "When we started writing and especially when we started singing together, it was like, 'Wow. This is not normal. This feels very natural,'" Sean says. "It feels like singing with a sibling you've sung with for a long time. Very quickly, it became a special collaboration." 
The two artists formed My Sister, My Brother, not because they'd planned to, but because they had to. They first sat down to write during a songwriting retreat. They emerged with "Nothing Without You," a stunner with its heart on its sleeve.
"I just felt like there was something trying to come out that was important, especially after that first song," Sean says. "We just knew."
"I wanted to keep coming back to work with him," Garrison adds. "We both wanted to keep coming back to it." 
On their self-titled debut EP, My Sister, My Brother's piano- and guitar-bedded pop songs explore pain with tender honesty. "Sean is so thoughtful and patient––he's measured," says Garrison. "That's very grounding. It makes me feel safe. I know I'm the only one that's going to spin off like a loose firework." Sean praises Garrison's openness. "Spend two minutes with Garrison, and you're going to know where she stands––and I love that," he says.
The EP reflects that dynamic blend of pensive and bold. With hushed reverence, "Nothing Without You" offers confessions of brokenness with arms outstretched. "Drive You Home" traverses similar territory but almost serves as a response to "Nothing Without You"'s aching call for companionship, promising, You can lean on me, it's safe here. Sean points to the moody album standout "Don't Know How to Love You" as a favorite. Garrison's voice launches alone over stark percussion before she's joined by Sean, who then takes a couple of lines solo as well. The combined vocal and instrumental effect is haunting, evoking the kind of quiet that's only interrupted by thoughts hammering and banging in your head. "I love the way it speaks to a relationship that you want to succeed but you don't know how to do it," Sean says. "You don't know how to connect with this person––whether it's a lover, a family member, or a friend. There is some string binding you together, but you're confused by the intense love yet intense separation you feel." 
"Forever Now" offers the lightest moments on the five-song collection, finding comfort in the passage of time and the commonality of experience. Over forlorn acoustic guitar, EP closer "Honest" contrasts wishes with candid failings that may never be overcome. The pair's hopes for My Sister, My Brother are rooted in creating art that takes on a deeper, more human mission both for themselves and for anyone who hears the songs. "Not everybody in every writing session is always trying to make the best, most authentic thing. A lot of people are chasing another dragon," says Garrison. "When you find the people who are trying––who inspire you––you have to hang on to it. It makes you better. It keeps you honest." 
"Hopefully this music makes people feel less alone––brings them a little hope in a time when they might need it," Sean says, then, prompting Garrison to laugh and nod in agreement, he adds, "Who doesn't like crying to a sad song?"
Stay In Touch
Skip the FOMO, we'll make sure you don't miss a thing! Sign up for exclusive updates, events, and offers – just for fans like you.