Opry NextStage
Morgan Wade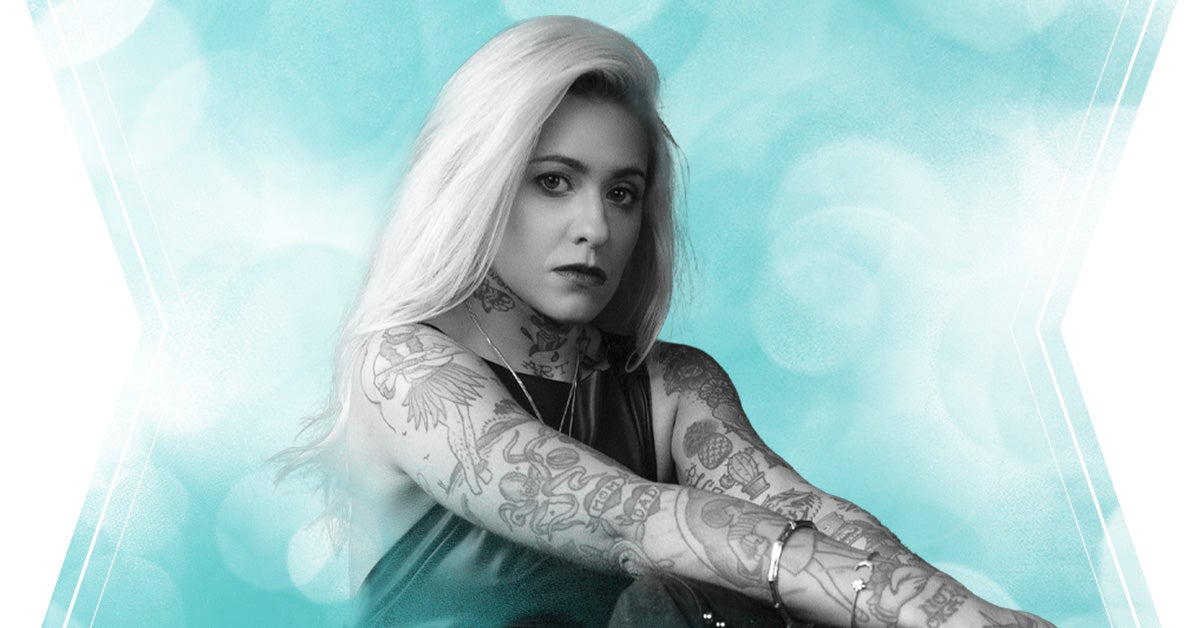 Artist Information
There will be haters, there will be doubters, there will be non-believers, and then there will be you, proving them all wrong.
Meet Morgan Wade, NextStage Artist. Meet Morgan Wade, who in 2021 released the album Reckless with her single "Wilder Days"that topped critical lists from Rolling Stone, TIME, and Billboard, to name a few. Meet Morgan Wade, a singer-songwriter from Floyd, Va., and be thankful she never listened to those who said she couldn't.
What's The Matter With Your Voice?
"In high school, there was this singing group of sorts that I really wanted to be part of," Morgan said. "But I was shamed for my singing. I spent so long being told, 'Your voice is weird' by the other kids. They'd say, 'What's wrong with you? You can play for yourself, but do it at home'."
If there is something wrong with a voice described as a mixture of turpentine and honeycomb, that suggests hints of Etta James, Adele and Patti Griffin, then half the world would love to be wrong.
"Hearing all the negativity may have been the best thing that happened," Morgan said. "I continued to sing because I loved it. I was happy knowing I could write and sing and I could do it just for me. I knew that I wanted to do it in public and, I think, wanting to do it helped me all these years."
Passion For Music Grandfathered In
Three things were critical in the evolution of Morgan Wade: her hometown, her grandfather, and Elvis Presley.
"So, in Floyd, where I grew up, there is the Floyd Country Store," Morgan said. "All the bluegrass players get together on Friday night and meet up on the streets and play music until 10 or 11 at night. I spent a lot of my childhood sitting on my grandfather's lap on Friday nights, falling asleep to bluegrass music. That was my first introduction to live music."
Hoping for a fellow fiddler, Morgan's grandfather bought her a fiddle. While Morgan did not embrace the instrument, the experience eventually led to the purchase of her first guitar – one she still plays today.
And then an old, black and white video tape changed everything.
"In first grade, my mom introduced me to a VHS video one day that I watched ten times in a row until she told me I had to stop," Morgan said. "It was 'Jailhouse Rock' and I was totally electrified by Elvis. All I wanted to do was listen to his records. He really changed the course of music. He was different and he did not fit any mold and he made his own path. I still really connect with that. It is something that never, never left me."
The Voice Comes Out
While she began writing her own songs and became proficient at guitar at a young age, it was not until years later that Morgan Wade felt brave enough to share her voice publicly.
"I found a band on Craigslist and I, more or less, auditioned for them," Morgan said. "They loved my voice and these group of guys gave me confidence and I just went with it. It happened very organically, and it felt right."
Things Get Reckless And A Little Wilder
Almost five years ago, Morgan Wade met Sadler Vaden, guitarist for Jason Isbell + The 400 Unit, at a music festival. The encounter set the stage for things to come.
"I met Sadler after I played a set at this festival," Morgan said. "His sound guy came up to me and asked for a CD. I did not expect to hear anything, but the next day Sadler sent me a message saying he checked out my music and thought it was great and wondered if he could chat with me and maybe write a little. So, we FaceTimed and I played for him what would end up becoming 'Wilder Days'."
A couple weeks after the initial meeting, the two connected in Nashville.
"I did not have a manager, or a booking agent, or a producer or a label," Morgan said. "I had nothing, and Sadler truly wanted to help me."
Along with engineer Paul Ebersold, the trio worked on demos that kept the edges rough and Morgan's voice loose in what became a sound reminiscent of Tom Petty meeting Lucinda Williams.
Morgan Wade was catching on. Soon, she had the manager, the label, the booking agent and, of course, Sadler Vaden.
"Sadler is my producer, and he will continue to produce anything I put out," Morgan said. "He has been there from the beginning and really helped oversee everything and he is like my big brother."
Reckless landed hard and true upon its release. The New York Times raving, "she sounds like she's singing from the depths of history" and FADER offering, "Morgan Wade has a voice like a jagged blade, sharp enough to draw blood, but lustrous under the light."
Morgan's "Wilder Days" was pivotal for the bar not only being raised, but shot into the next stratosphere. The song became a SiriusXM Highway Find, then hit Number 1 on their fast-tracking country station, then one of TIME's "10 Best of 2021" in any genre – not bad for an artist who once doubted her voice.
"Since Reckless has been out, things have been incredible," said Morgan. "I was hoping it would do okay. But I did not expect it to lead to the venues we are playing now or to get the critical acclaim it has gotten. It has been amazing, and it changed my life."
Overcoming A Challenge
As she tried to come out of the shell she had been in for years, Morgan Wade thought she found a way to cope. While she has been sober now for close to five years, drinking almost marred what was to come.
"I started drinking my freshman year in college," Morgan said. "I'd have a couple of beers or something and it felt like it got me out of my shell. But then it became one of those things I could not stop doing. I started playing out and sometimes the pay was a free bar tab, and I was determined to get my money's worth."
Morgan said she was drinking to try and deal with lingering anxiety and depression.
"I would feel good the first couple of drinks," Morgan said. "But the next day, all those things I was working to push down would come back up ten times worse. I was trying to deal with my mental health, and I still am, but I knew drinking was not helping any."
She decided to quit drinking while in New York, five years ago.
"I didn't think I would be able to become the musician I wanted to be if I could not get sober," Morgan said. "Honestly, I don't think I would be here right now if I kept drinking."
Instead of hitting the bottle, Morgan now hits the gym. A running and workout routine are now an important part of her life as a touring artist.
Opry Family
"I grew up hearing about the Grand Ole Opry because I grew up in a family that loves country music," Morgan said. "To hear that I was named a NextStage Artist, and to play the Opry, was a big honor. It means so much to play there because you are standing on the same stage where artists like Loretta Lynn and Dolly Parton once stood. Those are things you don't ever forget."
On April 2, 2022, Morgan graced the Opry stage and chose to perform "Wilder Days." Her performance was greeted with major applause.
"I know it happened, but I am glad there are pictures because it's all a blur," Morgan said. "Once you realize where you are and you hear the people, you just soak it in. It's definitely a rush."
Having her family there that night really brought it all together.
"So much of my family was there that night that it felt like a family reunion," Morgan said. "This guy walked by and said he had never seen so many people in one dressing room. But it is really cool how music just brings everyone together."
The Genuine Article
"I think as a songwriter, and even as a person, I'm just authentic," Morgan said. "I am not trying to sound conceded, but it is just how I write. It seems to be the only way I know how to write and I am happy with it. You know, I look really, really tough with the tattoos and everything. But my music is vulnerable and that's oaky too. I don't want to pretend that everything is great. I think, maybe, that is why people connect with my songs because they have felt it too. They think 'I didn't want to have to say it, but now somebody has'."
What matters most to Morgan, she said, is that her audience learns her material comes from a real place, a personal place, an evolving place – a place where music reflects her genuine evolution.
With All Doubts Behind, What's In Front?
Morgan Wade has a busy future ahead of her. She will be in the line-up for stadium shows with Luke Combs and she is set to open for Brooks and Dunn on their tour.
"I am going to be in Spain doing a rock festival," Morgan said. "It's really cool for me to be able to do so many different things. When we made Reckless, we wanted to make a recording that did not confine us. I think we did that. Country music is bleeding into rock or pop and it is all blending. As I said before, it's music that brings us all together."
Morgan Wade loves what she does, and her ever-growing fan base loves her for it. By choosing to be her most authentic self, Morgan is leaving a trail of magic on every stage she hits.
From being made fun of for it in Floyd, Va., to using it to wow audiences from the Opry stage, Morgan has found her voice.
She knew. She could. She did. End of story.
Stay In Touch
Skip the FOMO, we'll make sure you don't miss a thing! Sign up for exclusive updates, events, and offers – just for fans like you.