Kat & Alex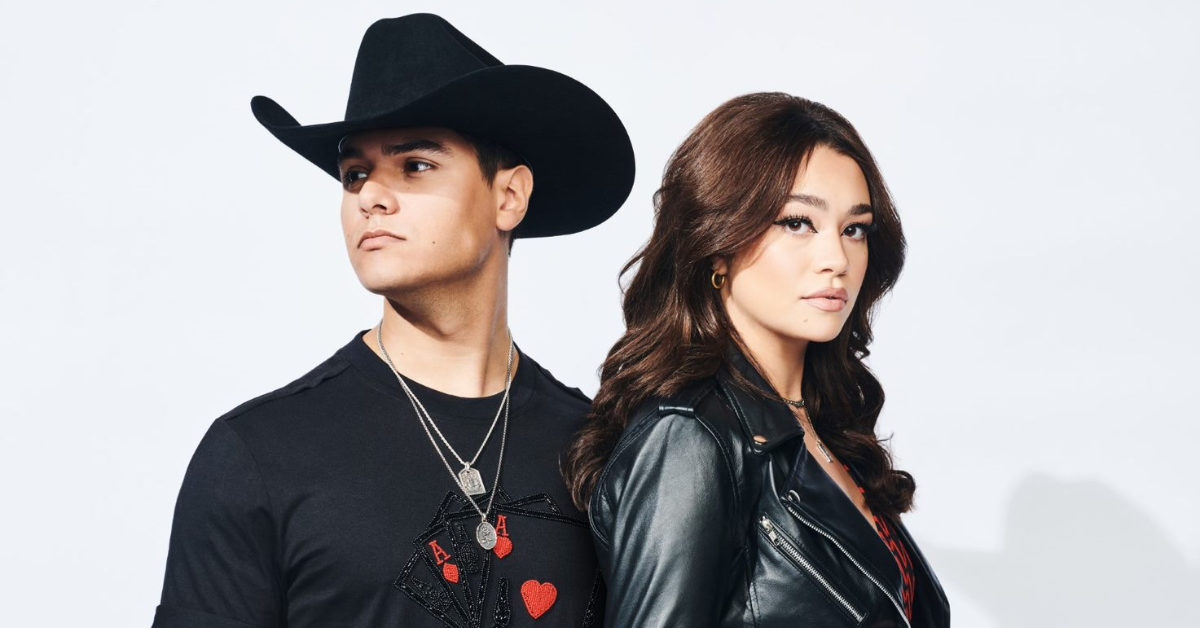 Artist Information
For as much as Kat & Alex embody classic country stylings and values, the Nashville-based duo also rewrite the rules altogether with a Latin twist. The husband-and-wife pair shake up country with full-bodied soulful delivery, inventive live instrumentation, and bilingual lyrics, introducing themselves as outliers with just the right amount of outlaw glee. Amassing nearly 20 million streams independently and receiving acclaim from Billboard, CMT, and more, they introduce a scorching signature style in 2021 with new music for Sony Music Nashville.
"We both grew up simultaneously listening to country and Spanish songs, so this is completely natural," says Alex. "This is who we've been for our entire lives. It's great to be able to share that. There's no better feeling than when somebody sends us a message like, 'When I heard you, my two worlds collided'."
"We're just being us," smiles Kat.
In that sense, they're fulfilling a destiny that predates their eventual union. Among many similarities, Kat and Alex both spoke Spanish exclusively until first grade. Kat is a Miami native and first-generation American from a Cuban family. Her grandfather owned a farm and tended to cows and horses. "He was a Cuban cowboy," she recalls. Of Puerto Rican descent and originally hailing from Northwestern Georgia, Alex had moved to Miami by middle school. Their familial experiences and musical tastes mirrored one another.
"I always listened to Maná, Marc Anthony and Alejandro Fernandez on the Latin side as well as Garth Brooks and Tim McGraw," recalls Alex.
"I loved Celia Cruz, and I was a big fan of Marc Anthony," agrees Kat. "We looked up to so many amazing people, and now we're bringing these roots to our music."
Before their paths finally crossed, Alex worked as a police officer for two years and logged time as a social media influencer for Harley Davidson Corporate in Milwaukee, WI, before he created art around Miami as "Space Cowboy." Meanwhile, Kat honed her voice and took advantage of any opportunity to perform. She witnessed Alex sing one day, and the two forged an eternal bond after one date. They appeared on American Idol before returning home to focus on writing and recording original music.
"It was a dream," admits Alex. "One day, I was thinking to myself, 'How cool would it be if Kat and I went to Nashville and started singing Country songs with Spanish lyrics?'"
In 2020, they signed to The AMG for management and inked a publishing deal with Warner Chappell between numerous sessions with producer Brad Hill [Maren Morris, Brothers Osborne]. Kat & Alex made their official debut with the single "How Many Times" and its accompanying Spanish Version. Right out of the gate, it gathered 7.9 million Spotify streams as they claimed coveted real estate on playlists such as "Hot Country" and "New Boots" in addition to rubbing elbows with Bad Bunny and Camilo on Latin playlists. At the top of 2021, they married and signed to Sony Music Nashville. Now, Kat & Alex kick off their next chapter with the single "Heartbreak Tour." Airy guitar gives way to a traffic-stopping vocal performance from Kat. Her robust timbre echoes as Alex answers with a gentle twang on the second verse. Their voices entwine on the hook above a skyscraping guitar solo and crashing percussion.
"It came out of a heated moment," admits Alex. "We'd gotten into an argument, cooled off, went downstairs, and wrote the song. We were overwhelmed by worrying if music would work out. The song represented what we believed life would be like if we hadn't pushed through this difficult time and pursued music as a unit. It's authentic, because we know we couldn't have done this alone. If Kat made it and I didn't it, she'd be touring around with a broken heart—and vice versa. We're glad we stuck together."
As they continued writing music, Kat & Alex engaged fans on social media through a series of Spanish covers of English songs by the likes of Luke Combs, Dan + Shay, and Jason Isbell. Generating millions of views, they received identifiable affirmation from their audience.
"We got a comment from someone who said, 'My grandparents will finally understand what this song is saying'," Alex goes on. "That resonated with us big time. We have grandparents who don't speak English. The fact we might be able to bridge country music and Latin culture is really incredible."
As much as Kat & Alex were meant for each other, they were also meant to leave a lasting mark on music.
"If we can touch one person with our music and provide an escape, we've accomplished our goal as a band," concludes Alex. "However, it all starts with our relationship."
"Our relationship is everything to this music," Kat leaves off. "There's so much love that goes into every single song. This wouldn't work if we didn't love each other as much as we do and put God first in all we do."
Stay In Touch
Skip the FOMO, we'll make sure you don't miss a thing! Sign up for exclusive updates, events, and offers – just for fans like you.