Joss Stone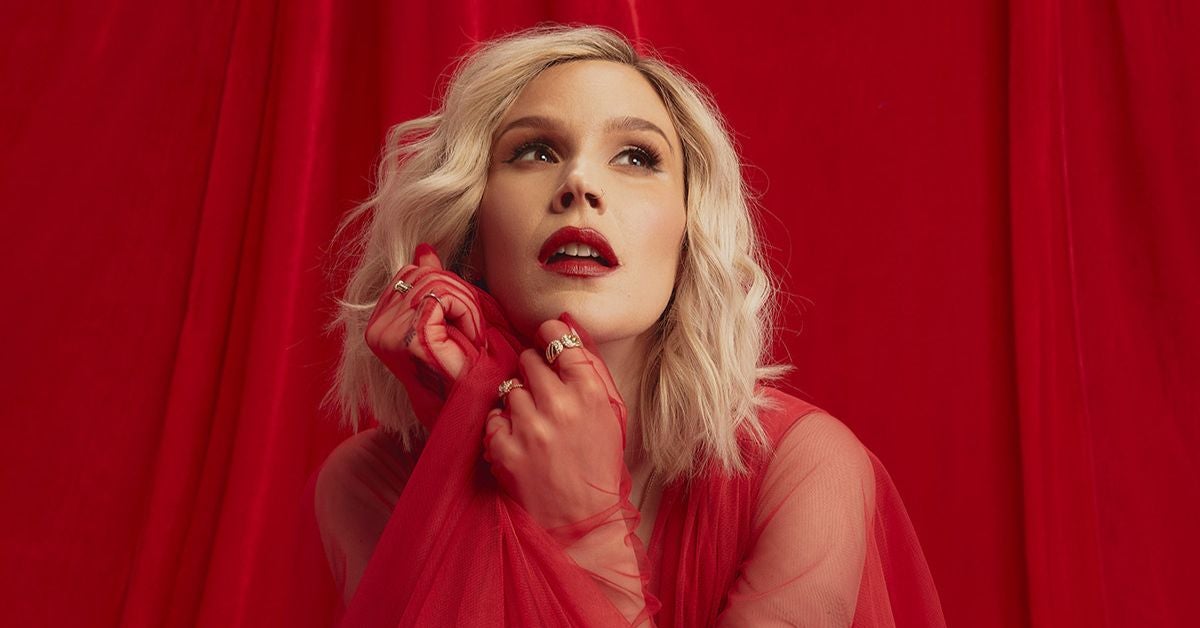 Hometown
Dover, Kent, U.K.
Opry Debut Date
December
10th
, 2022
Artist Information
Grammy-winning soul singer and songwriter Joss Stone is Christmas obsessed, and still marvels over the pageantry of her family's festive rituals. She remembers the kids started the morning with a fried English breakfast, and a small box of sweetly delightful cereal before - bursting with anticipation - they opened their presents. Joss also recalls her siblings playfully competing over who came up with the most thoughtful gift. And she will never forget her father's jovial, "Merry Christmas, Love," morning greeting.
Lovingly befitting, Joss's first-ever Christmas album is named after her dad's seasonal salutation. Merry Christmas, Love (S-Curve Records/Hollywood Records), out September 30th, exudes a timeless cozy elegance, recalling classic Christmas records by Frank Sinatra, Nate King Cole, and Bing Crosby. The 16-song album is an opulent holiday offering, featuring Joss like you've never heard her: luxuriously crooning amidst lavish layers of orchestral finery courtesy of the breathtaking string arrangements by Tim Lauer (Shania Twain, Taylor Swift, Dolly Parton, Lady A). Fans of Joss's powerhouse pipes need not worry, though, as there are plenty of smoldering soulful moments, including the album's first single, a stunning version of Stevie Wonder's "What Christmas Means To Me" where Joss's soulful rattle-the-church-rafters vocals shine. Merry Christmas, Love fulfills a career-long dream for Joss, and it is the first time she has self-produced. "I've been a professional singer for 20 years, and I saw this as a once-in-a-lifetime opportunity to make something truly magical. I wanted to create something that would warm you when it was cold outside like a glass of red wine, or a mug of hot chocolate," Joss shares.
Merry Christmas, Love commences cinematically with sleigh bells ringing off in the distance, then coming closer and building excitement like the opening credits of a favorite Christmas movie. Next, Joss's voice comes in, clear and comforting, briefly reciting the "Twas The Night Before Christmas" narrative. From there, the 16-song album merrily prances through a program of classics, modern favorites, and two newly-penned Joss originals.
On the velvety, string-lavished "Winter Wonderland," Joss effortlessly slides into sweetly sensual low-tones, personalizing the Christmas crooning tradition. She gracefully connects her soul roots to the swinging holiday songbook on "Jingle Bells." Joss sensually stretches out on a stately symphonic rendition of the holiday classic, "The Christmas Song," And she conjures sweet melancholia on her original, "Bring On Christmas," which follows in the tradition of reflective holiday-themed ballads like The Pogues' "Fairytale of New York" and John Lennon's "Happy Xmas (War Is Over)."
Joss is a five-time Grammy nominated artist who has sold 15 million records worldwide, and landed four of her 8 albums in the Billboard Top 10. She is considered one of the best-selling soul artists of the 2000s, and one of the best-selling British artists of her time. In 2006, Joss made her film acting debut in the fantasy adventure film Eragon, and in 2009 she made her television debut portraying Anne of Cleves in the Showtime series, The Tudors.
Merry Christmas, Love represents a lifelong love of Christmas music, and a quest to present the music in a timeless but authentic way. "It was ambitious to do this, but it was such a joy to make my dream project come true," she enthuses.
The making of Merry Christmas, Love was also extra special because during it Joss was pregnant with her second child. "It felt like he was part of the album, and that made it even sweeter. I feel like two wonderful babies came from this experience," Joss says.
Stay In Touch
Skip the FOMO, we'll make sure you don't miss a thing! Sign up for exclusive updates, events, and offers – just for fans like you.