Jake Worthington
Artist Information
If Jake Worthington had a nickel for every time he heard honky-tonk is dead, he'd have himself a ranch down in the heart of Texas. But even then, he'd be singing it.
A genuine country article with neon coursing through hisveins, a deep-drawling baritone and a soul that feeds on fiddle and steel, the soon-to-be star has heard all the eulogies for country's most electrifying, iconic style. But with his debut album on Big Loud Records, he's breathing fresh life into an American classic.
"I don't mind being a dark horse," he says, welcoming his role as keeper of the honky-tonk flame. "Blame it on my raising, but I think there oughttoberoom for country in country music. It took me a long time to get here, but I'm ready to goto work."
Raised in La Porte, Texas, a "chemical-plant town" just down the road from Houston, that hardworking, blue-collar attitude comes natural to thishellbentsinger-songwriter–and despite his youth, so does his pure-country devotion.
Built intothe fabric of his upbringing, traditional country music seemed to surround Worthington as a kid, from the radio stations he heard, to the TV shows he watched ... and even the family heroes he looked up to.
Back in the 1970s and '80s, it was Worthington's grandfather taking his shot at a neon dream, a self-taught songwriter/producer who founded his own publishing firm. He never scored any big hits, his grandson explains. The country mainstream of the day was much like it is now–overlooking its roots in thename of progress, and theUrban Cowboyphase. But every Christmas, grandpa would tell stories of the glory days and bust out an old guitar, playing twang-laden original tunes and classics by Ray Price, Merle Haggard, or George Jones. And in those moments,a seed was planted.
"I can't imagine my upbringing without country music," Worthington explains now. "It's just always been a huge part of my life."
Still, he never imagined it'd be a career. Learning a few chords as a youngster, he soon discovered his outsized voice–wide and wild as the Western plains–but for years, it was only used at home. Anopportunity to compete on NBC's 'The Voice' changed that, however, and after charming the nation with a second place finish on Season 6, Worthington picked upwhere grandpa left off.
Touring hard and hitting "every VFW hall and Moose lodge from Mississippi to Maine," he channeled his heritage at each show, fusing heartsick honky-tonk blues with bar-stool balladry, good timing two-step anthems and weary, tear-in-your-beer waltzes. Everywhere he went, he found fans craving more of that authentic country soul–and when he started writing in Nashville, that's exactly what he set out to give them.
"You can run into situations in a writing room where somebody's like, 'Let's write a country song today,'" he explains. "I don't mean nodisrespectto nobody, but what the hell are we doing here, anyway? That's what I'm always doing."
Joining the Big Loud team, soon Worthington appeared on
Hixtape: Vol. 2
with Ronnie Dun
n and Jake
Owen for the rowdy "Jonesin'," racking up almost 2 million Spotify streams. He showed up again on
ERNEST's "Heartache In My 100 Proof," hitting the road with the breakout star to boot. And now, his own tales are coming to life.
Thirteen tracksfill Worthington's self-titled debut, produced by hit maker Joey Moi and mixing traditional twang with a modern punch. A genuine honky-tonk album for an era of hybrid hits, Worthington co-wrote all but one track with chart toppers like Jessi Alexander, David Lee Murphy, Jeff Hyde and more, infusing fresh blood into country's still beating heart.
Plainspoken lyrics and rousing, real-deal vocals. Sawing fiddles and slippery steel guitars. Shuffling rhythms and saloon-style piano runs, all on tunes built forliving fast and loving true, or long nights spent with a broken heart, nursed by whatever the bartender's pouring.
Stood up alongside the Country & Western classics, they'd feel right at home. But it's no "throwback" for a guy like Worthington.
"I've never wanted to make any other kinda music," he says. "And I can't sing none of that rock stuff anyway."
Tracks like the slow and solemn "State You Left Me In" lead the way, pointing at the honky-tonk ahead like a buzzing neon sign. Co-written with Timothy Baker and Roger Springer, it's a swaying message to a jet setting lost love–sent out by a heart that refuses to move on, just in case she ever comes back. Highlighting both his traditional dedication and youthful vigor, Worthington wrote it just as his time in
Nashville began, matching country's emotional elements to an in-the-moment story.
"Like my grandpa always says, you'll know you have a hit song if the dance floor's full," he says with a grin. "A lot of people have told me it's hard to sell that kind of music, but I don'tcare. I've always taken the long way around."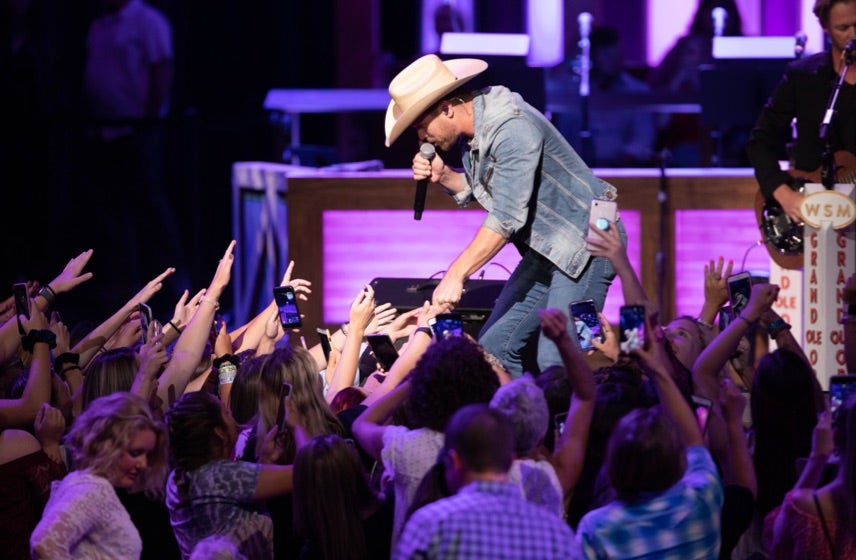 Opry House
Featuring Deana Carter, Mark Wills, Jake Worthington and more to be announced...
Stay In Touch
Skip the FOMO, we'll make sure you don't miss a thing! Sign up for exclusive updates, events, and offers – just for fans like you.