Elle King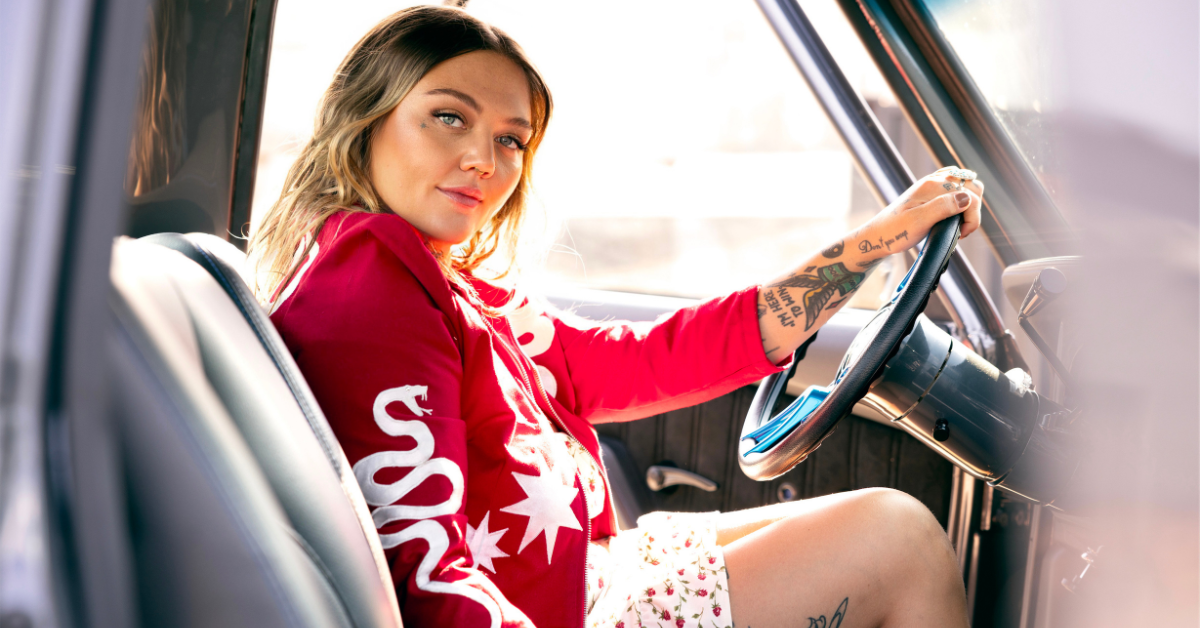 Artist Information
New York. London. LA. Firebrand. Punk. Renegade. Bold-faced icon. Startling songwriter.
Grammy nominee. Pop sensation. Academy of Country Music and Country Music Association Award winner. Record setter. Brash live force. Brazen recording artist. Spider monkey on a tear.
What if the story began with a banjo? With a residency trying to figure out writing songs? Perhaps a high gloss, but busted life and ultimately a secessionist raising in Jackson, Ohio? No wonder Elle King is hotter than a pepper sprout. Even more than ZFG attitude, there's the forthright attack on a life lived frayed at the edges and pulling at the scenes. Sure, she had famous parents, but when it gets real for King, it all happens with her Maw-Maw and Paw-Paw in a scrappy Southern Ohio town that puts the "just" in getting by.

"Home isn't a longitude, latitude or a place," King begins, explaining what anchors the energetic songwriter. "It's the fucking people. My grandfather was a carpenter who had a shed, where he always played country music. PawPaw always had a truck, some kind of Ford Ranger – and he had dogs that are mongrel dogs, typically used for hunting; they lived outside and barked their heads off.
"My Grandfather's a hunter; everybody's a hunter because they're all poor and they eat everything they kill. Squirrel, deer, snapping turtle, whatever, people ate it all. (Back home) the coal mine shafts and factories closed down. My Grandfather was a railroad conductor for CSX, but it's tough there but there's a lot of beauty because it's also a little untouched. The people have so much to them. My Maw-Maw worked hard to create a beautiful home and make us all feel loved. I say how proud I am about where I come from, because I see how they live, how hard they work, they dream. They party fucking hard and we laugh; we don't cry unless we're laughing. Not just my family, but the next generations of these smart people who know how to get by."

It all permeates "Ohio," the opening track on Come Get Your Wife. Banjo-plinking, yearning vocal, the wide-open suggests the pull of where – and how – she grew up. Intoning "Find me singing on a back porch swingin'/ Cur dogs barkin, left my dip in the kitchen/ That's when it hit me... I've been gone to long," King's roots run deep and honest in the realm of country music.
With a tumble and King's power-delivery, there's no doubt about how things go down. That same fervor informs the "Ex's & Oh's" bad match bookend "Try Jesus," awash in thick gospel choir wail and just enough church organ to witness.
It's what makes the audacious barnyard guitar shuffle "Tulsa" and the hilarious small-town gossip-eschewing "Out Yonder" so hilarious. Elle co-produced the album with Ross Copperman and the pair kept the songs moving, the humor high and the musical adventure.
That humor is led by the title of the album, Come Get Your Wife, a wry reference to a putdown tossed her partner's way by an alpha male during a spirited night of fun and games. She can drink, play games and go toe-to-toe with the best of them so if you're dishin' it out around Elle, be ready to take it!
Yes, her parents are superstar comic Rob Schneider and international model London King. He of "Saturday Night Live" and movie fame; she of global catwalks and the universal fit model for the Limited, Abercrombie & Fitch and Express. It sounds glamourous, but it created a central conflict.
"I was a chubby, funny kid," she recalls. "And my dad was rich and famous, so people made fun of me. I grew up with fame cause of Dad, but I was in the headquarters of all those fashion brands where Mom was hustling to give my brother and me this life. But really, I just wanted to go to Jackson."
In the Southeast corner where Ohio meets West Virginia and Pennyslvania, it can get pretty rustic. But it's real – and no one's impressed by those kinds of things. Even after moving to New York City with her mom and stepdad, King's ear responded to those more bluegrass and raw country sounds.
Her stepdad got the young girl obsessed with Otis Redding, the Yeah Yeah Yeahs and Hank Williams. At 13, she was writing songs. By 16, she knew to lie about her age and start a residency at the now closed Spike Hill between North 7th and Bedford Ave. Thinking she was older, they gave her free beer.
A kid named Cranston, showing up with a banjo, put her whole life in order. She remembers, "It felt like home when I played it. I took that banjo with me and kept it for two years and really figured out what MY sound was."
Only the business had other ideas. The robust blond with the tattoos and a wide-open spirit was advised to "tone down the country, play up the rock & roll shit." Suddenly an alternative icon – scoring Best Rock Vocal Performance and Best Rock Song Grammy nominations for "Ex's & Oh's" – she got pinned by the speed of sound to a genre not always welcoming to women. Touring with some of the biggest – male fronted – alternative rock bands, she held her own.
"When I cut America's Sweetheart, the only instrument I brought was a banjo, because all the studios had guitars. That's what made me stand out. Everyone wanted me to be this alternative rock princess who played banjo on the side, but that wasn't the point! But I rode that song for three years."
It was fast. It was crazy. It was drugs and men and whatever else. She got married, got divorced, got through it. As important, she recorded "Different for Girls" with roots/country force Dierks Bentley, which won the CMA's Vocal Event of The Year.
"I didn't know who he was," she admits. "But my brother was like, 'Are you KIDDING? He's so fucking cool! You have to do this.' So, I did... and Dierks changed my life. He and (manager) Mary Hilliard Harrington opened up so many doors, taught me so much about how to do this."
Indeed, the Bentley/Harrington vortex proved an on-ramp to country viability. On Come Get Your Wife, Bentley returns for the relationship resuscitating "Worth A Shot," while her high octane whirling and thumping throwdown "Drunk (And I Don't Wanna Go Home)" with Miranda Lambert has already scored a 2021 ACM Award and CMA Vocal Event nomination and set streaming records.
For all the "hell yeah" and crazy stories in the songs, Come Get Your Wife is as much King steeping in the reality of her life and how she got here. Teaming with 2-time BMI Songwriter of the Year Ross Copperman, the pair worked in two-day blasts to create an album that was bright and aggressive, smart and porous. They enlisted some of Nashville's best roots players – Fred Eltringham and Nir Z on drums, Kenny Greenberg, Ilya Toshinskiy and Rob McNelley on electric, 2-time CMA Musician of the Year Jenee Fleanor on fiddle and mandolin, Linda Ronstadt veteran Dan Dugmore on steel – and tagged leaned into tracking live musicians.
It lends the dreamy gratitude of "Lucky," the cowgirl power-strumming self-assessment "Bonafide" and the steamy Etta James-evoking blues soul "Love Go By" an earthiness that's non-negotiable. There's the slow boil, electric guitar note-bending irony of "Before You Met Me," that features John Osborne on guitar, where the wool pulled over the suitor's eyes is delivered with a wink about the girl she used to be.
King's made some friends along the way. On the brassy powder keg reckoning "Tulsa," Osborne's scalding guitars are joined by Ashley McBryde's vocals, while industry favorite Charley Worsham provides acoustic guitar and backing vocals on the over it dismissal "Crawling Mood."
"It was a dark time during the pandemic," King says of the transition. "A preacher said, 'God has a very big plan for you. People want to know both sides of your story.'"
"I'd done drugs and face tattoos, but I was being reminded that there is something bigger and greater than all of that... I'm a very specific tool for God: proof you don't have to fit into a mold, go to church or anything else to be deserving of His love. I could see when I made a conscious decision to clear out the negative in my life, it would bring the positive into my world. The whole giving my hopes and dreams and faults to something bigger than me? 'Try Jesus' came at a time I was trying to give my life over to something greater – and you can feel it."
With that came freedom. Freedom to feel, to go deep into the country instruments and bluegrass harmonies. It also let her experiment, create unlikely cocktails like the whirling dance track threaded with fiddle that is "Blacked Out."
"Disco is my fucking life," she confesses. "Disco is pain and heartbreak to an upbeat tempo. You can dance your pain away. I was listening to so much disco, trying to find a bridge between it and country music. I told Martin Johnson, who I co-wrote "Blacked Out" with, that I wanted a song that could reach across the aisle from Oh, Brother, Where Art Thou? In the verses to a full-on disco slam on the choruses."
That kind of vision isn't visionary as much as it is being real. Real about who she is. Real about where she comes from. For King, who came by banjo honest and isn't afraid to tell the truth about where she comes from, it's pretty simple.
"It's that hard shit people in the nowhere know and deal with that I wrote about. It's a connection between me and all of those people. Where I come from the babies are dirty and barefoot; we all know who Jessico White and Whites of West Virginia are.
"So, I wanted to show people, people who're like me, who may've been lost or turned away, you're not alone. We see you."
For More information contact:
Wes Vause @ pressonpublicity.com
Press On Publicity
Stay In Touch
Skip the FOMO, we'll make sure you don't miss a thing! Sign up for exclusive updates, events, and offers – just for fans like you.