Dan Tyminski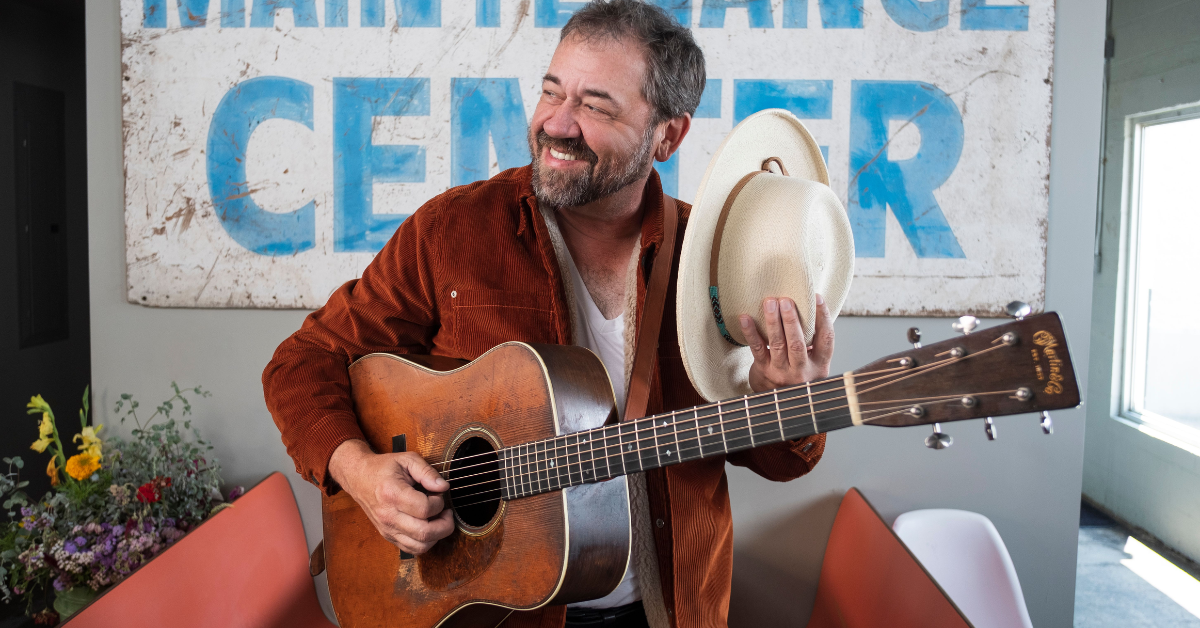 Artist Information
Appropriate for a ghost, the fascination with the imagery is elusive to Tyminski – "I'm still looking for it," he confesses – but it's an apt visual representation of the sonic spirit in Southern Gothic, a collection of songs that blends so many styles that it's as difficult to pin down as a fleeting apparition.
            Ghosts could never have inhabited a machine during the bulk of Tyminski's storied career – as one of the premier vocalists in modern acoustic music, he's a member of bluegrass act Alison Krauss + Union Station, a band that doesn't even use a drummer, let alone programmed instruments.
            But in Southern Gothic, all the barriers fell down as a jumble of distinctly separate styles and sounds whipped together to form one unique, almost uncategorizable, sonic labyrinth. It's humanity vs. technology, mountain vs. Motown, right vs. wrong, tradition vs. progress, light vs. dark, angel vs. devil.
            "We go through this life hearing whispers off of each shoulder, and we all have to deal with that," Tyminski says. "It's interesting to have a chance to illuminate a little bit."
            Southern Gothic chases down those competing voices in a way that's both moody and electrifying. "Temporary Love" wraps its exploration of addictive behavior in a tempting sheen of harmonic prowess. "Breathing Fire" scorches false prophets over a bed of gurgling stringed instruments and a tribal kick drum. "Hollow Hallelujah" hints at the emptiness of victimhood through its slappy rhythms and burning melody. And "Numb" encapsulates isolation with its high-lonesome peaks and buzzing blocked chords.
            All of that – and more – is in Southern Gothic. Not that the listener has to go there. The album is awash in hooky earworms, seductive percussion and Tyminski's stinging tenor. The sound itself is enough to keep a music fan occupied.
            "You can listen to it and absolutely ride along and not really have to make a huge investment," Tyminski notes. "But if you want to spend a little more time and really think about what the lyric says, there's a message, and if you really want to look at the double meanings, and the hidden meanings behind a lot of the lyric, it will feed you."
            Tyminski has fed himself, and his family, for years on the back of his musical talent while working as the ultimate team player. After a stint in the Lonesome River Band, he's been a member of Union Station for 25 years, pitching in on a load of side projects along the way. Tyminski contributed guitar and/or harmony to projects by Martina McBride, Reba McEntire, Brad Paisley, Dolly Parton, Willie Nelson, Kenny Chesney, Leann Rimes, Aaron Lewis and Rob Thomas, to name a few. He provided the singing voice for George Clooney's on-screen character in O Brother, Where Art Thou?, earning multiple trophies through the fictitious Soggy Bottom Boys' "I Am A Man Of Constant Sorrow." And in 2013, Tyminski sang lead on Avicii's international pop hit "Hey Brother," which reached #1 on charts in at least 18 countries.
            Through all of those efforts – and his chart-topping 2008 album Wheels, credited to the Dan Tyminski Band – Tyminski has racked up 14 Grammy Awards and 18 total nominations. And he's collected an additional 19 trophies from the International Bluegrass Music Association, including four as Male Vocalist of the Year and eight for his role on Album of the Year winners.
            But as essential as his contributions have been, Tyminski's always been content to be part of an ensemble.
            "I've had opportunities now for a couple of decades to have a solo career," he says. "I never felt the need. I've felt my whole career that I was built and designed to play with Alison and Union Station. God built me to do that."
            The building process was a unique one. Born and raised in Rutland, Vermont, he spent his youth closer to Canada than to Nashville's Ryman Auditorium, the acknowledged home of the bluegrass style he would pursue. A small town of 16,000 north of Boston, Rutland was not a target for blockbuster concerts and major tours. Instead, his musical exposure came from his parents' ritual. His mother sang informally in local bars, where the underage Tyminski was allowed to enter.
            After hearing a J.D. Crowe album, Tyminski asked for a banjo for his 13th birthday, and it triggered a musical passion that became a fulltime job in short order. As a teenager, he toured the East Coast with the Green Mountain Bluegrass Band, emerging as a Southern singer despite his Yankee heritage.
            "The people that I was most taken with were all Southern singers: Larry Sparks, Ricky Skaggs, Tony Rice, Jimmy Martin, Ralph Stanley, to name just a few," Tyminski says. "Apparently I mimicked that in my subconscious because I had people ask me where I was from when I was a teenager, even though I had never lived outside of Vermont."
            He left his homestate for Virginia in 1988 when he joined the Lonesome River Band, providing lead and harmony vocals and playing mandolin. Four years later, Tyminski accepted a role in Union Station, and spent 12 years commuting from Ferrum, Virginia to Nashville. It was near the end of that period that his Soggy Bottom Boys performance reshaped the way he approached recording music. "I Am A Man Of Constant Sorrow" won the Country Music Association's Single of the Year and the O Brother soundtrack sold 8 million copies in the U.S. alone, owing in part to its authenticity. The recordings may not have been the first take, but they were live performances in every sense of the word, and they were not made to be perfect.
            "Perfection turns out to be something that I had to reconsider," Tyminski says. "Now, to me, perfection is the largest impact on your soul, not the best fit between notes and units of measure. It's no longer as closely tied to math as it is emotion, and O Brother helped do that for me."
            The Avicii project opened him up even more. Tyminski initially dismissed a request to collaborate when it came in – he'd never heard of the Swedish producer and wasn't even familiar with the term EDM, though his daughter explained it as shorthand for electronic dance music. She also said she would disown Tyminski if he didn't work with Avicii.
            When "Hey Brother" blew up globally, it also blew up Tyminski's perceptions. The folk/pop/EDM track was built around his voice, and when his kids' friends started singing his song to him with admiration, he realized he had fun stepping outside of the bluegrass box.
            "Through the process, it made me realize that my voice translated," he says. "It didn't feel strange at all. I didn't feel like I was having to pose or put myself in a different place. It just made me feel better about the thought of maybe doing something different."
            With that new outlook, when Union Station took some downtime in June 2015, Tyminski started working with fellow Nashville songwriters, focused solely on creating material that other artists might want to record. As he let the publishers start shopping those songs, he found himself jealous on occasion that someone other than himself might end up singing them.
            Tyminski teamed with a load of top-shelf songwriters, including Sarah Buxton ("Stupid Boy"), Josh Kear ("Need You Now"), Cary Barlowe ("American Honey"), Andrew Dorff ("Neon Light") and Ashley Monroe ("Hell On Heels").
            But Tyminski's key co-writer through that period was Jesse Frasure, a Nashville-based songwriter/producer who has fashioned a series of mostly progressive country hits, including Thomas Rhett's "Crash And Burn," Rascal Flatts' "I Like The Sound Of That," Florida Georgia Line's "Sun Daze" and Lauren Alaina's "Road Less Traveled." Tyminski and Frasure began to see a pattern in some of the music they'd been writing, and they recognized that they had the makings of an album.
            "With Jesse, I had the opportunity to explore," Tyminski reflects. "I mean, he just has no fear. He'll go anywhere. He'll try anything to try to create a mood or a feeling, and then once we latch onto that, it turns out that we're able to write songs that somehow end up making sense. We found some real estate that we felt like had not been occupied yet."
            After assembling a group of songs Tyminski had already completed, they wrote a couple more to round out the project. Tyminski played some acoustic guitar and banjo on Southern Gothic, though the focus was less on him as a musician than on his voice as a vehicle for the tension and conflict in the songs.
            "I'm absolutely an acoustic musician," he allows. "That being said, I'm a singer as well. I've always said there's lots of room for all kinds of music out there. It's a big world, and it's interesting to have found a little spot in a different area."
            The ghostly sound of Tyminski's haunting tone forms the basis for Southern Gothic. The title track casts him in an eerie, swampy condemnation of cultural hypocrisies. "The Devil Is Downtown" applies a mysterious sonic foundation to the hidden sins in its lyric. "Wailing Wall" puts an '80s-pop coating on longing and loneliness. "Perfect Poison" employs Dobro-guided blues while struggling with seductive danger.
            The opening line of the "Perfect Poison" chorus, "You're no good for me," contradicts the title of "Good For Your Soul," cleverly hinting at the sociological contradictions at work in Southern Gothic.
            It's easy to summarize Southern Gothic as an album in which light and dark are at war. In truth, the opposites need each other to exist. Thus, the opposing forces at work in Tyminski's project form an impressively coherent whole. The ghosts in the machine all serve a purpose. In bringing them into the open, Tyminski – the ultimate team player – steps out of the background and into the limelight. He hasn't just found his voice – that happened a long time ago – but, with Southern Gothic, he has found a new way to use it.
            "If I wanted to do something different for the sake of doing something different, I could have done a lot of that," Tyminski says. "I've waited until it was my time to say what I had to say."
Stay In Touch
Skip the FOMO, we'll make sure you don't miss a thing! Sign up for exclusive updates, events, and offers – just for fans like you.