Brothers of the Heart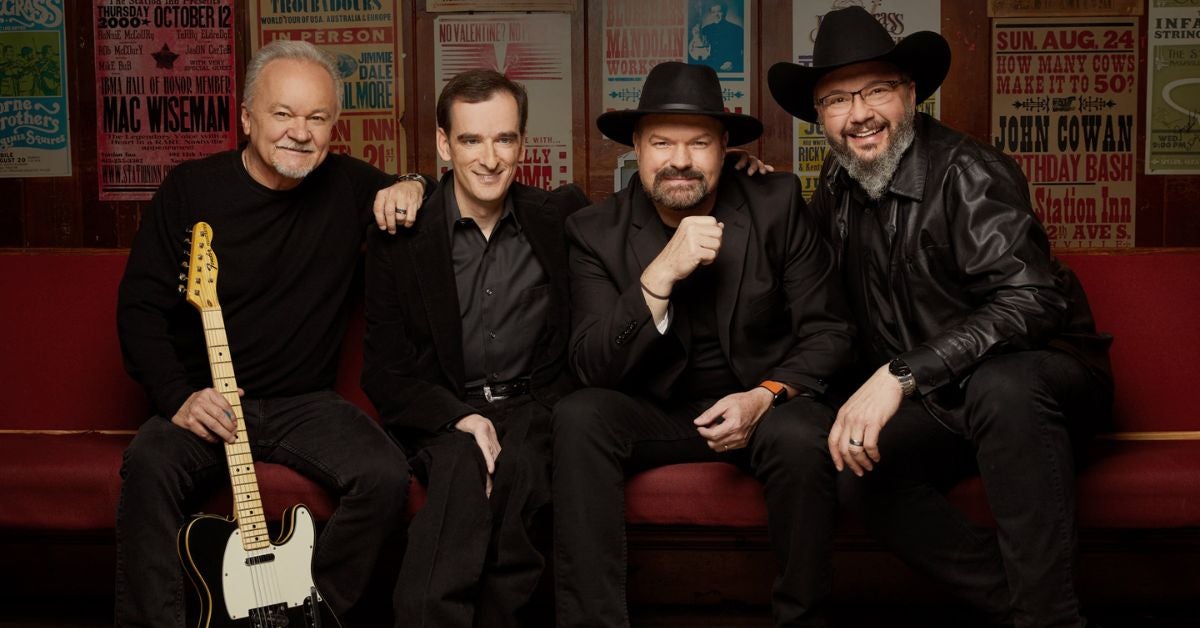 Artist Information
Super groups have a prestigious history in the music industry from such legendary rockers as The Traveling Wilburys to the iconic country foursome The Highwaymen to the stellar Trio of Dolly Parton, Emmylou Harris and Linda Ronstadt. There's a special excitement when successful artists combine their individual talents and star power to create something fresh and exciting. That tradition continues with Brothers of the Heart. Jimmy Fortune, Bradley Walker, Mike Rogers and Ben Isaacs have joined forces again on their sophomore set Listen to the Music and are putting their distinctive stamp on 12 iconic songs.  
Dubbed the "country, bluegrass, gospel dream team" by Cowboys & Indians magazine, the foursome follows their acclaimed debut project with a diverse collection of songs and an accompanying TV special and DVD, narrated by Country and Gospel Music Hall of Famer Don Reid of the Statler Brothers. It was Reid who coined the phrase Brothers of the Heart when describing Fortune, Walker, Rogers and Isaacs. "When he was introducing us, Don said, 'I call them Brothers of the Heart,' and it's so true because we love each other so much," says Walker. "For me, this is so much more than music. When you hear people talk about this group they say, 'You can tell that you all love each other, and you can tell you all are having fun.' That's the best thing about it to me.  That's so much of the appeal of the group. It's not just songs, the music, the harmonies and all that, but the love between us and our love for people. I'm so thankful to be a part of this." 
That sense of camaraderie and appreciation for each other's gifts permeates Listen to the Music.  Each member enjoyed a hugely successful career before coming together as Brothers of the Heart and still maintain their individual careers. Fortune rose to prominence as a member of the legendary Statler Brothers; and when the group retired after his 21-year tenure, the Virginia native went on to carve a successful solo career, winning two GMA DOVE Awards, receiving IBMA songwriting honors and being inducted into the Virginia Musical Hall of Fame in 2018. Isaacs is an in-demand producer who has steered projects for everyone from Dennis Quaid to The Oak Ridge Boys while touring globally with his family's award-winning band, Grand Ole Opry members The Isaacs.  
Rogers is a Myrtle Beach, SC, native who performed with bluegrass icon Doyle Lawson and country star Craig Morgan before joining Ricky Skaggs' famed band Kentucky Thunder. Walker is an Alabama native, who joined The Oak Ridge Boys on stage at age 10 and continued to steadily build an impressive resume that includes winning Male Vocalist of the Year from the International Bluegrass Music Association (IBMA) and a DOVE Award for Bluegrass/Country/Roots Album of the Year in 2018 for Blessed: Hymns & Songs of Faith.  Eric Clapton personally invited Walker to perform at his 2019 Crossroads Festival, and Vince Gill accompanied Walker on guitar. 
Fortune, Isaacs, Rogers and Walker joined forces in 2020 to release the album/TV special/DVD Brotherly Love, which became an instant fan favorite. "I was surprised," Rogers says of the first album's success. "You never know what something is going to do, but I think everybody saw the heart and the love that we put into that record.  What you see on stage is what we are off stage; and what we're singing, whether it's 'The Lighthouse' or 'Lord, I Hope This Day Is Good,' we're putting our heart into it. That's what people see. It's real. There's no hiding anything. That's just what we do." 
It's that combination of pure heart and gifted artistry that once again combines to make Listen to the Music such an engaging collection. The project kicks off with Fortune's soaring lead vocals on the Doobie Brothers' classic "Listen to the Music." The 12-song collection continues with each member taking turns on lead vocals as they put their creative spin on such country, rock and gospel classics as Johnny Cash's "Ring of Fire," Glen Campbell's "Gentle on My Mind," Vince Gill's "Liza Jane," the Everly Brothers' "Bye Bye Love," the Statler Brothers' "I'll Go to My Grave Loving You" and the Eagles' "Desperado." 
"We get together and throw songs out there," Fortune says of the way the foursome comes together, suggesting favorite songs and then working them up to see how they feel. He admits Isaacs had to talk him into singing lead on "Desperado" because he couldn't imagine recreating the magic of Don Henley's original vocal performance. "I always consider them the top of the heap as far as what's out there and what's ever been out there," Fortune says of the Eagles. "So, to attempt something like what they do, you've really got to take a chance." 
The chance paid off as Fortune's shimmering vocals breathe new life into a well-loved treasure. "Jimmy Fortune can sing any style of music, any style of music from so many different eras from pop to country to gospel, just anything," Walker says with a smile. "The way Jimmy sings, the heart that he sings with, not many people can pull off doing an Eagles song. When he starts singing 'Desperado' you are like, 'Wow!'  That voice is just so iconic.  When Jimmy starts singing songs like that, it's hard for us to remember our parts because we get so wrapped up in listening to him sing, listening to that voice. So much of what makes Jimmy great is the man that he is.  He takes every ounce of the emotion he has, every ounce of the feeling, every ounce of everything that he has and pours into the songs that he sings." 
The Brothers are each other's biggest cheerleaders. Fortune admits he had to talk Isaacs into singing lead on the Statlers' "I'll Go to My Grave Loving You," which is the last song they sang together on stage when they were inducted into the Country Music Hall of Fame. "We talked about who was going to sing that song; and I said, 'Ben, you're going to sing it,' and he was like, 'No, no, no!' And I said, 'Yeah, yeah, yeah!'  I had to talk him into that one. We were looking for some things for Ben to sink his teeth into and he studied Don and listened to him a lot.  He made it his own too.  I thought he really did a good job. He owned that song." 
Isaacs also delivers a potent version of Campbell's "Gentle on My Mind" that earned the praise of his Brothers, but was he nervous? "My dad would say 'as nervous as a long-tailed cat in a room full of rocking chairs' because first of all, I don't think I've ever sang a song with that many lyrics in it," says Isaacs, who had met the iconic entertainer before his death. "When he was doing the Ryman shows, I rode down with The Oak Ridge Boys and got to meet him and spend a little bit of time with him; and just to watch their respect for each other, that was cool to me." 
Rogers sings lead on the Paul McCartney and Wings' hit "Let 'Em In," Gill's "Liza Jane" and on the gospel classic "Precious Memories." He admits tackling the latter tune was hard for him. "I used to sing that song with Doyle Lawson & Quicksilver. My dad passed 10 years ago and I haven't sang it since that," Rogers shares.  "I think now the more I do it the easier it will get but that was tough initially." 
"Mike and I recorded that at the studio just the two of us," says Isaacs, "because I wanted him to be able to be vulnerable and to give a performance that will capture the everything that he feels in that song, and he does it so well." 
Another standout moment on the album is Walker's interpretation of Johnny Cash's "Ring of Fire." "He never had done that song before and I was surprised," Fortune says. "Bradley just put himself in it and he made it his own." 
Walker's cover earned high praise from Reid. "Don said, 'Bradley, you've made this song yours with no Johnny inflections at all,'" Isaacs recalls. "So it was about the song and not the artist.  There are songs that are bigger than the artists. The song will stand when the artist is gone and that's one of those songs." 
In recording an album of covers, there's a fine line between giving the listener something familiar and offering something fresh. As producer of the project, Isaacs carefully strikes that delicate balance. "I feel like it starts with doing your best to honor the music's roots," Isaacs says. "There are little signature licks, and I felt like it was important to not change an arrangement so much that you confuse people. So much of this type of record is about recognizability, so you want to do everything that you can to put your stamp on it but to also honor the originals." 
"Ben is the brainchild of all of it," Rogers says of Isaacs' production skills. "We all kind of throw in our two cents worth, but Ben pulls us all together. He's the wrangler of the bunch." 
As much fun as the foursome had in the recording studio, they had an even more enjoyable time recording the TV special/DVD in the legendary Studio A at the Grand Ole Opry house where the Statler Brothers once taped their hit TV show. "It was like coming full circle," says Fortune, adding the group was so honored that Reid narrated the TV special/DVD, conducting the interview with the group and lending his voice to the project. "I'd just as soon hear him talk as to hear us sing I'll tell you that," Fortune laughs.  "He's got that beautiful voice even talking, much less singing; but he hasn't sung any since the Statlers retired.  He knew the questions to ask and he knew how to ask them. It was pretty magical to get his stamp of approval. He's a big fan of harmonies, of course, being with the Statler Brothers, and he was so complimentary.  Having someone you look up to that knows so much about the history of the songs to say, 'Hey, I love you all's rendition of all these songs'--it was quite an honor to hear him say that." 
With decades of musical experiences behind them, Fortune, Walker, Rogers and Isaacs know they have something special as Brothers of the Heart; and even though they each continue to nurture their careers outside the group, they are thankful for the creative moments they have together. "There's anointing on the four of us," Walker says.  "You can put four people together, four great soloists and sometimes it doesn't work.  Yet this does. It's the songs and our harmonies. This music takes people back to a certain time and I think people are longing for that now."  
The Brothers enjoyed taking their fans on a stroll down memory lane as they serve up such beloved classics as "Just As I Am" and "God Bless America" alongside lesser known gems such as Jimmy Fortune's take on Jackson Browne's "These Days."  They carry listeners back to a simpler time when the power of a great song sung by good friends could make the day brighter. 
"We love each other so much and respect each other so much that we are each other's biggest fans," Isaacs says.  "When Bradley is singing or when Mikey is singing or when Jimmy is singing, I am rooting for them as hard as I know they are rooting for me when I'm singing because we realize that what we are together is way better than what we are individually.  So, there is a line of respect and love and caring and support." 
It's a special blend that transcends great harmonies and memorable lyrics. It's something unique that can only be created by Brothers of the Heart. 
Stay In Touch
Skip the FOMO, we'll make sure you don't miss a thing! Sign up for exclusive updates, events, and offers – just for fans like you.