Hit The Spots You've Seen On The Small Screen!
By Brad Schmitt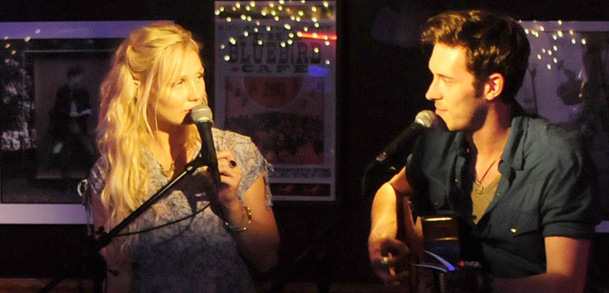 OK, so here's how we locals watch the ABC drama Nashville –
"Ooooo, that's the Bluebird!" "Oh, hey, that's that Watermark restaurant in the Gulch!" "Dude, there's the Loveless Café. I took my mom there, and yeah, the biscuits really were that good."
So here's a fun idea for you, whether you're visiting Music City this summer or whether you live here. Why not feel like a high-powered overly-dramatic country star or record label exec and visit the same places where they shoot Nashville?
Getting ready to close a super-important deal or sign a humungous record deal, for instance? Or just wanna pretend you are?
Head to Watermark, an incredible high-end restaurant in Nashville's super-trendy Gulch area. First of all, Brad Paisley recently said he eats there with his TV/movie star wife, Kimberly Williams-Paisley. And Kimberly is actually on the show Nashville!! So she and her philandering, scheming (and did we mention pregnant?!?) character both LOVE Watermark.
What I love about Watermark is they can take any meat or fish – whether it's a delicate fish or a big ol' hunk of pork chop – and make it a freakin' event. Delicious, for sure, and well worth the price.
Then again, you may be more on a biscuits budget, and if you are, head on down to the Loveless Café. They bring you all the biscuits you can eat. And how good are those biscuits?
Tremendous. So good that Food Network star Bobby Flay came to Nashville in 2009 to challenge the Loveless biscuit lady, Carol Fay, shortly before Carol Fay passed away.
You'll go for the biscuits and you'll leave arguing over which homemade jam – strawberry, peach or blackberry – is the best.

(Spoiler alert: It's the peach. Just sayin'.)
Then again, ya can't eat the entire time you're in Nashville. Well, ya could, but how about working up an appetite by shopping? If you're gonna do it like they do it on Nashville, go hit Two Old Hippies, a peace lovin' rock n' roll lifestyles store.
Uh, do what? Yeah, this place in the Gulch (right by Watermark!) is a place where you can get cool hippie clothes and a great guitar and bunches of other super-cool (in a laid-back way) stuff.
Nashville isn't the only TV show that has visited. Music City 411 also recently did an episode there. Oh yeah, and the store has live music there pretty regularly too.
A walk across the downtown pedestrian bridge, where Nashville favorites Rayna and Deacon had a heart to heart in Episode One, gives you a great perspective on the city. From there, you can plan your next Nashville stop as seen on Nashville, be it a honky tonk like Tootsie's or any of the other watering holes, shops, and eateries along famed Lower Broadway. You might even catch the General Jackson Showboat, site during the first season of Nashville of a CMA nomination celebration, passing below the bridge for a post-sundown view of the city.
Then again, maybe you don't wanna spend a dime, but you want to make your own iPhone video at the same place that Juliette Barnes cut a music video in episode two.
Remember when she was draped on statues of nude people right in the middle of Music Row?
That, friends, is a real statue, called Musica, and it's on a roundabout right in the middle of Music Row.
And yeah, you can walk right up and take pics. We're not sure what might happen if you climb up on the statue like actress Hayden Panettiere did. But if push comes to shove, ya might find out how incredibly friendly Metro Police are in Nashville!
Then you might have a whole different kind of video…. Happy summer!