by Brad Schmitt
Brad Schmitt is a longtime Nashville entertainment journalist, having shared the goods on Music City's most interesting people in the newspaper, on TV, and online for more than 15 years. Every week, Brad hits country fans with the latest news from Nashville and the lives of their favorite country artists.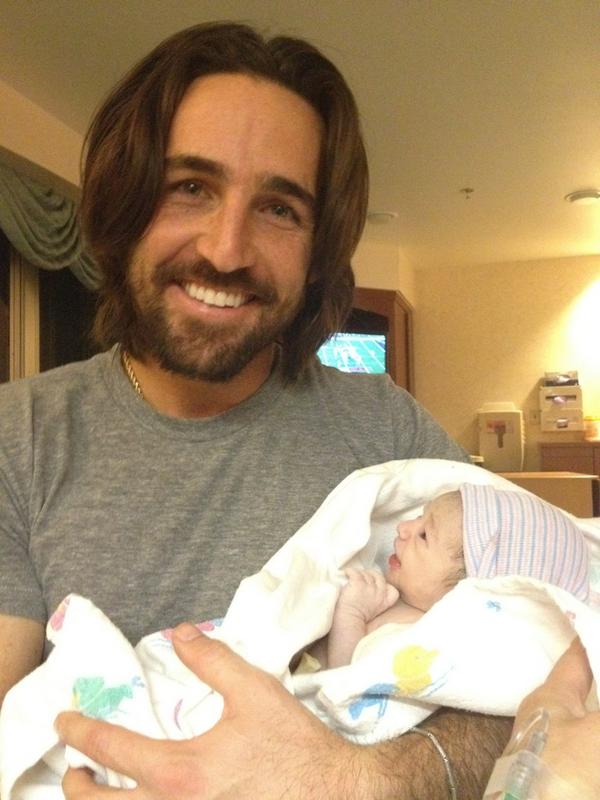 Jake Owen and his wife welcome Thanksgiving baby!
Talk about being grateful on Thanksgiving!
Jake Owen and his wife, Lacey, welcomed their first child, Olive Pearl Owen, on Thanksgiving morning. And no holding out for money from magazines for the big exclusive pics – Jake was so excited that he posted his own picture on Twitter.
"Today is the greatest day of my life," he wrote. "Welcome Olive Pearl Owen. 6lbs 3 oz Turkey Baby!!! Happy Thanksgiving."
Super sweet.
Jake actually went online Sunday night (Nov. 25) to have a video chat with fans on StageIt.com and give Pearl her video debut at three days old!
She was born for the spotlight….
Congratulations!
Carrie teases her hubby about being his sugar mama
Wow, Carrie Underwood and her hockey hubby, Mike Fisher, had quite an exchange on Twitter over the weekend. It was such a fun exchange that, well, most of it has been taken down.
But Brad spies have captured the convo for ya, a back-and-forth that started because Carrie gave Mike her purse last Sunday (Nov. 18) when she went up to accept her best country album trophy at the American Music Awards.
Remember that Mike plays for the NHL's Nashville Predators, and that the NHL has locked out players because of a labor dispute.
Carrie posted a fake "Best Purse Holder" trophy Saturday (Nov. 24), awarding it to her man.
And he quickly replied: "u still haven't noticed the missing cash from the purse! #lockoutproblems".
Carrie fired back: "Oh, I noticed…but that's what sugar mamas do…they give money to their unemployed trophy men! #iaintsayin'he'sagolddigger." That was followed by a "You know I'm just kidding! I love you!!! Now, someone PLEASE END THE LOCKOUT!"
Most of that back-and-forth was gone by Monday morning (Nov. 26), and Carrie replaced it with a "ReplaceSongTitlesWithMike" contest.
One of her faves was a take on a Maroon 5 hit that had been re-written to be "Moves Like Mike."
"He does have a few moves," she tweeted.
Can't get enough Carrie? Click here and enter to win a trip to see her perform at the Opry in 2013!
It's beginning to twang a lot like Christmas
Hey, we all love Rod Stewart, and Mariah Carey has a heckuva voice.
But aren't we all happy that NBC added some country to its Christmas special coming up Wednesday (Nov. 28)?
Scotty McCreery and Trace Adkins will be part of the live Christmas at Rockefeller Center special airing at 8 p.m. ET that night.
And that jingles Scotty's bells.
"Excited to have just been added to the Christmas in Rockefeller Ctr show in NYC!" he tweeted Saturday (Nov. 24).
Get in the Christmas spirit! Click here to preview Christmas albums from Scotty McCreery, Lady Antebellum, Blake Shelton and The Oak Ridge Boys.