by Brad Schmitt
Brad Schmitt is a longtime Nashville entertainment journalist, having shared the goods on Music City's most interesting people in the newspaper, on TV, and online for more than 15 years. Every week, Brad hits country fans with the latest news from Nashville and the lives of their favorite country artists.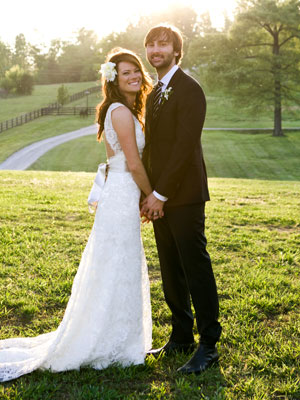 Lady A Wedding Day – Dave went dancing away with her heart
Sorry, folks, it's all over – you can no longer pursue your dreams of dancing away with the heart of anyone in Lady Antebellum.
The last single member of Lady A is single no more: Dave Haywood married his record label exec girlfriend Saturday on a farm outside Nashville.
Dave and Kelli Cashiola tied the knot in front of family and friends in what many attendees described as a wedding that seemed like a movie. Hmmmmm…. Wonder when we'll be seeing in the sequel, "Lady A Babies!"
Yes, Dave's bandmates Charles Kelley and Hillary Scott were both there, both with their spouses.
Dave's buddy (and singer/songwriter) Dave Barnes performed at the ceremony.
And Dave (Haywood) and Kelli did release a wedding picture. Awwwww!
Congrats to the happy couple.
Lights, camera – Taylor!! Country star reads lots o' scripts
Sure, we saw Taylor Swift's small part in romantic comedy Valentine's Day, and yes, she provided a voice for an animated Dr. Seuss movie.
But it looks like Tay Tay might kick this acting thing up a notch.
She tells the Phillippine Daily Inquirer that she has had an acting coach for the past several years. And Taylor says she has been reading movie scripts like a mad woman for the last five years or so.
But Taylor isn't looking for any ol' role. She wants one with which she'll be completely consumed.
"If I got a script that I thought was OK and a character that I kind of liked and could pull off but wasn't obsessed with, that would be unfair to someone else who might be obsessed with that character," she said.
"So if I do a movie, you will know I cannot think of anything other than that character. I'm such a fan of great writing and great storytelling. I'm looking for great, powerful writing behind whatever cast is surrounding it, whatever director is steering it—that would all be peripheral to the fact that the story is brilliant and has to be told."
Taylor's favorite actor of the moment – Jennifer Lawrence, a.k.a. Katniss from The Hunger Games.
True love – Eric Church's "Springsteen" song romance lasted, well, two weeks
Ever wonder if country artists write songs about their own actual lives? If you're listening to Taylor Swift, the answer, 95% of the time, is yes.
And turns out that Eric Church doesn't mind dipping into his life for song ideas. Take Eric's latest, "Springsteen," for instance – Eric tells ABC News Radio that he did indeed take a girl to an outdoor concert when he was a mere teen-aged lad.
And that concert did indeed leave him with some powerful memories. But it didn't leave him with the longest lasting relationship.
"We sat up on the lawn, you know, we had a blanket and all that stuff," Eric says.
"The interesting thing is I remember the relationship lasting maybe two weeks, and to this day when I hear that music, I still think of her, and I wonder if she still thinks of me, you know, because that artist became the soundtrack to our relationship as short as it was," he says.
"And I just love the power of music in that regard."